Sandbags are still the weapon of choice for most people trying to protect their property from floodwaters, but some homeowners along the Red River are using new technology to hold the water back.
Jason Tesch's home in Fargo is an attention grabber, surrounded by a four-foot-high flood control device that looks like a giant donut.
It's called an AquaDam, made of heavy, woven plastic, with two large tubes inside. The tubes are filled with 100,000 gallons of water. Tesch says he pumped the water in right from the nearby river.
Just before last year's record flood, Tesch wanted to find an easy flood protection alternative to sandbagging. He found the AquaDam on the Internet, made by a California company.
Tesch said it would take 18,000 sandbags to get the same protection he has with the AquaDam. And while laying down that many sandbags would take days, Tesch says he and a few friends can have his device unrolled and completely set up in about five hours.
"I can store it and I don't have to buy more material every year," he said. "This is always ready for me to go. So in that respect it's a lot nicer. You don't have to worry about the cleanup problems you do with sandbags."
Tesch's neighbors were so impressed with how well his AquaDam worked last year that four of them bought one for themselves. Tesch won't say how much he paid for his, but his neighbor Richard Thomas got his a year ago and paid about $5,000. Thomas says the product is so easy to use he hasn't even set it up yet, even though water from the Red River is about 15 feet from his back door.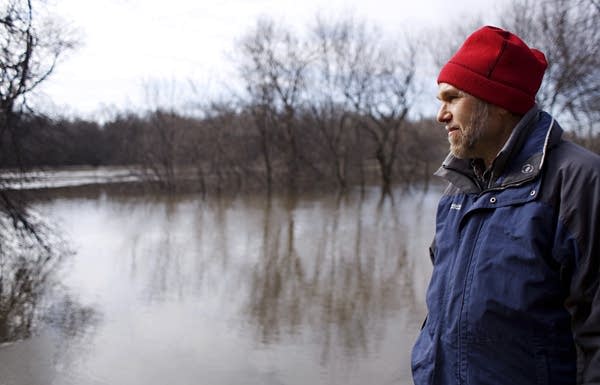 "It's just sitting in a standby condition in the driveway," he said. "If I need to use it I'll roll it out and set it up. Otherwise, it's my pre-paid insurance policy."
The AquaDam isn't without drawbacks. Sandbag dikes can be raised, if necessary, but If floodwaters rise higher than the Aquadam can handle, there's little way to adjust.
The City of Fargo has experimented with various new flood fighting technologies, including the AquaDam. Senior City Engineer April Walker says one lesson learned from last year's record flood was to keep all options open if they can save time and resources.
Still, Walker believes there's a lot to be said for good old-fashioned sandbags.
"The standard sandbag has a great function. It's very economical," she said. "You can go as high as you need to go. So from that standpoint, they're hard to replace."