Central Corridor: A slow train coming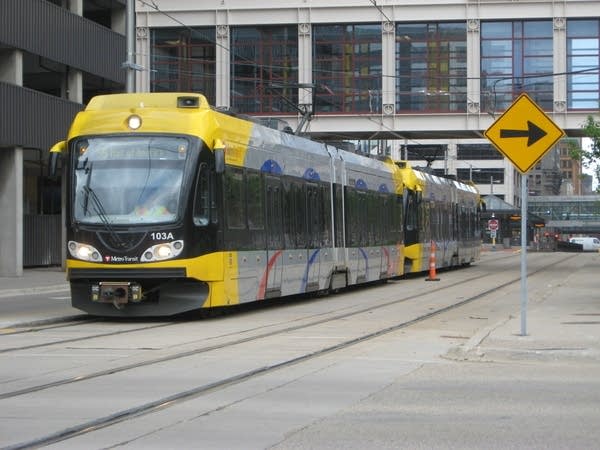 A nearly $1 billion proposal to link St. Paul and Minneapolis is as close as it's ever been to becoming a reality. But the Central Corridor light rail project still faces significant opposition.
The acrimony comes from various corners, ranging from the state's largest university to a small neighborhood coalition of African-Americans in St. Paul. With major construction scheduled to begin in just four months, some people still question even the most basic element of the project -- the route.
WAITING FOR THE TRAIN FOR 30 YEARS
Central Corridor planners say they've worked hard to build support in the community. The Metropolitan Council, which is designing and building the line, has held more than 1,150 public meetings and individual discussions with community members.
Grow the Future of Public Media
MPR's budget year comes to a close on June 30. Help us close the gap by becoming a Sustainer today. When you make a recurring monthly gift, your gift will be matched by the MPR Member Fund for a whole year!
But that figure doesn't impress Nathaniel Khaliq, president of the St. Paul NAACP.
"That's really telling: You still have three lawsuits and two civil rights complaints? Even though you have all these meetings, it hasn't produced any togetherness," Khaliq said.
The first of a four-part series examining the Central Corridor light rail project in St. Paul.
Khaliq is part of a St. Paul neighborhood coalition suing over the project. He worries that rising property taxes and rents resulting from the light rail project would force longtime residents out.
His mistrust is rooted in history: His old neighborhood is one of the city's "lost neighborhoods." Rondo was the heart of St. Paul's black community until Interstate 94 tore through it about a half-century ago.
From a transportation perspective, however, the 11-mile light-rail route makes perfect sense. The trains would bring people to their downtown jobs, to health care facilities and state offices, and to their classes at the University of Minnesota. One supporter of the project says it would "re-twin" the Twin Cities.
In St. Paul, the trains would pass through the urban eclecticism of University Avenue -- blue-collar neighborhoods, muffler shops, big-box retail stores, nail salons and Asian noodle joints. The route would turn near the state Capitol and continue through downtown St. Paul.
In the other direction, toward Minneapolis, the trains would cross the Mississippi River, cut through the heart of the U of M campus, join the Hiawatha light-rail line, and end at the Twins ballpark in downtown Minneapolis. The trains would run every 7 1/2 minutes during peak hours.
The crowded buses rumbling down University Avenue in St. Paul are signs that this corridor is home to people who already rely on mass transit.
Light rail is also seen as a solution to relieve congested roads. The Central Corridor line was born of a gradual realization by regional leaders that they couldn't simply add more highway lanes to solve the metropolitan area's traffic woes.
By 2030, more than 40,000 people per weekday are expected to ride trains along the Central Corridor.
The Twin Cities have been waiting for this train for more than 30 years. That's how long elected officials have been talking about this project. While they've been talking and planning, two other major rail projects -- the Hiawatha light-rail line in Minneapolis and the Northstar commuter line to Big Lake -- have been completed.
ONGOING RANCOR AN OBSTACLE TO PROJECT
The Central Corridor project faces two additional lawsuits from the University of Minnesota and Minnesota Public Radio. The U of M and the Met Council are on their way toward resolving their differences, but the university has yet to withdraw its lawsuit.
To some extent, the location of the route is what makes the project so tricky. The trains would run down the middle of busy city streets.
Unlike the Hiawatha line in Minneapolis, which ends at the Mall of America in suburban Bloomington, the Central Corridor line runs through the thick of a dense, urban environment the entire route.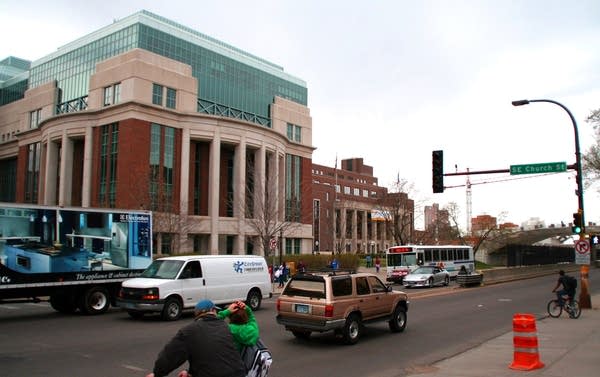 Trains would roll past the University of Minnesota's sensitive research labs, and just 12 feet from MPR's recording and broadcast studios in downtown St. Paul.
But why, after decades of public discussion, are people making so much noise now?
"Because there were so many discussions over so many years, most people thought, 'You know what? This is never really going to happen,'" said former Ramsey County Commissioner Sue Haigh. "And that certainly has changed over time."
But St. Paul resident Erik Hare said people didn't speak up because they figured the line was going to be built, with or without their support.
"Most people have always seen it as inevitable," Hare said. "Why fight it?"
Hare, who would like to see a modern streetcar system rather than light rail, never accepted the project as inevitable. On his blog, Barataria, Hare has challenged various details of the plans, ranging from the loss of street parking to the shrinking of sidewalks in some areas.
Streetcars have reemerged recently in cities ranging from Tuscon to Portland. But local transit planners say while streetcars are cheaper to build, they are generally slower and typically don't carry as many people as light rail.
The Central Corridor line is struggling with an identity crisis, Hare said. It will take riders about 40 minutes to travel from Target Field at one end to Union Station in downtown St. Paul at the other, according to the Metropolitan Council. So with a 40 minute travel time, Hare notes it won't be a speedy commuter service. And with stops placed as far as a half-mile apart, it's not quite a local circulator route, either.
"And now we hear, 'It's a development project; it's not really a transit project at all,'" Hare said. "So, in the process of being all things for all people -- and making julienne fries on the side -- what is this thing really trying to accomplish? As we get closer to construction, people who believed the project is one of those three things suddenly find that there are all these compromises made along the way, and it's not what they expected."
Planners say the Central Corridor route has always been both an economic development project and a transit project. The potential to breathe life into blighted stretches of University Avenue is one reason planners decided not to put the trains along Interstate 94. Advocates of the line say light rail will pay off in ways we don't even know yet.
The selected route also won favor with planners because of a commonly accepted belief that successful transit lines need to be where people live -- and where their jobs are. University Avenue has plenty of both.
COULD HAVE BEEN FIRST IN LINE
Most people agree that the Central Corridor route would have been a logical choice for the state's first foray into light rail. Yet resistance in St. Paul in the 1980s and '90s helped pave the way for the Hiawatha Corridor in Minneapolis.
Everything came together for the Hiawatha line -- the money, the right-of-way, and even good luck and timing. But just as important, it was political will.
"When an entity like a university has to sue, it really speaks to lousy communication, doesn't it?"
In 1999, newly elected Gov. Jesse Ventura made clear he would keep the project on track in his first State of the State address.
"I want to ride a train by the year 2002!" Ventura said.
A lot of St. Paul leaders look back and wince when they think of how they pretty much missed the train.
Even the St. Paul Area Chamber of Commerce has owned up to the role it played in Central Corridor's slow start.
"It should have been the first line, and it should have been finished several years ago," said Susan Kimberly, the chamber's interim president. "And the business community was part of killing that project."
Kimberly said the chamber opposed light rail largely because of fears of the unknown.
"There was a lot of angst about the whole idea of the disruption of the construction, what it would do to the street, how it would be handled," she said.
Much of that angst hasn't gone away, especially among the mom-and-pop businesses along University Avenue. St. Paul's chamber finally rallied behind the project once it saw that the line was good for jobs and getting people to work. That was in 2004, when the Hiawatha trains began to roll in Minneapolis.
After the Hiawatha line was built, skeptics who didn't believe Minnesotans would ride big-city trains finally had an on-the-ground example to draw from, said Karri Plowman, director of the Central Corridor Partnership. It's the business coalition that came together six years ago to advance the project.
Just two years after trains started rolling along Hiawatha, the line carried an average weekday ridership of 26,270 -- well above the original projections for the year 2020.
"Very quickly, the numbers in terms of ridership and success became evident," Plowman said.
But for all that went right with Hiawatha, there were plenty of near-death experiences, said Hennepin County Commissioner Peter McLaughlin. He recalls tense arguments with the Mall of America and the Minneapolis-St. Paul airport.
"The completion of Hiawatha was a semi-miraculous event. There were forces arrayed against it that were very formidable," said McLaughlin. "You had the editorial pages of both papers, you had the Citizens League, all ganging up against us. And if you remember, it used to be 'a train to nowhere.'"
Still, Hiawatha was built, and its early success and the support of the business community changed the tide for Central Corridor.
THE MONEY IS THERE NOW
Another key moment came when a complex partnership of government agencies agreed on the metro area's rail priorities -- and how to pay for them, said Haigh, the former Ramsey County commissioner.
"Until there was a dedicated source of funding, there wasn't an appetite to go forward," she said.
In 2008, a joint board of commissioners from five counties formed the Counties Transit Improvement Board, or CTIB, and approved a quarter-cent sales tax that would pay for 30 percent of the project. The pricetag for Central Corridor is $957 million.
The state, and Ramsey and Hennepin counties are also pitching in. Project planners are asking the federal government to pay half the cost.
Federal funding seems likely, now that President Obama has recommended $45 million to get the project started. The head of the Federal Transit Administration told MPR News he's "enamored" with Central Corridor, in part because of the high ridership and economic development expected from the line.
Still, some of the biggest supporters of the project aren't getting what they want from the line.
"I would have preferred a tunnel," said U.S. Rep. Jim Oberstar, referring to an early plan to weave the trains beneath the U of M. "It makes so much more sense. But that's over and done with."
Like so many other design elements, the pricey tunnel was killed to keep the project's costs down, and in line with a federal funding formula that was in place until just a few months ago. Oberstar, a Democrat who chairs the House transportation committee, said he wants the project to move forward and supports the current plans.
SOMETHING'S 'OFF TRACK'
The controversy surrounding Central Corridor isn't uncommon. Two neighborhood groups in Seattle sued over a light rail line recently built there. Both lawsuits were thrown out.
In Virginia, a Metrorail line to Washington Dulles International Airport now under construction faced multiple lawsuits and was discussed for about 50 years before work got underway.
Even in Minneapolis, the Hiawatha project produced no fewer than eight lawsuits. None succeeded in delaying or halting the project.
But to say that every transit project spurs a flurry of lawsuits just isn't true.
There's an art to bringing together different factions, said business consultant and light rail advocate Bill Knowles of Salt Lake City, which built two light-rail lines over the past 11 years and now has three more lines under construction.
Knowles said after the first light-rail project, which disrupted some downtown businesses, the process for building future lines got easier, not harder.
He said what he's heard about Central Corridor make him think something has gone off track.
"I'm just totally amazed," Knowles said. "When an entity like a university has to sue, it really speaks to lousy communication, doesn't it? The fact there's lawsuits, and the fact that there's still these people who are rounding themselves up individually tells me there's apparently not anybody big enough who is in control of that situation. And consequently, people are flying off on their own deals."
Still, supporters of the Central Corridor say the project has too much momentum, and the opposition can't stop this train from charging forward.
Gallery
1 of 1