Emmer wins endorsement after Seifert concedes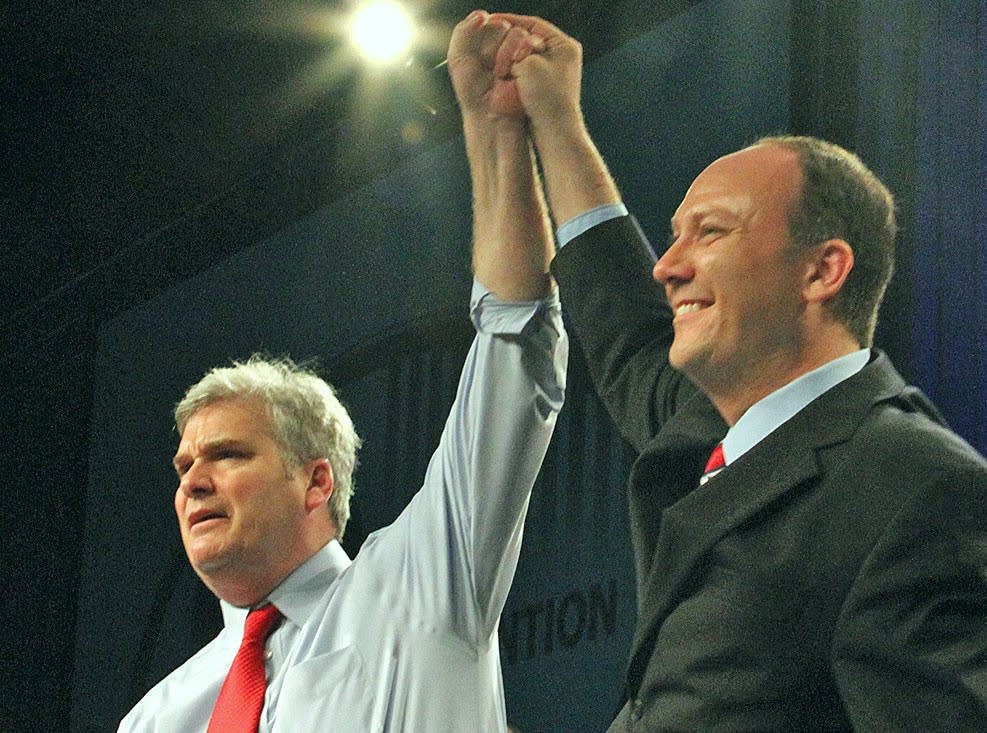 State Rep. Tom Emmer captured the GOP endorsement for Minnesota governor on Friday, blitzing establishment candidate Marty Seifert in a mere two ballots at the party's state convention.
Neither held a clear lead going into the convention, raising the prospect of an extended floor battle. But Emmer, who steadily gained ground on Seifert in recent months and was endorsed a day before the convention by Sarah Palin, jumped out to lead Seifert 53 percent to 43 percent on the first ballot.
When Emmer stretched his lead on the second ballot, it was over for Seifert. He took the podium to concede, urging the nearly 2,000 party activists to unite behind the man he had attacked during a bitter campaign.
Emmer said he looks forward to introducing himself to the rest of Minnesota voters who may not heard of the third-term legislator.
"I own blaze orange that's got blood on it. We hunt, we fish, we've been in every hockey rink in this state," said Emmer, a father of seven. "The Emmers are just another family in the state of Minnesota and we connect with families in the state of Minnesota."
The backing all but secures a spot on November's ballot with no competitive primary expected.
"How's that for unity?" said party chairman Tony Sutton.
Emmer, a lawyer from Delano, has been in the Legislature since 2005. The more experienced Seifert, who was House minority leader before resigning that post to campaign for governor, was the early favorite. But Emmer, a more impassioned speaker, overcame Seifert's advantage in part by courting tea party followers.
Emmer took campaign punch after campaign punch from his top rival, Marty Seifert, and still emerged on the first ballot with support from more than half of the 2,000 delegates at the convention.
Emmer inched closer to the needed 60 percent on the 2nd ballot. So close, that Seifert abruptly walked onto the stage and conceded. Emmer called Seifert a "class act" and said the Republican ticket is unified heading into November.
"This is the journey that we are setting off on to take back our state. To take back our country. Republicans will win next fall all the way down the ticket. With your help we're going to take back this state."
Emmer has tapped into a populist anger that is best characterized by the tea party movement and its frustration with government spending and the new federal health care law.
His speech to delegates started off fiery and literally ended with a quick burst of fire from two pyrotechnic blasts. After winning the endorsement Emmer told reporters that he wants to focus on key constitutional principles like public safety, infrastructure and education. He said the delegates are sending a message with his endorsement.
"They believe in the future of their state. They are tired of the politics as usual crowd. They're tired of folks who tell them they think they want to hear as opposed to what they need to hear and I think that it resonates. "
One problem Emmer may run into during the general election is that Republican Governor Tim Pawlenty has been leading the state for the past eight years. Democrats have controlled the Legislature for the past four years.
The endorsement caps Emmer's meteoric rise. He entered the race last July and didn't have the money or party support that Seifert had. But over time, he picked up support, forcing Seifert to go after Emmer. Seifert raised Emmer's past DWI arrests, his property tax votes on the Delano City Council and other issues. But when it became clear he was going to lose the endorsement, Seifert rallied behind Emmer.
"I want to continue to campaign for Rep. Emmer to be our next governor and I want each and every one of you to campaign as hard as I'm going to campaign for him. Get your Seifert stickers off and put your Emmer stickers on."
Republican party leaders and delegates will meet at a unity breakfast Saturday.
Unlike Republicans, Democrats face the prospect of a possibly damaging primary fight between House Speaker Margaret Anderson Keller, the endorsed candidate, and former U.S. Sen. Mark Dayton and former House minority leader Matt Entenza.
Democrats immediately pounced on Emmer, highlighting his association with Palin and calling him "more inflammatory" than Seifert. A statement from party chairman Brian Melendez also mentioned Emmer's praise this week for Arizona's polarizing new immigration law.
Emmer's policy palatte is largely empty at this point. He speaks in concepts and said he will wait to outline specific proposals for cutting government spending to fix a multibillion dollar deficit.
A wild card in the race will be the Independence Party, which has been a factor in recent gubernatorial elections. The IP gathers next Saturday to endorse its own candidate.
Gov. Tim Pawlenty is stepping down after two terms, and Republicans say they can't understate the importance of keeping the office. Democrats have big majorities in the Legislature heading into a 2011 in which political boundaries will be redrawn for the decade to come to account for population shifts documented by the census.
PAWLENTY ADDRESSES CONVENTION FOR FINAL TIME AS GOVERNOR
Before the gubernatorial candidates took the stage Friday, Pawlenty addressed the delegates for the last time as governor.
In his speech, Pawlenty also thanked delegates for their support and recalled the decision to run for governor in 2002.
Pawlenty said he had all but decided not to run when his wife Mary convinced him he should.
"She came across the room and she grabbed me by the lapels, looked in my eye and she said, 'Tim, you can't leave,'" he recalled.
More than eight years later, Pawlenty acknowledged there are things he would have done differently. But he said one of his greatest accomplishments was slowing the rate of state spending.
"I believe we have fundamentally changed Minnesota," he said. "We now have set the stage for that to continue."
Gallery
1 of 2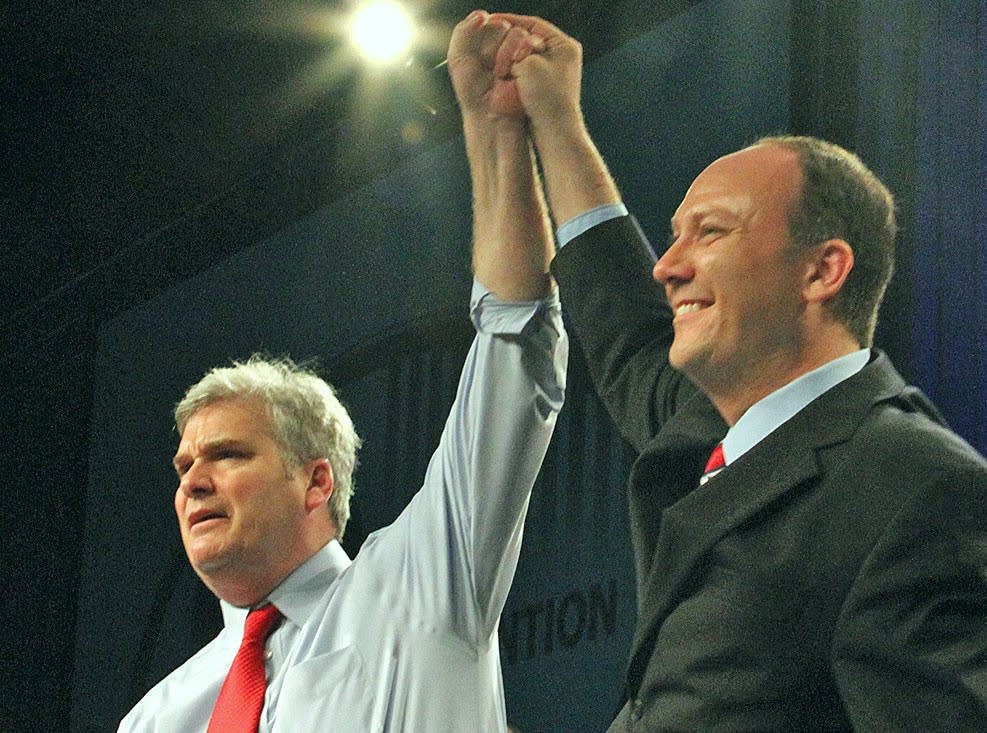 2 of 2
Your support matters.
You make MPR News possible. Individual donations are behind the clarity in coverage from our reporters across the state, stories that connect us, and conversations that provide perspectives. Help ensure MPR remains a resource that brings Minnesotans together.