Nurses vote whether to strike; counting continues
Nurses have finished voting on whether to give their union the authority to call another strike on 14 Twin Cities hospitals. The polls closed at 8:30 p.m. at locations in Brooklyn Park and St. Paul. Results of the voting are still being tabulated Monday night.
Charles Clark was one of hundreds of nurses marking ballots at the Minnesota Nurses Association headquarters in St. Paul Monday morning. Like many of his colleagues, he voted to strike against Fairview Southdale, where he's an ICU nurse.
Clark says a walkout may be the only solution to the nurses impasse with the Fairvew and five other hospital systems. He admits it's a daunting prospect. His wife is due to have their second child in July, and her job, too, is tenuous.
"I'm not going to lie to you. My wife and I are very scared," Clark said. "But we're going to make some calls to the creditors and to the utilites and see what kind of payments we can work out."
Grow the Future of Public Media
MPR News is Member supported public media. Show your support today, donate, and ensure access to local news and in-depth conversations for everyone.
Clark says a work stoppage may be necessary to guarantee there are enough nurses like him to take care of people in the 14 Twin Cities hospitals bargaining with their nurses now.
"It's the right thing to do for the patients, for my co-workers," he said. "Really, we're all patients. Every single Minnesotan is a patient, so we're doing this for everybody."
That was a common theme at the River Bend Business Park in St. Paul, where nurses from the east metro were voting. Others, from the west metro, are voting at Park Center High School in Brooklyn Park.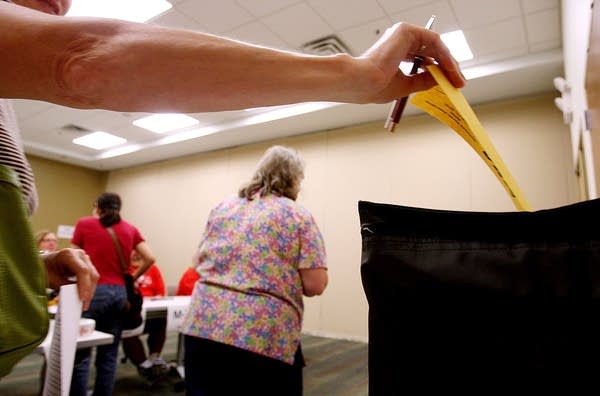 During a previous strike vote in May, about three-quarters of the 12,000 nurses voted on whether or not to authorize a one-day strike, and more than 90 percent of the nurses approved that strike which happened June 10. No date has been set for a possible second strike to begin -- or end.
Work rules remain at the center of the labor dispute. Nurses have said they're taking care of too many patients, who are often sicker than in the past, in an environment that has become unsafe for them. They want the hospitals to adhere to strict patient-to-nurse ratios.
But hospitals say higher staffing thresholds could add $750 million a year to what patients and insurers pay Twin Cities hospitals, and that there's no proof that changing staffing ratios would improve care.
Hospital spokeswoman Maureen Schriner says a 2004 nurse staffing mandate in California didn't improve that state's health care.
"The most sensitive measure, actually, is average patient length of stay. That's highly sensitive to nurse staffing. Did average length of stay for patients improve since California put the 2004 law into place? No significant difference," Schriner said. "When you look at those measures, and you look at the millions of cost it would take to put those into place, it makes no sense."
"The hospitals have the responsibility ... to remain open. We have to serve the community."
And that's where the two sides have been stuck for at least the past 17 days, since the nurses' union and the hospitals last met and talked to a federal mediator.
There are other issues on the table. Nurses say they want a better wage package and object to proposed pension cuts. Some also said they were upset with proposed changes in their health insurance premiums.
Nurses said last week they are willing to move on any of the issues, and the hospitals responded by saying they, too, were ready to bargain. But the hospitals have asked the nurses to hold off on a strike through July, and the nurses decided to press ahead with the strike vote.
Many of the nurses voting Monday said they were already prepared to be out of work in a down economy.
Jill is a nurse at the Naseff Heart Center at United Hospital in St. Paul -- she said she didn't want to give her last name for fear of retaliation at work.
"I could see this contract coming to an end, and knew that a strike could be a possibility, so I have been saving," she said. "As a single parent with a mortgage and a car payment and credit cards to pay off, this is the first time I've had money saved. Of course, I'd rather not spend it during a strike, but I have prepared."
She voted to strike.
Hospitals, too, are bracing for a walkout. Some nurses say they've seen a flyer recruiting replacements with offers topping $5,000 a week.
Schriner, the hospital spokeswoman, wouldn't address that dollar figure, but said the hospitals had no choice but to prepare for the worst.
"The hospitals have the responsibility, if there's a strike, to remain open. We have to serve the community."
The nurses will vote until 8:30 pm. Monday, and the vote should be tallied soon after. It requires a two-thirds vote to authorize a strike, although the nurses are voting by bargaining unit -- which means some hospitals may soon face a walkout threat, and some may not.
Gallery
1 of 2
2 of 2