Despite compromises, nurses say agreement sends a deep message
Hospitals and Twin Cities nurses have avoided a strike set for next Tuesday, and they say that may be the biggest victory that comes out of yesterday's tentative contract settlement.
The nurses union gave up its key demand that hospitals adopt strict patient staffing ratios. Hospitals have said for months they would never agree to a staffing mandate, but instead, both parties agreed to work within the existing hospital committee process to resolve staffing issues.
Cindy Olson, a negotiator for the Minnesota Nurses Association, said it was difficult to give up the ratios proposal. She said nurses did succeed in explaining their staffing concerns to the public, and that nurses will now be much more vocal about airing their workload grievances to their employers.
"We have learned to better stand up for ourselves and what we believe in," Olson said. "There comes a point in time where you have to weigh: 'I have this, but I don't have this. Is a strike going to make this better, or is it going to make the situation a whole lot worse?"
Grow the Future of Public Media
MPR News is Member supported public media. Show your support today, donate, and ensure access to local news and in-depth conversations for everyone.
Nurses did score a victory on their pension plan however. Twin Cities Hospitals agreed to drop a proposal that would have cut pension contributions by one-third. The nurses also prevailed on every other hospital proposal to reduce their benefits. They won't be required to switch to a cheaper health care plan and they preserved their seniority perks.
The deal on wages swung in the employers' favor. The union accepted the hospital's proposal for zero raises next year, followed by 1 and 2 percent raises in the second and third years of the contract.
The wage concessions and the staffing compromise have angered some rank-and-file nurses who have vented about the issues on the union's Facebook page. Some union members have said they will vote to reject the agreement next week.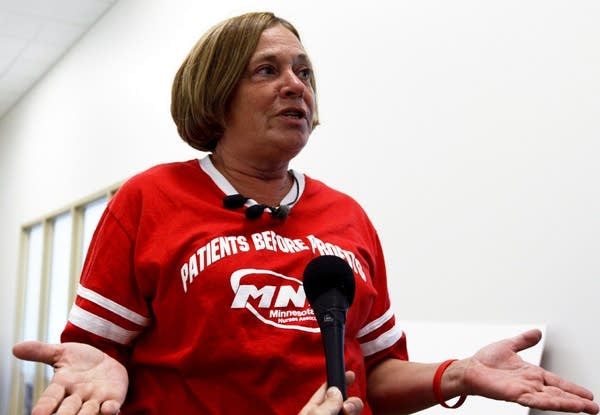 Twin Cities Hospital spokeswoman Maureen Schriner said the settlement isn't perfect for hospitals either -- which she hopes nurses will recognize when they cast their vote.
"We've made an earnest effort on both sides to put together an agreement," Schriner said. "We hope that the nurses will see the work that we've put into this and agree."
Gary Chaison, a professor of labor relations at Clark University in Worchester, Massachusetts, said that he doesn't think either side appears to have won. He said it looks more like a stalemate. however he agrees with the nurses who think the wage offer was weak.
"But they're better than zero increase, and in a time of concessionary negotiations quite often wages are cut or frozen, rather than increased," Chaison said. "So at least there's an increase there, even if their collective agreement is back-loaded. No cuts in pensions is very important."
As for the hospitals, Chaison said it appears that they didn't make much headway on their attempts to save money with this contract. He said it's possible that some hospitals will now try to squeeze those savings out of other members of their staffs.
Even though the threat of a massive nurses strike is off the table for now in Minnesota, Chaison thinks the labor dispute here will inform nurses elsewhere on how hard they can fight for their contract demands.
"They'll look at this settlement and say 'if we can threaten to strike, at least we can fight off a wage cut or wage freeze which is probably what is being promoted, and we can protect our pensions,'" he said. "So they'll look at this as something that can be achievable if a strike is threatened and possibly if a strike is launched."
University of Minnesota labor expert, Aaron Sojourner, agrees the nurses' strike threat was a very powerful tool.
"I doubt they would have been able to reach this compromise without the line in the sand drawn by the strike authorization," Sojourner said.
Sojourner said it's hard to know if nurses could have held out a little longer to get the hospitals to meet their demand for specific staffing ratios, but he predicts the issue will rear its head again soon.
"I'm sure it will be a big issue again in the next contract," he said. "It might be an issue that gets raised in the legislature in the interim, but the reality of the issue didn't go away."
Twin Cities nurses will vote on their contract settlement Tuesday. The union needs more than 50 percent of its voting members to approve the deal in order to officially ratify the contract.
Gallery
1 of 1