Dairy inspector: Raw milk seller's dairy operation unsanitary
A Minnesota dairy farmer whose products are linked to an E. coli outbreak wants to be able to sell his products again, and he has taken his case to court.
The state alleges E. coli in unpasteurized milk sold by Michael Hartmann sickened eight people. The Minnesota Agriculture Department banned the Gibbon farmer from selling any products.
Hartmann appeared in court Thursday to ask a Sibley County judge to lift the embargo.
In court documents, Hartmann said he has cheese, meat, ice cream and other products in storage that he'd like to be able to market. He estimates those products are worth as much as $10,000.
The state maintains the food was produced in unsanitary conditions and says Hartmann should not be allowed to sell the products.
Greg Pittman, a dairy inspector with the Department of Agriculture, testified Thursday that the farm did not meet state standards for cleanliness.
Pittman emphasized that all building surfaces need to be "smooth and easily cleanable" and without rust. State officials submitted photos they say demonstrates that Hartmann's farm did not meet those standards, including photos of rusty sinks and walls with peeling paint covered in cobwebs.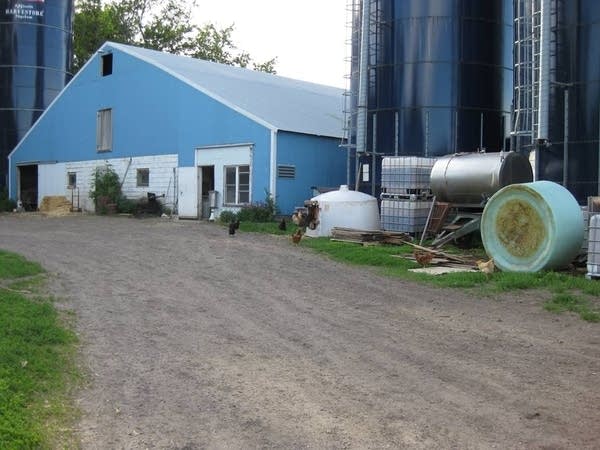 The state also submitted a photo of a dead owl on top of a container in the milking barn.
One photo shows a window without a frame. Pittman testified that the window was not a smooth and cleanable surface.
Defense attorney Zenas Baer countered by asking whether any wood fibers were found in the food samples. The state's attorney on the case said Pittman wasn't qualified to answer that question but said other witnesses they planned to call would address it.
Baer aggressively defended his client and argued that the state might have an "ulterior motive" for its actions. During questioning, Baer was successful in pressing Pittman to confirm that federal and state standards allow for some bacteria to be present in milk sold to consumers.
"Milk invariably will be contaminated with a certain amount of bacteria," Baer said.
As part of its investigation linking Hartmann to the E. coli illnesses, state officials searched the Hartmann farm in May and June. They focused on the Hartmann farm near Gibbon because it was the only common factor among the eight E. coli illnesses. Every person sickened either consumed -- or were around people who had consumed -- Hartmann products, including raw milk.
During the searches of the Hartmann farm, state officials allege they found unsanitary conditions, including widespread manure contamination. Those findings led the state to conclude that any food produced on the farm could be unsafe, so they imposed the embargo.
Hartmann contends his food is safe. He says manure is part of a dairy operation and implies the amounts the state found are not out of line with what one would expect to find on a dairy farm.
Hartmann also says the embargo should be lifted because the state has not found the specific E. coli variant that caused the sickness in any Hartmann food product.
State officials don't deny that, but they say some cheese was contaminated with E. coli capable of sickening people. The state also says the bacteria identified in the outbreak is a rare form of E. coli. They say the cases linked to the Hartmann farm are the first time this particular variant has been found in Minnesota.
While the state admits that particular variant did not turn up in any of products taken from Hartmann's farm, it was identified in manure and other samples from the Hartmann farm.
Health officials maintain that proves the Hartmann farm was the source of the illnesses. They also say the fact that some cheese was contaminated with another strain of E. coli bolsters their contention that conditions on the farm are unsanitary.
Hartmann contends the E. coli found in the cheese was not a 'dangerous' form of the bug.
Hartmann ultimately hopes to win on constitutional grounds. Part of his strategy rests on another case he was involved in -- a 2005 state Supreme Court decision.
In that case the state alleged Hartmann was illegally selling meat without a proper license. The Supreme Court in part sided with Hartmann, ruling the state Constitution specifically gives farmers the right to sell their products without a license.
Article XIII, Section 7 of the Minnesota Constitution states: "NO LICENSE REQUIRED TO PEDDLE. Any person may sell or peddle the products of the farm or garden occupied and cultivated by him without obtaining a license therefor."
Hartmann's attorney points to that decision in this case, saying it gives Hartmann wide authority to sell food -- and that the state embargo goes too far in limiting that right.
State officials say while it's true the Hartmanns do not need a license, the Supreme Court decision contains a second part which is much less favorable to him. That part of the decision says Hartmann may not need a license, but that does not exempt him from what the Supreme Court called 'substantive regulation' by the state.
State attorneys imply that sort of regulation includes the current sales embargo.
Testimony in the case will continue Friday, although both sides say it's unlikely they will be able to complete their cases that day.
District judge Judge Rex D. Stacey says he will rule from the bench when all the evidence has been presented.
(MPR News reporter Madeleine Baran contributed to this report.)
Gallery
4 of 4
1 of 4
2 of 4
Your support matters.
You make MPR News possible. Individual donations are behind the clarity in coverage from our reporters across the state, stories that connect us, and conversations that provide perspectives. Help ensure MPR remains a resource that brings Minnesotans together.