In raids, FBI seeks terrorist links; activists cry foul
When the FBI raided the homes last week of six Minneapolis residents involved in anti-war activities, the agency wasn't looking for information about demonstrations.
Instead, federal agents sought evidence the activists support three groups designated by the United States government as terrorist organizations, according to a federal search warrant and subpoena.
THOSE RAIDED TIED TO SOCIALIST GROUP
Five of the six people who were targeted in Friday's FBI raids are members of -- or have ties to -- the Freedom Road Socialist Organization, a Marxist-Leninist group.
MPR News is Member Supported
What does that mean? The news, analysis and community conversation found here is funded by donations from individuals. Make a gift of any amount today to support this resource for everyone.
Many of the Freedom Road members also played prominent roles in organizing large protests against the 2008 Republican National Convention in St. Paul. But a search warrant and subpoena received by Freedom Road member Mick Kelly does not mention the RNC or anti-war activism.
The warrant states that authorities are seeking evidence that Kelly provided, attempted, or conspired to provide "material support to designated foreign terrorist organizations." Kelly said the other five people received similarly worded warrants and subpoenas.
FBI spokesman Steve Warfield confirmed Friday that agents working with a federal Joint Terrorism Task Force served six search warrants in Minneapolis and two in Chicago. Warfield said FBI agents have also interviewed people in Milwaukee and Raleigh in connection with the case.
Warfield said he does not know whether any of the activists are members of the Freedom Road Socialist Organization, but said if he did he could not comment.
"If you're not breaking the law, you have really nothing to worry about," Warfield said. "Everything that we do, such as the search warrants we did the other day, were approved by a federal judge."
ARE THEY SUPPORTING TERRORIST ORGANIZATIONS?
The FBI investigation is focused on whether members of the Freedom Road Socialist Organization or others provided material support to three groups -- Colombia's FARC rebel group, the Popular Front for the Liberation of Palestine, and Hezbollah, according to federal documents. The U.S. State Department considers the three groups terrorist organizations.
The Revolutionary Armed Forces of Colombia, known by its Spanish acronym FARC, is a left-wing guerrilla organization that opposes U.S. intervention in the country and claims to fight on behalf of impoverished peasants. The group has attracted international condemnation for kidnapping politicians and others to fund its activities.
Jessica Sundin, whose residence was among those searched on Friday, met with FARC leaders in Colombia during a trip to the country in 2000. She discussed her trip in an interview dated July 1, 2000, and posted on Fight Back!, a website edited by a member of Freedom Road.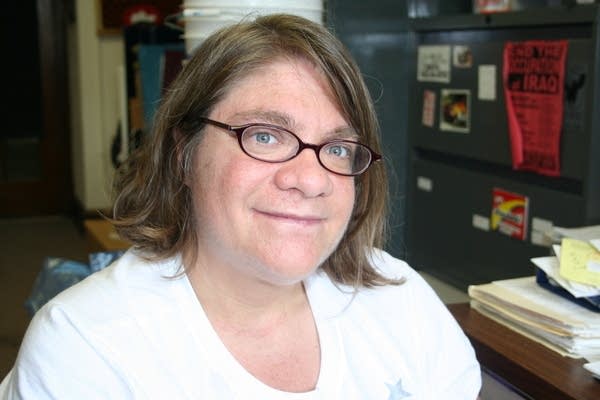 "The FARC are honest people with serious convictions, fighting for progressive social change," she said in that interview, adding later, "They are good people fighting for a good cause."
Sundin declined Tuesday to discuss whether she agrees with FARC's beliefs and tactics, but she said she met with leaders of the organization for several days in 2000.
She said she was in the country to attend a political conference in Bogota, but also traveled to southern Colombia to observe peace talks between FARC and the Colombian government. She said she did not give FARC any money, items, advice, or other aid or support.
"I went to learn their perspective on what was happening in their country, as part of a bigger trip to learn what Colombians think about what's happening in Colombia," she said.
Sundin, however, said she does not think FARC should be classified as a terrorist group, and does not believe reports that the group is involved in the illegal drug trade. When asked Tuesday whether she supports FARC's kidnappings, she said, "I think it's an unfortunate tactic, but it is a result of the situation."
She said the group is creating space for people to oppose violent right-wing groups that Human Rights Watch has said "regularly commit massacres, killings, forced displacement, rape, and extortion, and create a threatening atmosphere in the communities they control." The country has one of the world's highest rates of killings of union members.
ACTIVISTS: FBI USING SCARE TACTICS
Peace activists and civil liberties attorneys have spoken out against the FBI raids. At a series of meetings and rallies held since Friday, many expressed fear that the FBI is using the investigation to scare people away from meeting with political groups in other countries.
"It's a political decision to go ahead with something like this," said Don Olson, a longtime Minnesota peace activist. "People have rallied around them, realizing that this is a pretty serious escalation of the effort to disrupt the work of activists around the country."
The government's definition of material aid includes providing "expert advice or assistance" to groups on the U.S. State Department's list of terrorists.
Attorney Bruce Nestor, a member of the National Lawyers Guild, said the definition is too broad. Speaking before a crowd of several hundred people outside the FBI headquarters in Minneapolis on Monday, Nestor said the definition and judicial interpretation of "material aid" is designed to clamp down on free speech.
Nestor said the government is trying to send a message that it is "not going to set any bright lines to protect people who might go and talk to someone that the government, in its unreviewable executive authority, has designated as someone you can't talk to."
The Freedom Road Socialist Organization group was created in 1985 by members of several Communist groups. In Minneapolis, Freedom Road members have been active in the Anti-War Committee, the Welfare Rights Committee, and the Coalition for a People's Bailout, among other groups.
The Minneapolis and Chicago branches split with the rest of the organization in 1999, but both groups wanted to keep the same name. More than 10 years later, both groups still call themselves the Freedom Road Socialist Organization, although they remain separate.
WARRANT OUTLINES TARGETS OF SEARCH
Mick Kelly, who serves as the editor of Fight Back!, played a prominent role in organizing protests against the 2008 Republican National Convention in St. Paul, and was part of the group that requested a march and rally permit in advance of the 2012 Democratic National Convention, if it is held in Minneapolis.
Kelly said Monday he has not provided any aid to terrorist organizations and has not traveled to Colombia, Israel, or the Palestinian territories. Kelly said he traveled to Lebanon for a political conference about two years ago, but said he does not recall the names of the groups that organized it.
"If you want an answer to that, I would have to go back and refer to my files, actually, which I may not have," he said.
Authorities seized a number of items from Kelly's apartment Friday, including books, a cell phone, computers, and a checkbook for Fight Back!, Kelly said.
According to a federal warrant, the list of items to be seized as evidence includes "documents, files, books, photographs, videos, souvenirs, war relics, notebooks, address books, diaries, journals, maps or other evidence, including evidence in electronic form."
The document states that authorities are seeking evidence related to "Kelly's ability to pay for his own travel within the United States to Palestine, Colombia and travel within the United States from 2000 until present, including all materials related to Kelly's personal finances and finances of the Freedom Road Socialist Organization ('FRSO')."
The warrant also states that authorities are interested in any evidence that people were recruited to travel to Colombia and Palestine to provide support to terrorist groups.
Meredith Aby and Tracy Molm have also said the FBI executed search warrants at their residences. Aby has written for Fight Back!. Freedom Road's website refers to Molm as a member of the "Student Commission of Freedom Road Socialist Organization."
Steff Yorek, who lives with Sundin, has said her belongings were included in the search warrant. Yorek is referred to as the "political secretary" of FRSO and a member of the "National Executive Committee" on the group's website.
The FBI also raided the office of the Anti-War Committee, a Minneapolis-based group that includes several Freedom Road members, activists said.
Minneapolis resident Anh Pham said her apartment was also raided Friday, but Pham said she is not a member of the Anti-War Committee or Freedom Road. She said she has been involved in the anti-war movement in the Twin Cities.
ORDERED TO TESTIFY AT GRAND JURY
Sundin and Kelly said they also received subpoenas to testify before a federal grand jury in Chicago.
Kelly's subpoena includes a list of items that he is required to bring with him. The list includes documents related to travel in the Middle East, correspondence with people who live in parts of the Middle East, and records of any payments to FARC and the Popular Front for the Liberation of Palestine. He is scheduled to testify on Oct. 19.
Sundin said she received a similar subpoena to testify before a grand jury in Chicago on Oct. 12. She said that at least 14 anti-war protesters in Minneapolis, Chicago, and Grand Rapids, Mich. have received subpoenas since Friday.
Sundin declined to say whether she plans to comply with the subpoena, citing concerns about the grand jury process. Grand jury proceedings are closed to the public, and people who testify are not allowed to have an attorney present. She said she has been seeking advice from lawyers with the National Lawyers Guild.
"To speak generally ... none of us want to cooperate with this process," she said. "We see it as very unfair. Bring me to trial."
Gallery
1 of 1