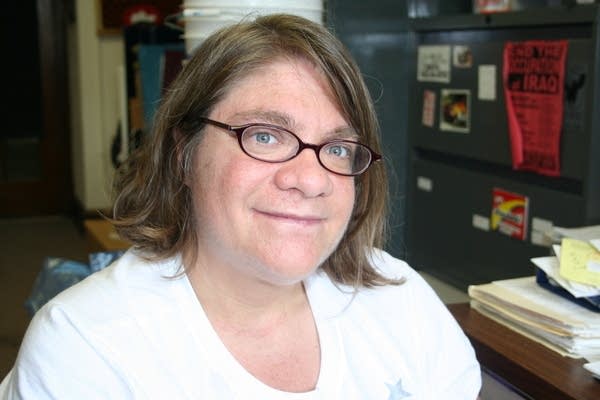 Several Minneapolis anti-war protesters have decided against appearing before a federal grand jury despite subpoenas ordering them to do so.
Meredith Aby and Ahn Pham were ordered to attend a grand jury hearing in Chicago Tuesday. But the two women, along with four other Minnesotans whose homes were searched last month by the FBI, have agreed to plead the Fifth, said protester Jess Sundin. The group spent Tuesday afternoon protesting outside the FBI office in Minneapolis.
Sundin, a clerical worker at the University of Minnesota, said the group's lawyers advised the activists against testifying because federal prosecutors have not indicated whether the protesters are the targets of an investigation.
"I was told that no one should testify before a grand jury unless they know they're not the target of the grand jury, because anything you can say can be used against you and you have no idea what it is," Sundin said.
Grand jury proceedings are secret. The hearings determine whether a prosecutor has enough evidence to charge someone with a crime.
Sundin said they decided to plead the Fifth because they believe the secret grand jury proceedings are unfair.
"You don't have a lawyer with you. You can be asked any questions at all. And in fact, there's not even a judge to act as a mutual party," she said.
In addition to the six people whose homes were raided, Sundin said, at least three other antiwar activists from Minnesota have also received grand-jury subpoenas.
Search warrants issued in the case suggest federal investigators are looking into whether the protesters helped foreign groups designated by the U.S. as terrorist organizations. The activists deny any wrongdoing.
Randall Samborn, a spokesman with the U.S. attorney's office in Chicago, declined to comment on what might happen next in the case or answer any questions about the investigation.
Although witnesses who fail to appear in court could be incarcerated until they testify, it's "not uncommon" for prosecutors and defense attorneys to work out arrangements ahead of the scheduled hearings if witnesses have chosen to plead the Fifth, said Andrew Luger, a former federal prosecutor.
"Ironically, if the government believes you're in the wrong, they won't compel you because they don't want to give you immunity," Luger said. "So they'll leave you alone, and you wait out the investigation."