Ginger Bucklin says family overwhelmed by support during tragedy
Family and friends of a Minneapolis man killed in a small plane crash with his three sons are offering their thanks to well-wishers and searchers. 
Ginger Bucklin said the family was overwhelmed by support from around the world when her 40-year-old husband Luke's plane disappeared. 
His three adolescent sons, Nick, Nate and Noah, were also on board.
An initial investigation says weather may have played a role in the October 25 crash. But Ginger Bucklin said that finding out what caused the crash is no comfort.
"The investigation, I'm not going to speculate on what they might find. I know Luke's heart. I know Luke's decision making," Bucklin said. "And unless they had the ability to bring them back, I'm just not that interested. Nothing can bring my boys back."   Ginger Bucklin grew up with Luke in Burnsville. They went to high school together but didn't marry until nine years ago. They made a family with five kids from Luke's previous marriage, and informally adopted his ex-wife's youngest child, Oliver.
Ginger rose through the ranks at Best Buy until launching her own business two years ago. Luke ran a software and internet firm, Sierra Bravo, and was considered a rising business star. But about two weeks ago, he disappeared over the Wyoming mountains.
Ginger had flown home from a vacation a day before, with 5-year-old Oliver. Luke waited for better weather and took off Monday. The next Ginger heard was from a business partner -- Sierra Bravo owns the plane. 
"We didn't have any information. All we knew is we'd lost a signal," she said. 
A week of hope and dread followed. A high school friend of the Bucklins disappeared while backpacking -- also in the mountains of Wyoming -- 20 years ago. He still hasn't been found and Ginger Bucklin feared the same.
"The weather would clear, and the search teams would cover more ground. We'd get excited and think that maybe this is all going to work out," Bucklin said. "And then there were times that we felt more despair and weren't sure what was going to happen."
But she knew the search effort would dwindle. Four days ago, though, mountaineers found the wreckage, Bucklin and his boys. Authorities said they died on impact.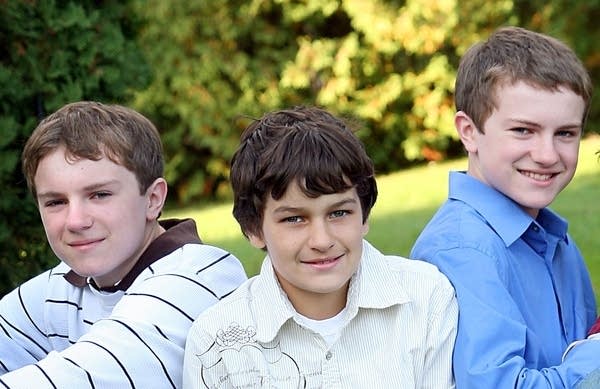 Federal investigators say Luke radioed he was fighting ice and wind and was struggling to stay aloft.
Ginger Bucklin said she knows some question Luke's decision to fly and his piloting skills.
"He was just the safest and most conscientious pilot that I've ever worked with and I've been on flights with him where we waited until the weather cleared up," she said. "In this case, he waited over a day, and conditions told him it was going to be safe. And I trust his judgment without any reservation."   She says Luke's other expertise -- the web -- helped guide her after the crash, as the family's tragedy played out on the online, including a blog Luke set up three years ago.
"We've gone through this very difficult time in the same way we go through happier times in our life. We share things," she said. "We lean on the support of both our face-to-face friends, who can be with us, and all the people that we care about that are not present with us, but we can use technology to build and maintain and deepen relationships, even when they're far away."
  But ultimately, Bucklin said, there's no way to post online, or write or speak the promise she felt was lost when Luke and his boys fell to earth.
"Luke had an incredible balance of wit and humor and leadership and inspiration. He was able to lead people, to show them what the future could hold," she said. "I think that combination is unique."
Regarding the boys, Bucklin said she'll lean on what their friends and parents have said about their kind hearts. 
"Luke and I became used to hearing from teachers and friends and adults on what kind and wonderful kids they were," she said. 
A memorial service for the four of them has been tentatively scheduled for November 13.
Gallery
1 of 1