Indictment: Somali gangs ran sex ring in 3 states
Twin Cities girls, including some who were 13 and younger, were shuffled across state lines to work as prostitutes in a wide-reaching sex-trafficking operation controlled by Somali gangs, according to an indictment unsealed Monday in federal court.
At a news conference in Nashville Monday morning, U.S. Attorney Jerry Martin announced the 24- count indictment against three women and 26 men. The alleged victims, all minors, were listed as Jane Doe 1 through 4.
"The indictment alleges that this conspiracy involved other children and victims in addition to Jane Does 1 through 4 over a significant period of time," said Martin. "The indictment sets forth in detail a wide-ranging conspiracy, both in duration and scope, to bring young girls -- some of whom were no more than children -- into this district for the purpose of engaging in sex acts for monetary gains by the defendants."
The defendants are listed by name, and nickname: Shorty, Forehead, Hollywood, Barnie.
Grow the Future of Public Media
MPR News is supported by Members. Gifts from individuals power everything you find here. Make a gift of any amount today to become a Member!
The indictment describes how the girls were transported between Minnesota, Tennessee and Ohio, how cell phones were used to recruit customers, and how money, alcohol and drugs were exchanged for sex.
Three Minneapolis gangs allegedly operated the ring, including an all-female gang known as The Lady Outlaws. Working with the Somali Mafia and the Somali Outlaws, the group recruited pre-teen and teenage girls to have sex in exchange for cash, marijuana and other items, the indictment said.
The female victims were forced to engage in sex acts in places ranging from a Minneapolis apartment complex to a men's bathroom in a Blaine shopping mall.
In all, 29 people were indicted on charges of sex trafficking of juveniles and other crimes. The sex ring operated in the Twin Cities, Nashville, and Columbus, Ohio.
Authorities noted the unusual scope of the organized sex-trafficking operation in a press conference Monday in Nashville.
"The number of defendants, the number of states, the movement, that there were repeated victims, repeated commercial sex acts that were alleged in the indictment, gives you some sense of the size of the case," said John Morton, Director of Immigration and Customs Enforcement. "I would call this one of the more significant cases we've investigated in recent memory."
Authorities say the trafficking took place over the course of a decade, beginning in 2000. The gangs also transported the Somali- and African-American girls from the Twin Cities to other cities to work as prostitutes. Everyone who was involved in the case immigrated to the U.S. legally.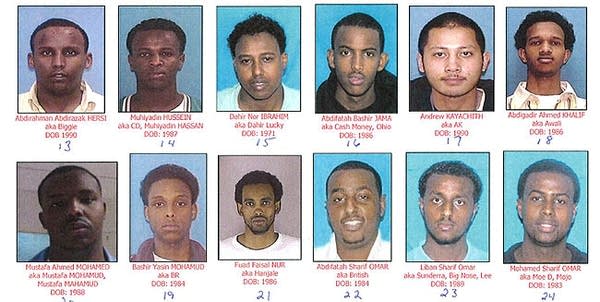 In addition, the gangs allegedly conspired to block the investigation and committed perjury while testifying before a federal grand jury.
The investigation began in 2008, and was led by St. Paul Police and members of the Task Force on Human Trafficking, which includes federal, state and local law enforcement.
The case first came to light in September, after investigators asked a Ramsey County judge for permission to search the cell phone records of a 15-year-old girl. Authorities believe the girl was lured into a large prostitution ring controlled by Somali gangs.
Officials say the Jane Does in the case are being taken care of and not in danger anymore. They warned law enforcement is watching the Jane Does, and anyone interfering with them or their families would be obstructing justice.
Twelve of the defendants made their first court appearance at the federal courthouse in Minneapolis Monday. The defendants are expected to be taken to Nashville to face charges there, as well.
While most of the defendants and victims are from Minnesota, a spokeswoman from the U.S. Attorney's office in Minneapolis said the decision was made to prosecute out of Nashville with assistance from Minneapolis.
If convicted of the sex-trafficking offenses, the defendants could face 15 years to life in prison.
Many Somali-Americans in Minnesota say they hope the developments today will help dismantle the shadowy underworld of human trafficking of their girls.
"In the Somali community, this is a very shameful act," said Dahir Jibreel, executive director of the Somali Justice Advocacy Center. "It's not something that people talk about in the open. We need to root out the problem."
Jibreel said he learned of several arrests this morning in Bloomington, Minneapolis and St. Paul.
Some say in general, trafficking victims are vulnerable to recruitment after running away from their homes. Some of the girls are lured by promises of a better life, and move into houses shared with other girls and their victimizers, who tended to be women, said community activist Abdirizak Bihi, who has counseled victims through his work with the group Civil Society.
"And many men come to the home providing small things such as paying for their cell phones, or stuff they want to buy, and taking advantage sexually of those young girls," Bihi told MPR News earlier this fall.
(Reporter Blake Farmer of WPLN, Nashville, contributed to this report.)
Gallery
1 of 2
2 of 2