Residents of the small western Minnesota town of Rothsay are part of a unique energy conservation experiment that could cut their energy consumption by 15 percent.
Otter Tail Power company officials say it's the only effort they know of in the nation that challenges an entire community to use less energy -- including students at local schools.
That's what brought students together in the band room at Rothsay High School for a business meeting over lunch. The first item on the agenda -- bill analyzer training.
The 14 students are leaders in the effort to reduce energy consumption in Rothsay, a community of 510 about 40 minutes southeast of Moorhead.
The students are preparing to help community members learn how to use an online program to better understand their utility bills.
It's one of many community projects the students have done in the past year. Seventh grader Grant Stramer has a simple reason for getting involved.
"I wanted to help the school save the energy, because then that means the school saves more money and we can use it on sports equipment and other stuff," he said.
The school is the largest energy user in town, so it's getting a lot of attention.
Nearly $500,000 spent on improvements like a new heating system and energy-efficient lighting will cut energy use. Rebates of about $90,000 will offset part of the cost. School officials expect savings of about $30,000 a year.
Since some of those savings will come from students turning out lights and shutting down computers, students will get to help decide how some of the savings are spent.
But saving energy isn't always convenient, 10th grader Emma Larson said.
"Not everybody likes to wait for their computer to start up. Like especially first thing in the morning," she said. "When you get here and try to finish a homework assignment, they're like 'ahhh, the computer's not on.' That's inconvenient, but it's not so bad. Most people are willing to pitch in and help."
In fact the students here are so enthusiastic about saving energy, they're preparing to take their message on the road to other schools in the area.
The students have already gone door to door in Rothsay, asking residents to sign a pledge to reduce energy use.
Otter Tail Power project coordinator Brenda Sandahl says 66 percent of residents agreed.
"People signed up to turn off their lights when they left a room, or unplug their computers and wash full loads, and that should make a difference for the town," Sandahl said.
Jeanette Geer expects much lower energy costs. The Rothsay homeowner won a home makeover as part of the energy challenge project. Her home has new insulation and new energy-efficient appliances.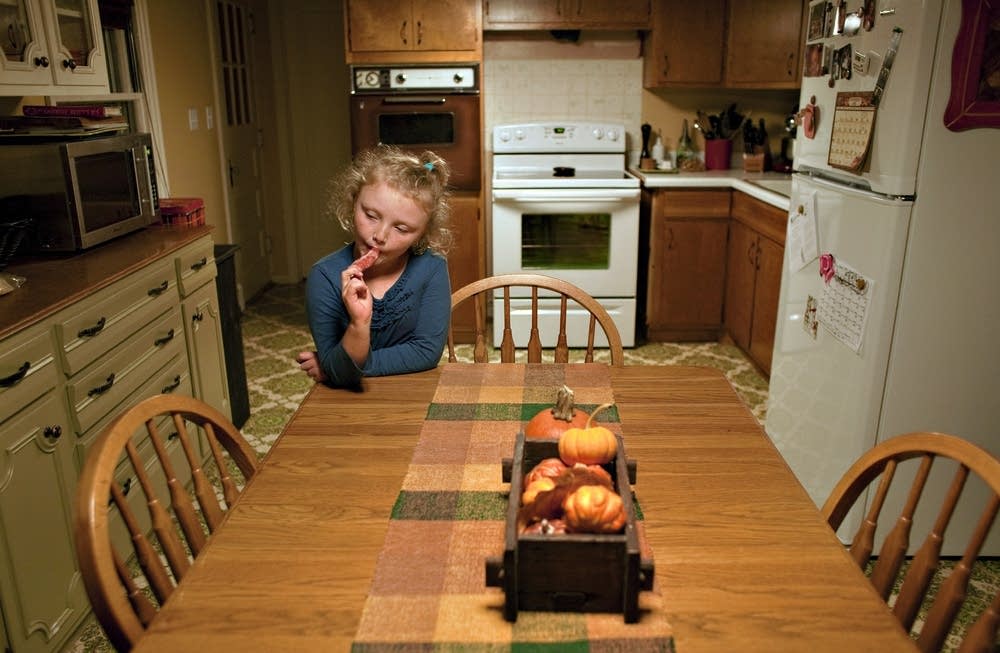 "I got my first water bill and my water bill is down," she said. "These new washers take less water. It's fun to see the difference."
It will take a few months to know how much these home improvements will save Geer.
Utilities are required by the state to promote energy conservation. Otter Tail Power decided to see what could be done with a high-profile effort in one town. The utility plans to spend $282,000 on this energy challenge.
Measuring an entire town's energy use is proving to be a challenge. People are always changing their homes in ways that affect energy use.
The utility will track electrical use for at least four years, and try to factor in the efforts residents make to upgrade appliances or add insulation.
Otter Tail Power Communication Specialist Stephanie Hoff said everyone can change habits like turning off lights. But many people can't afford to spend thousands of dollars to update all of their appliances.
Still, Hoff said what people are learning from this project will create energy savings for years to come.
"When you're going out and making these purchases, it's just a matter of the thought process and making sure you're making the most energy-efficient decisions," she said. "The learning opportunity in Rothsay has been tremendous, and people will be more aware when they make choices down the road."
At the end of this year the utility expects to have the first measure of how much Rothsay has reduced its energy use.
http://www.energychallengeison.com/rothsay/