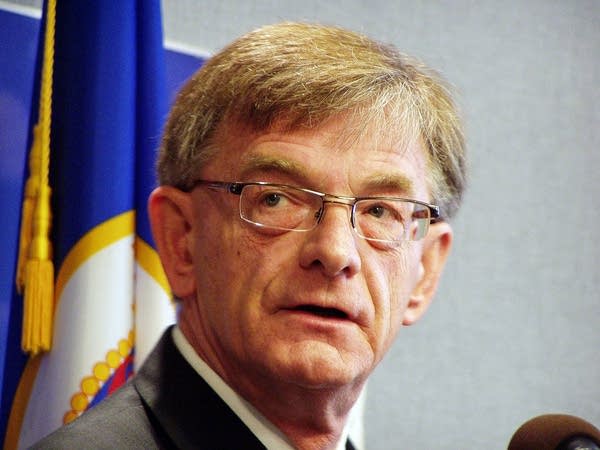 Most members of the new Republican majority have been basking in the spotlight at the State Capitol, but one veteran GOP legislator who had a publicized run-in with the law is trying hard to stay out of sight.
The St. Paul City attorney announced Thursday that State Rep. Tom Hackbarth, R-Cedar, will not face charges after his recent arrest for carrying a weapon.
But Hackbarth abruptly resigned his new committee chairmanship last week following the incident. He hasn't been heard from since, and his GOP colleagues have little to say about the matter.
Soon after a historic election that flipped control of the House and Senate, Republicans named several longtime incumbents to chair various legislative committees. The selection of state Rep. Tom Hackbarth for the House Environment, Energy and Natural Resources panel came as no surprise since he chaired the same committee from 2003 to 2006.
"We as a caucus stand behind Tom in what is a very difficult time for him personally right now, and respect his decision to step away from a leadership role within the caucus."

Rep. Matt Dean
But the new appointment didn't last long.
In late November, Hackbarth was spotted with a gun holstered to his hip in the parking lot of a Planned Parenthood clinic in St. Paul.
Police briefly detained Hackbarth, but didn't arrest him. He has a permit to carry a handgun in public. Hackbarth explained to police, as well as KSTP-TV, that he was checking up on a woman he was dating.
"I had a feeling she was lying to me about some different things," Hackbarth said. "You meet somebody online like that, you want to find out what this person is all about."
St. Paul prosecutors said there were inconsistencies in Hackbarth's story, but they ultimately decided against filing any charges.
Still, the political consequences began piling up soon after the story broke. House Republicans first suspended Hackbarth from any leadership position. He later resigned his pending chairmanship, and issued a statement apologizing for his behavior. He hasn't made any further public comments and was not available for this story.
"He's obviously going through some very difficult times," said new House GOP Majority Leader Matt Dean. "We as a caucus stand behind Tom in what is a very difficult time for him personally right now, and respect his decision to step away from a leadership role within the caucus at this time, and wish him the best in the weeks ahead."
Hackbarth was first elected in 1994 and served one term. He ran again in 1998 and just won re-election to his eighth nonconsecutive term.
Most of the bills Hackbarth has carried during that time are related to the outdoors and he was an early supporter of the legacy amendment, when it didn't include a sales tax increase.
Hackbarth also co-sponsored the 2003 law that allows him and other authorized Minnesotans to carry a concealed weapon. He made a big splash last year when he proposed using slot machines at horse racing tracks as a way to fund a new Vikings stadium.
"We have to build a stadium, and my constituents are telling me I don't want taxpayer dollars going to build a stadium," he said at the time. "But I also don't want to see the Vikings leave. This is a perfect solution."
House GOP leaders selected Rep. Denny McNamara of Hastings to replace Hackbarth as environment committee chairman. McNamara, who also offered words of support for his colleague, said he's not sure if Hackbarth will still be on the committee.
"Tom is an important member of the caucus in regards to environmental legislation and environmental issues and natural resources," McNamara said.
McNamara said Hackbarth has been around the Capitol a lot longer than himself, and it would be an expertise that would still be appreciated on the committee.
"But that's Tom's decision, not mine, and I guess I'd rather not weigh in on it," he said.
Democrats are also reluctant to weigh in on Hackbarth.
House DFL Minority Leader Paul Thissen described the incident as troubling, and he told reporters last week that Republicans should do a better job explaining what further actions they plan to take.
Thissen also said a formal ethics complaint couldn't be filed until after the session begins on Jan. 4.