MLK program aims to reduce 'digital divide'
Families in the Hawthorne neighborhood of north Minneapolis got a chance to mark Martin Luther King Jr.'s birthday Monday in a 21st century fashion -- with technology.
An event in the neighborhood marking the holiday was sponsored by the Digital Divide Initiative, which is trying to get computers into the homes of low-income families with young children, to help close the technology gap between rich and poor.
In the basement of the Church of St. Philip, Ken Nelson is excited to see Rhonda Gaetano and her five children walk into the MLK Day event, lugging an old computer CPU in an IKEA shopping bag.
Nelson founded the Digital Divide Initiative in Minneapolis four years ago to get more people in this community to participate in technology. He offers to carry the heavy bag for Gaetano, so a technology volunteer can do some troubleshooting.
"It says 'low virtual memory' a lot on our computer, so I wanted someone to take a look at it," Gaetano said.
The event offered Hawthorne families free computer help, electronics recycling, and plenty of games, art, science projects and cake.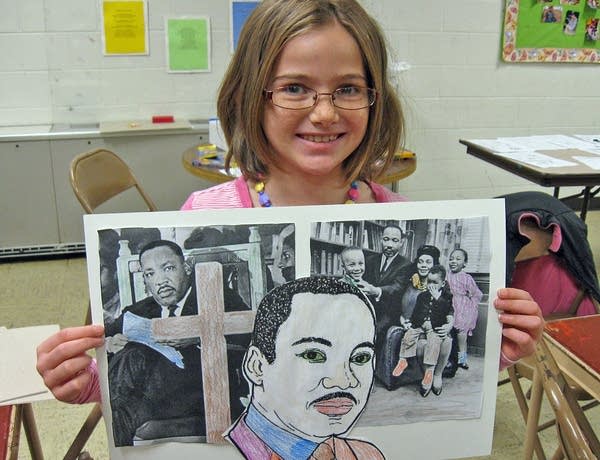 Nelson hoists Gaetano's heavy bag onto his shoulder, and leads the kids over to a table of computers where he fires up a memory game called "Suspect Sketch."
"You'll see a face on the screen. Remember everything about that face," he instructs the kids. "Look at the hair, look at the eyes, look at the nose. Then we have to recreate that face."
The kids are shy, and no one quite remembers the features of the face.
"It was that one!" Nelson points out to them. "So that's the idea. You have to click through and find the pieces, and you put those pieces together. Every time you see a new face, your brain creates these maps. It actually expands and grows, so that's where diversity really comes in."
Digital Divide has given 200 laptops loaded with IBM educational software like this to families who complete volunteer work and training. Nelson says they need programs that work in an urban setting, otherwise giving computers is like giving people paperweights.
"So often with our urban kids, if there's been any trauma, if you've been moving a lot, you have gaps in learning," he said. "So this software lets us go back and address those gaps that a lot of kids have. You just see them light up, and once they kind of figure something out, it leads to the next thing and the next thing."
One of Digital Divide's partners is Nellie Stone Johnson school, a K-8 community school across the street from the Church of St. Philip.
Nicole Randolph is a parent and community liaison there. Randolph says she sees a big need for computer competency.
"The biggest part of something that's impacting the divide, that we're not talking about, is all of our testing has gone onto computers. But yet our children have not been adequately trained on how to take tests on computers," said Randolph.
Upstairs in the church sanctuary, volunteers are getting ready to show some of Martin Luther King's famous speeches. Mitch Johnson had the day off from his job at United Health Care, so he came to volunteer.
"There's this opportunity to volunteer so I figure, why not?" he said. "This is such an important thing, I think, ushering kids into using technology, or people who are not familiar with technology at all to be able to learn how to do it."
Waiting behind Johnson is Didier Mukusu, who moved to Minneapolis from Congo six months ago. His laptop sits in a zippered case next to him. Ken Nelson introduces him to Michael Kingbird, a college student who's here today debugging computers.
"He's got his laptop with him, and his laptop has some issues. We don't know what they are yet," said Nelson.
Mukusu labors to explain that his laptop is infected with viruses.
"If you start ... much risk," he said.
Nelson shows Mukusu a computer lab in the basement of the church, which is one of 11 Twin Cities labs run by Digital Divide.
"You put on the earphones, and you speak back and forth to the computer," Nelson explained. "It'll really help you practice your English."
Mukusu seems relieved someone can help him. Then, he explains that today is a holiday in his native Congo, too. It's Heroes' Day.
Gallery
1 of 1