Rushford hopes for a big future in nanotechnology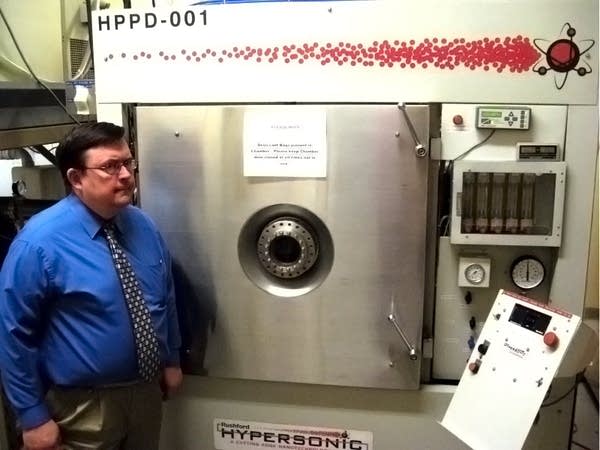 Rushford and its nearly 1,800 residents are tucked away in the bluffs of southeastern Minnesota. The town is a small collection of tiny streets, charming old buildings and one blinking street light.
And it's betting on the future of nanotechnology, the use of everyday materials engineered at the molecular level to improve products — from golf clubs to hip implants.
The government predicts nanotech will create hundreds of thousands of new jobs in the next five years. Rushford hopes some of those jobs come its way.
Kevin Klungtvedt is the spokesman for Rushford Hypersonic. With just four employees, the three-year-old venture is Minnesota's first rural nanotech company.
Grow the Future of Public Media
MPR News is Member supported public media. Show your support today, donate, and ensure access to local news and in-depth conversations for everyone.
It is developing a high-end coating that could be used for longer-lasting hip and knee implants and harden drill bits, shovels and even helicopter blades.
"When you make things smaller in the material world, the grains are smaller and they become harder," Klungtvedt said. "What's different about this process is they also become tougher. So you know, like a China plate is tougher. Imagine a china plate that you can't break, almost like rubber. And that's what you get with this coating."
The company recently won a $125,000 Small Business Innovation Research grant from the National Institute of Biomedical Imaging and Bioengineering, an institute within the National Institutes of Health. It's a modest grant in the world of nanotech but a big deal for this small startup.
Many big manufacturing companies have been using nanotech to improve products for years. But it's not happening as fast with small manufacturers, especially in rural Minnesota.
That needs to change, said Stephen Campbell, a professor at the University of Minnesota's nanotech lab in Minneapolis. He said nanotech has the potential to replace some of traditional manufacturing jobs that are disappearing in rural Minnesota.
"What we hope it'll do is help retain the manufacturing base in small towns, particularly when you consider many of these technologies people are developing are not all that capital intensive," Campbell said. "And that allows small towns to be competitive. Once the technology is developed, they can help commercialize it."
That's beginning to happen on a small scale in Rushford. The N.I.H. grant is validation for Klungtvedt, who has been pushing nanotech here for almost a decade. He said it is an investment in the town's future.
"Rural Minnesota is world-renowned for our very, very good workforce," he said. "And people learn very quickly and they're very loyal to companies ... So it's perfect."
For now, Klungtvedt is betting nanotech will bring more jobs to his small town. The community is supportive of nanotech. There's a nano curriculum at the high school. And Klungtvedt is working to get a second nanotech company up and running. He said that company will focus on producing and marketing medical products from University of Minnesota patents.
Gallery
1 of 1