DNR may be granted greater inspection authority to combat zebra mussels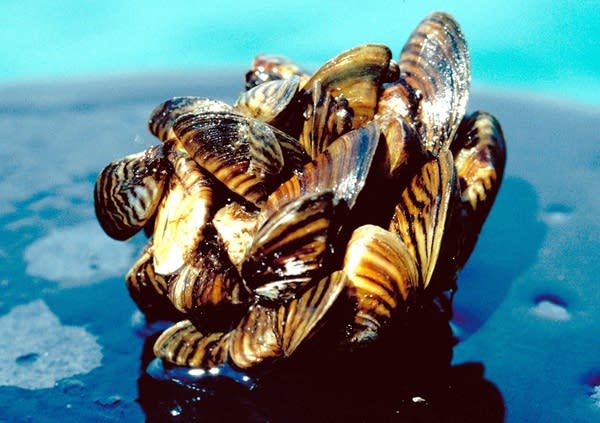 The Legislature is poised to give the Department of Natural Resources new authority to require boat inspections and decontamination to slow the spread of zebra mussels.
And that means Minnesotans could see some changes at boat landings this summer when they go out to visit their favorite lakes.
But there is disagreement about how effective these efforts could be.
Zebra mussels hitchhike from lake to lake on boats and trailers. They can clog water intakes and boat motors, leave sharp shells on beaches, and, in high numbers, they can alter the food chain.
Minnesota now has 19 lakes and four rivers infested with zebra mussels -- including Mille Lacs Lake, the state's best-known walleye fishery, and popular Lake Minnetonka.
Jeff Forester, the executive director of the Minnesota Seasonal and Recreational Property Owners Coalition, said lakeshore owners feel strongly that the current approach, relying mainly on public education, isn't getting the job done.
"The thing with aquatic invasive species is that half measures won't work."
Lawmakers are considering a measure that would get tough on these nuisance critters. It covers all aquatic invasive species, including Eurasian watermilfoil, but it's prompted by growing concern about zebra mussels.
The legislation authorizes mandatory inspections at or near water access points. If inspectors find an invasive species, they can require the boat or other equipment to go through a decontamination process.
It also allows local police, county sheriffs and tribal police to do these inspections.
It requires boat lift operators and other service providers to be trained and pass an exam to get a permit to do their work. And it increases fines for breaking the law.
Currently, it would boost the fine for failing to drain water from a boat from $50 to $100. And the fine for possessing or transporting nonplant prohibited invasive species, like zebra mussels, would jump from $250 to $500. But those numbers, like other measures in the bill, are subject to change as the Legislature debates the matter.
The proposed crackdown comes after the DNR took suggestions from lakeshore association members, anglers, conservationists and local government officials.
Vern Wagner participated in that process; he leads a group called Anglers for Habitat. He's concerned that boaters will be subjected to a lot of inconvenience for a system that may not work.
"It sounds good to say we're going to set up a containment area around Mille Lacs Lake, but wait a minute, we're talking tens and tens of thousands of vehicles with watercraft going back and forth," he said.
The DNR said it can at least slow the spread of invasives. The agency compared its plan to truck weigh-stations on the highway: If the line gets really long, inspectors can wave some boats through.
Depending on its budget, the DNR plans to buy two-to-four portable decontamination stations that use hot, high-pressure water to wash the invisible larvae of zebra mussels off boat hulls. This equipment can move from one lake to another, and the plan is to use a triage system, concentrating on the boats presenting the highest risk. Just one day in the water is not enough for zebra mussels to attach to a boat, the agency said.
These inspections will be somewhat like DUI checkpoints. Fifteen years ago the State Supreme Court ruled random DUI checks unconstitutional. But Maj. Rodmen Smith, manager of the DNR's enforcement division, said these inspection stations would not be random.
"We would place the checkpoint very close to a public access so the percentage of vehicles coming into the check station -- a high percentage of those folks are actually coming from the water."
Some of the people who helped the DNR draft the legislation don't think it goes far enough. They say there isn't enough money to inspect all boats coming off infested lakes, the fines should be higher, and a more comprehensive program may be needed.
And paying for the enforcement effort will require some compromise at the Legislature.
The governor's budget includes an added surcharge on boat licenses. Republicans don't want to raise the surcharge; they plan to use one-time money from the Environmental Trust Fund to buy equipment and get the project underway. The House bill does not provide money to hire more conservation officers this summer, which would hamper the effort.
Committee hearings on the bill are expected in the House and Senate next week.
Gallery
1 of 1