TCF experiments with new overdraft fee policy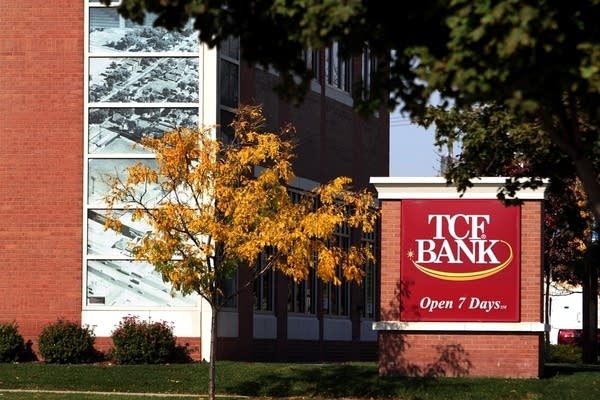 TCF Bank has long relied on bounced check and other customer fees for a big share of its profits. But federal banking regulation is tightening requirements on overdraft fees, and TCF's fee income is down.
Now the bank is trying out a program in Michigan that can lower overdraft fees for some customers, but raise them for others. It depends on how quickly a customers gets an account back in the black.
TCF charges most customers $35 per overdraft, with a total penalty of up to $175 a day. The charges are called NSF fees, for "nonsufficient funds."
In Michigan, TCF has begun charging customers just $10 or $25 for every day they overdraw an account. It doesn't matter how many checks or other transactions they've bounced in a day.
TCF spokesman Jason Korstange says the bank wants to see if the experimental NSF policy in Michigan can discourage overdrafts, while helping the bank keep existing customers.
"It's not unusual, I'll say that, for someone to just have too many NSF fees," he said. "If you've got so many fees that your next check doesn't cover it, there's a real good opportunity that person might walk away."
Gain a Better Understanding of Today
MPR News is not just a listener supported source of information, it's a resource where listeners are supported. We take you beyond the headlines to the world we share in Minnesota. Become a sustainer today to fuel MPR News all year long.
In Michigan, a customer with a negative balance at the end of the day will be charged no more than $25. If the customer makes a deposit and has a positive balance the next day, that's the end of the fees.
But leaving the account negative for consecutive days leads to multiple fees -- even if no more checks bounce.
Korstange says lower overdraft fees could boost the bank's overall revenue, by keeping more existing customers and attracting new ones.
"You can be revenue neutral by having a lot more accounts, a lot less attrition," he said.
TCF has said about 20 percent of its customers pay some sort of account fee over the course of a year.
That's in line with the results of a survey done last year by the American Bankers Association. The ABA found 21 percent of Americans reported paying an overdraft fee within the prior 12 months. Most said they got dinged for one or two fees.
The fees can infuriate customers, and have led to a federal clampdown on fee policies. But Steve Kenneally, a spokesman for the ABA, says consumers have no one to blame but themselves.
"The one party that is in charge -- that has the ultimate authority on whether an overdraft fee is charged -- is the customer whose account it is. They're the ones that know how much is in their account," said Kenneally.
Last year, federal regulations went into effect requiring banks to get permission from customers before paying debit card or ATM overdrafts, and charging a fee for the service. A separate ABA survey found only about half of bank customers have signed up for overdraft programs that cover debit card and ATM transactions.
The new rules did not affect checks or automatic bill payments. Banks may still charge overdraft fees for those items, without getting prior customer approval.
Overdraft fees have been a political liability for banks. They collected nearly $24 billion in overdraft fees in 2009, according to the Center for Responsible Lending. That group has blasted some banks for processing checks in ways that maximize overdraft fees.
Banking industry consultant Bert Ely says banks are tweaking overdraft polices to try to find a balance between generating revenue and placating customers, consumer advocates and regulators.
"It may well be that what TCF and others will do is they will experiment with various pricing combinations to see what seems to work best from a customer relations standpoint, while also generating revenue for them," said Ely.
TCF says it has not made a decision about whether it will expand the overdraft fee trial to other states. And it says it's too early to draw conclusions about the effectiveness of the experiment.
Gallery
1 of 1