Wis. protests move from the Capitol to the voting booth
A wave of discontent in Wisconsin is forcing recalls against eight state senators -- three Democrats and five Republicans -- as a result of the controversy over collective bargaining that's played out in mass protests over the last several months.
One senator defending his seat is La Crosse Republican Dan Kapanke. Kapanke and his challenger, Rep. Jennifer Shilling, are gearing up for an accelerated race this spring.
Wisconsin's 32nd Senate district is a five-county area that runs from the university city of La Crosse south along the Mississippi River to the rural, dairy country near Prairie du Chien.
Politically, it's also the most Democratic of the districts facing recalls.
Grow the Future of Public Media
MPR News is Member supported public media. Show your support today, donate, and ensure access to local news and in-depth conversations for everyone.
Shilling, 41, represents the district in the state House of Representatives. She has served in the Legislature for a decade. She said Kapanke's support of the governor's budget bill that took away many collective bargaining rights of state employees antagonized many workers, and represents a significant economic and social blow to residents in the district.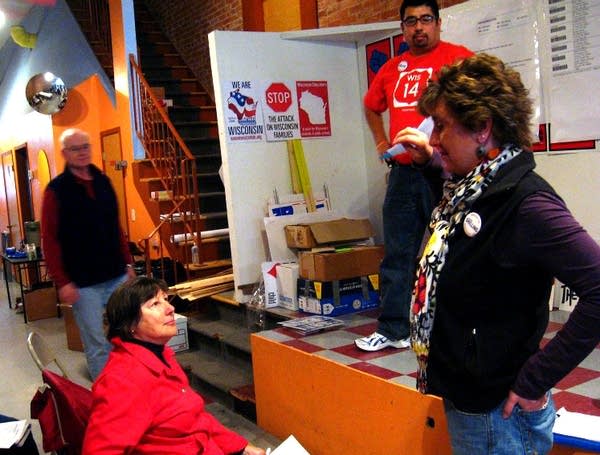 "Voters are expressing voter remorse," Shilling said. "They're saying, 'We voted for Sen. Kapanke in the past, we voted for Gov. Walker, but this is not what we voted for. I don't recognize the process that we see unfolding in the Capitol.' I don't recognize my colleagues, and just the total disregard for democracy has people so upset, and saying this is not what we voted for in November."
One of Shilling's supporters is Eric Barnes, 37, a physics professor at the University of Wisconsin-La Crosse. He walked door to door in a neighborhood of Onalaska just north of La Crosse on a recent afternoon.
Barnes had never campaigned for a candidate before, but the gridlock in Madison over Walker's bill that stripped collective bargaining rights from public workers like himself, left him thinking about the bigger picture.
"This is the first time I think I've had anybody directly affect me with policy," Barnes said. "If it weren't for what was done, I know I wouldn't be doing any of this. ... But the direct impact really made a big difference."
A committee to recall Kapanke submitted nearly 23,000 signatures demanding a recall election. Kapanke is challenging several aspects of the recall process. Those have to be sorted out before the state's Government Accountability Board decides whether to officially schedule a recall.
His attorneys are challenging more than 900 of those signatures, as well as the validity of the recall petition, saying the recall organizer was not properly registered with the state, and because of that, the signatures should not be counted.
Still, both campaigns are preparing for an election this summer.
A mile away from Shilling's office, Kapanke, 63, set up his own campaign headquarters in the La Crosse County Republican Party office. He hired a campaign manager last week and has started fundraising.
Kapanke is serving his second term as state senator. He defends his vote to strip collective bargaining rights for public workers, and says the governor's budget bill was needed to balance a projected $3.6 billion budget gap.
"Many people are angry about what we did," Kapanke said. "I say, I'm angry, too. I'm angry at previous legislators, previous administrations in Madison, both Republican and Democrat, who didn't have the fiscal responsibility to balance our checkbook in Madison, and that's got us to where we are today. So I was forced, if you will, to take a very tough vote to balance our budget. And I had to."
Historically, Kapanke's district has favored Democrats, including President Obama in 2008. UW-La Crosse political scientist Joe Heim said that makes Kapanke the most vulnerable of all the Republicans being recalled.
"I think what this is, in a political trend, is a rebound from last November," Heim said. "It's pretty clear that a lot of Democrats stayed home last November. A lot of union people stayed home last November. They were not as excited about what was going on. And obviously, the conservatives, the Tea Party movement was very intense and carried the day."
Heim says whoever wins the 32nd District's recall will depend on which side maintains its intensity and, more importantly, can convince voters to go the polls in the middle of summer.
Gallery
1 of 1