The Minnesota judicial system is moving toward a paperless future.
Officials in 20 counties are now using an electronic criminal complaint system called eCharging.
State and local officials say the electronic system is improving efficiency and reducing mistakes in court data.
In the past, criminal complaints arrived in the clerk of courts office on paper, where clerks entered the information into a computer database.
The criminal complaint now arrives in electronic form from the county prosecutor's office, a process that trims multiple layers of data entry from paper documents, because the information transfers from one office to another electronically. It saves a court clerk about 15 minutes per complaint.
Clay County court administrator Jan Cossette said the new system takes some pressure off the court staff.
"We are able to process things a little bit slower and take our time so we don't have as many mistakes," she said.
The change to electronic charging also means big time savings for law enforcement.
Under the old system, Moorhead Police Lieutenant Tory Jacobson would need to interrupt what he was doing and walk over to the county prosecutor's office to review and sign criminal complaints. Afterwards, he would walk the complaint to court and wait for a judge to sign it.
Now Jacobson checks the complaint on the computer at his desk and signs it using a fingerprint. It then goes to the court computer, where a judge can review the complaint and sign it electronically.
"Things are getting before a judge quicker, much quicker," he said, noting that police officers no longer have to carry complaints from office to office. "Each person used to have their own personal slowdowns based on what they were doing for the day."
The efficiency is even more noticeable for police officers in rural areas, said Tom Miller, eCharging project manager for the Bureau of Criminal Apprehension.
Miller said one small town police chief signed a criminal complain in the time it would take to walk to his car.
"He would have a 10-mile drive to get to the county seat to pick up the complaint from the prosecutor," Miller said. "He doesn't have to do that anymore so it's a significant time savings for officers."
Carver County estimates eCharging will save $100,000 a year in staff time and paper costs.
The state has spent about $3.5 million on eCharging so far. Most of the cost involves designing computer programs so the police department software, prosecutors' office software and the court computers can all share information.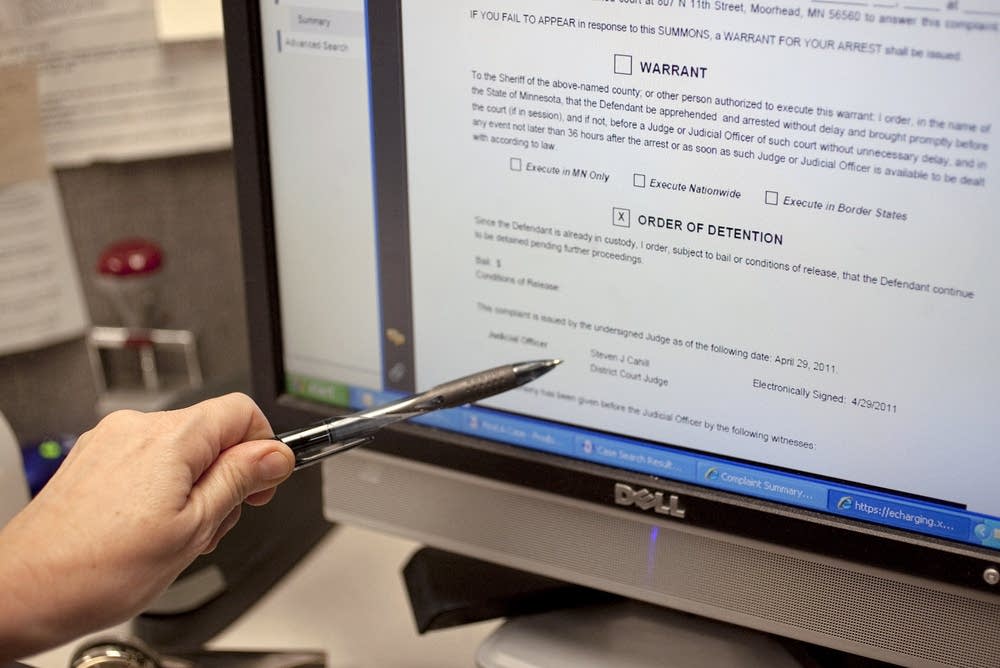 Miller said that eliminates the problem of several people having to enter the same data into different computer programs.
"There's some significant problems in Minnesota with when data gets entered into different systems. Typos and errors make it difficult to figure out all these different cases are linked," he said. "So having the data automatically populate can reduce the problems caused by duplicate data entry, and it's also more efficient for the office staff."
State officials aim to use eCharging in all Minnesota counties by late 2014.
Their ultimate goal is for Minnesota's judicial system to be paperless from the police squad car, to the judge's bench.