Federal disaster aid good news, but housing challenges remain for north Mpls.
FEMA's announcement this week granting Gov. Mark Dayton's request for federal disaster aid for the tornado means the state has cleared a major hurdle in the ongoing recovery effort.
With so many vacant and foreclosed homes already in the area, city officials and housing advocates want to make sure that damaged properties don't end up among the abandoned.
It's been nearly three weeks since the tornado left millions of dollars in damage across the metro. Minneapolis officials are still working on getting a clear picture of what the damage could cost, and what it means for housing on the north side. The federal government is still reviewing Dayton's request for individual disaster assistance.
Minneapolis Mayor R.T. Rybak said he's been lobbying federal officials to approve the request.
"We don't know when this will come or whether it will come, but we know how important it is, in part because of the extensive damage but also in part because this was a neighborhood that had serious challenges before this began," Rybak said. "To get things back on track we need to make sure that we help individuals with some tough situations."
Preliminary damage assessments conducted after the storm estimated more than $16.33 million in costs and damage to public infrastructure in Hennepin and Anoka Counties. The public FEMA assistance will pay for 75 percent of debris removal, emergency services and repair or replacement of damaged public facilities.
FEMA spokesperson Holly Stephens said there is no timeline for deciding whether to approve the state's request for individual assistance. Even if it is granted, she said, people's needs will be considered on a case-by-case basis.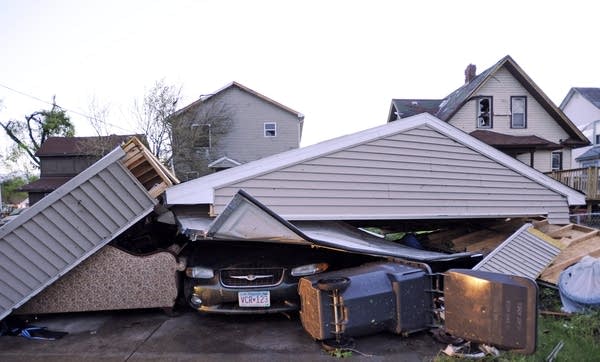 "They look at strictly what is the insurance coverage, how many of the homes that were in that area were insured, because federal disaster assistance cannot duplicate insurance coverage," Stephens said. "And it can also not duplicate other federal funding streams either."
Stephens said both property owners and renters would be eligible for disaster assistance, but how much they'd receive depends on their individual circumstances.
FEDERAL AID CRUCIAL FOR RECOVERY
Minneapolis officials have put a preliminary estimate of the storm's damage to housing at more than $30 million. Personal homeowner's insurance will help pay for a large portion of the damage, but the situation is more murky for the properties that were already vacant and or in foreclosure at the time of the tornado.
FEMA identified more 1,882 damaged residential properties in north Minneapolis. Of those, 274 suffered major damage and 1,608 suffered minor damage. Minneapolis officials identified an additional 2,455 that were also affected by the tornado. All told, 3,789 properties were impacted by the tornado and the city expects all of those numbers to rise.
The city identified about 3,789 that were affected by the tornado and they expect that number to rise. FEMA found 1,882 damaged residential properties in north Minneapolis. Of those, 274 suffered major damage and 1,608 suffered minor damage.
Researchers at the University of Minnesota found that 231 of those homes that sustained major or minor damage are considered vacant. And an analysis by MPR News of properties in the tornado zone found 135 of the damaged homes were subject to a foreclosure sale in the year before the tornado. About a dozen of those sustained major damage.
"This foreclosure recovery was on its way and the tornado has rewritten the book on that," said Roberta Englund, with the Folwell Neighborhood Association. She said the tornado was a setback for the north side's foreclosure recovery.
Now, Englund is concerned that some investors who own damaged rental properties could collect their insurance payouts and walk away rather than rehab their homes.
"So we may have another array of houses that become ownerless or are left and we don't know what those are going to be yet," she said.
Housing groups and the city of Minneapolis are crunching numbers to try and identify which banks hold title to all of the vacant and foreclosed homes in the tornado zone. This will help them lobby owners to reinvest in damaged homes that could be saved.
The city hopes to acquire and rehab salvageable homes and rental properties to get them back on the market. The city is still figuring out how to pay for that.
DAMAGE AND PROPERTY MAPS (best if viewed in full screen mode):
Gallery
1 of 1
Your support matters.
You make MPR News possible. Individual donations are behind the clarity in coverage from our reporters across the state, stories that connect us, and conversations that provide perspectives. Help ensure MPR remains a resource that brings Minnesotans together.