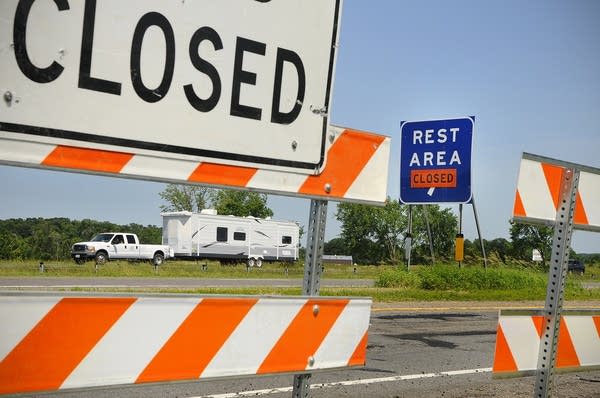 The Minnesota government shutdown on July 1 may have felt abrupt, but state agency planning for it had been going on for weeks.
Now, when Gov. Mark Dayton signs the dozen bills passed Tuesday night that make up the state's budget and spending, agencies will have to throw their whole program into reverse and restart everything from state parks to road construction.
In a conference call with reporters Tuesday afternoon, Budget Commissioner Jim Showalter said the administration is anxious to get thousands of laid-off state employees back to work, but he added that won't happen right away.
"Normal operations do not happen immediately," he said. "Each agency will have its own decisions and issues to address before normal operations resume."
Showalter was not specific about when any particular service would restart. He said some agencies may have additional details they need to work out on their own, and that will likely mean it'll be a "matter of weeks" before everything is back to normal. In other words, state government won't kick start like a motorcycle; a coal-fired steam locomotive is the better analogy.
Still, Dayton's chief of staff Tina Smith said the governor wants to get as much of the state apparatus back up and running as soon as possible.
"In terms of understanding how this is going to work, you're not going to see a rolling resumption of service," Smith said. "We're going to resume service all across the agencies all at once."
"Now to simply snap your fingers and say 'hurry up and come on back' is not such an easy task."

Tim Worke, Associated General Contractors of Minnesota
Smith said state employees will receive a 24-hour notice when they need to return to work. Each agency has its own communication plan. Also the state has a website, www.bereadymn.com where workers and others can check to see which agencies are open.
But just because the governor signs the budget bills, that doesn't mean you'll be able to get a new driver's or fishing license right away. The Minnesota Historical Society won't open its museum, Fort Snelling and other historic sites until Saturday. And don't expect road crews in fluorescent vests to start jack-hammering on cue.
Tim Worke, Director of the Transportation and Highway Division with the Associated General Contractors of Minnesota, said it'll take several days - maybe even a week - to restart construction projects. Worke said some companies took on private jobs during the shutdown not knowing how long it would last.
"These folks certainly if they had other work in the field, on their books, they may have moved equipment, moved resources to expedite that private work," Worke said. "And now to simply snap your fingers and say 'hurry up and come on back' is not such an easy task."
Worke says around 100 MnDOT work sites were idled, as well as dozens of other local road projects. He estimates thousands of private-sector employees were out of a job.
Also eagerly awaiting the call back to work are the 22,000 state employees deemed non-essential during the shutdown. One is Deepa DeAlwis, who helps clean up contaminated military and industrial sites for the Minnesota Pollution Control Agency.
"It's not excitement that I feel right now, it is a relief," DeAlwis said. "Finally I get to go back to work, finally I get a paycheck because I earned it. Unemployment is great, but I don't feel like I earned it."
DeAlwis said she cut way back on her household expenses during the shutdown and learned to make do with the bare minimum. She said those skills could come in handy two years from now, if state leaders fail to meet their next budget deadline and state government goes dark yet again.