Minn. seeks waiver to No Child Left Behind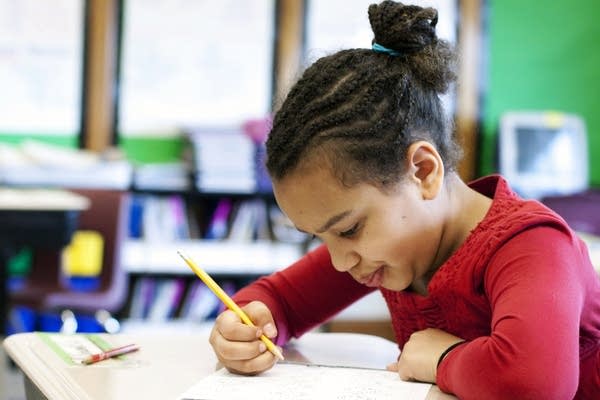 Gov. Mark Dayton announced Monday that Minnesota will seek a waiver from the federal No Child Left Behind law that would give the state permission to bypass some testing requirements and punishments.
The Obama Administration announced the waiver Monday, saying Congress hasn't come up with a bipartisan bill to update the nation's main education law. School is about to start, so Secretary of Education Arne Duncan plans to use executive powers he said he has to grant relief on his own.
Minnesota's Education Commissioner Brenda Cassellius is on board with such a plan.
"It doesn't matter who you ask; people want this law rewritten and they want it rewritten now," she said. "They see their children progressing and learning and yet their school is still called a failure."
Grow the Future of Public Media
MPR News is supported by Members. Gifts from individuals power everything you find here. Make a gift of any amount today to become a Member!
The nearly 10-year-old No Child Left Behind law has drawn praise over for finally putting illustrating the achievement gap that exists in each state. But the law is also often criticized for the punishments it exerts on schools for not meeting standards. Every student must be proficient in math and reading by 2014, the law states. Educators consider that a laudable goal, but one that's impossible to meet.
Dayton, who voted against the 2001 No Child Left Behind law when he was a U.S. senator, said in a statement Monday that the law "has imposed rigid testing requirements, many of which have harmed, not improved, the quality of students' learning experiences.
"It has labeled many schools wrongly, by applying invalid statistical measures."
Still, a waiver from the law doesn't mean the law goes away. There will still be standardized tests, schools will still be measured based on whether they're meeting what's called Adequate Yearly Progress and there will still be required steps for schools that continually fail to meet their benchmarks.
But the waiver could potentially and drastically rewrite how you get to those steps and what you do with the results.
One criticism of the current law is how it uses test data to label schools as failing. Right now, a class of fourth graders is measured against how last year's fourth graders did. Education officials like Ric Dressen, superintendent of the Edina School District, say that's unfair because you're not measuring the same students.
Dressen's district has been long heralded for its high-performing schools but which currently is not considered as meeting the federal law.
"I think we have to get closer to kids, be more in touch with how individual students are performing, and I think, that's where assessment is headed," he said. "We just need to keep pushing that."
Minnesota could ask in its waiver for permission to measure schools based on the growth of individual students, instead of comparing this year's fourth graders with last year's.
And that's just one example of what a waiver would do. Casselius said she hopes to submit Minnesota's application for a waiver in the next week or so.
Monday's move by the White House sparked a reaction from Minnesota U.S. Rep. John Kline. The Republican chairs the House Education Committee and he's been writing several bills that he said would be a good replacement for No Child Left Behind.
In a statement, Kline didn't reject Duncan's move to grant waivers, but instead raised concerns that such a move could "undermine his committee's efforts" to rewrite the law. Kline also said he'll monitor how the federal education department grant the waivers to make sure they're still following the intent of the law.
Gallery
1 of 1