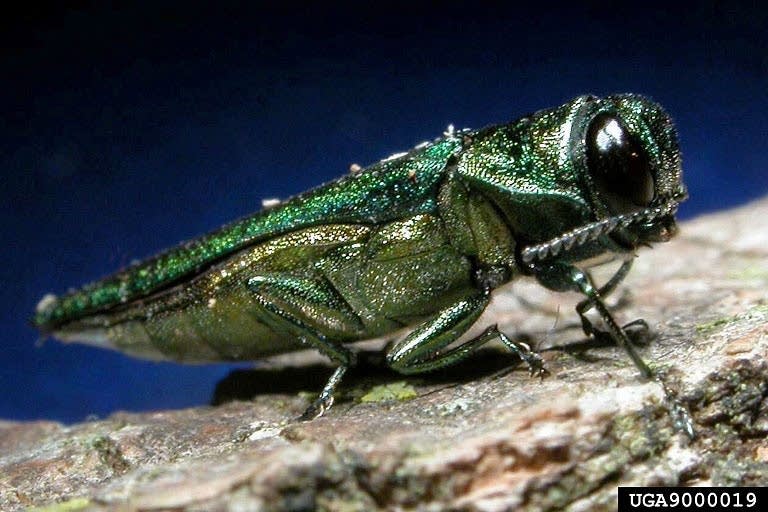 The Minnesota Department of Agriculture and the Department of Natural Resources will host the first of three open houses in southeastern Minnesota Wednesday to discuss new emerald ash borer infestations.
Officials will offer area residents information about the ash borer and discuss the state's efforts to slow the bug's spread.
The emerald ash borer is worrisome because of the sheer number of ash trees — about 9 million statewide. The bug is one of America's most destructive tree pests; it's larvae kill ash trees by tunneling into the wood and feeding on the tree's nutrients.
Since its accidental introduction into North America, the emerald ash borer has killed millions of ash trees in 15 states. The bug was first discovered in Minnesota in May 2009 in St. Paul.
This week, foresters reported a new Twin Cities outbreak of ash borer on trees along Summit Avenue in St. Paul. In August, state officials confirmed two new infestations in the southeastern part of the state. A beetle was found in a purple monitoring trap in Veterans Park in La Crescent. Another one was found in a trap in Great River Bluffs State Park, 17 miles south of Winona.
Liz Erickson, with the Minnesota Department of Agriculture, said residents will have an opportunity to comment on an emergency quarantine placed on ash products in Ramsey, Hennepin, Houston and Winona counties.
"We do have a formal quarantine in place for emerald ash borer that does not allow any regulated articles, meaning anything that would carry emerald ash borer outside of an already known infested area," Erickson said.
Erickson said officials have released stingless wasps in the area to try to control the new ash borer infestations in southeastern Minnesota. The wasps are a natural predator of the emerald ash borer and prey on its larvae and eggs.
IF YOU GO:
• 5:30 to 7 p.m., Wed., Sept. 28 at the La Crescent City Hall, 315 Main Street, La Crescent
• 6:30 to 8 p.m., Thurs., Oct. 6 at 220 Golden Rule Road, Dakota
• 6:30 to 8 p.m., Mon., Oct. 10 at Winona City Hall, 207 Lafayette St., Winona
For more information, visit the MDA's website or call 1-800-967-2474.