Last truck rolls off St. Paul Ford plant's assembly line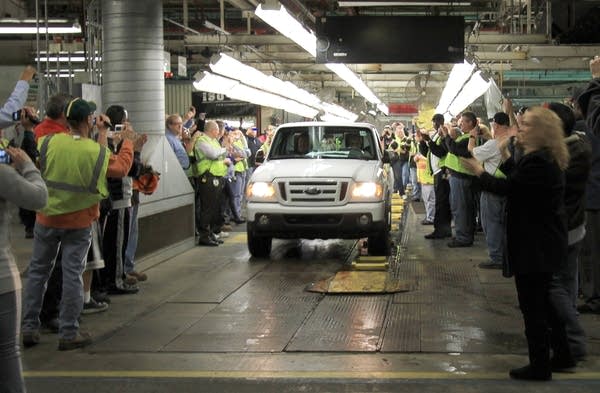 The last Ford vehicle built in Minnesota rolled off the assembly line Friday morning, ending nearly a century of vehicle production in St. Paul.
It also marks the closing of the auto giant's Twin Cities Assembly Plant, which started making Model T's in 1925.
Andy Melbye stepped off a bus before dawn this morning and headed into the plant gate for the final production shift where he is quality control inspector.
For more about the now-shuttered plant, check out an audio slideshow of the plant's history and a photo gallery of one of the plant's final days.
"I made it to the end," he said. "When I started working here, they were planning on closing after a year, so you know, it lasted longer than I thought it would. It was a pretty good job, but hopefully I'll find something better. Something else." He said he's also thinking about going back to school.
MPR News is Reader Funded
Before you keep reading, take a moment to donate to MPR News. Your financial support ensures that factual and trusted news and context remain accessible to all.
Paul Shropa, head of UAW 879-the local branch of the auto workers union, stood teary-eyed outside the plant and watched hundreds of his co-workers head into work this morning.
"It's a tough day. A bittersweet day," he said. "It's a sweet day because the Ford workers have pride. The UAW people that are here have put their professionalism into every truck, 500 times a day. And this last truck going off is going to be as good as the first truck that ever went off this line."
Shropa comes from a Ford family. His dad worked at the River Rouge plant in Detroit for more than 40 years. His wife, Alice, a 17-year veteran of the plant has already exercised her transfer rights and moved to a plant in Kentucky, where she starts work on Monday.
Ford announced the closure of the Highland Park plant more than five years ago as part of its "Way Forward" program. The plant was originally supposed to shut several years after that program launched, but got a temporary reprieve.
Friday, the clock ran out.
Shropa said UAW members will move on.
"We have some people that are still in that mindset that says, gee, oh well, tomorrow's another day," Shropa said. "Others have already made their plans, and as soon as they leave this place, they'll be going somewhere else. There are others that will be going into dislocated worker program retraining, doing other things. They're all across the spectrum."
Ford officials have said they'll start an in-depth environmental analysis of the site once production is shut down. They're planning to clear the plant off the site and clean the land to be suitable for another industrial or commercial use.
The city of St. Paul and the plant's neighbors have been mulling what might come next for nearly a decade. So far, no definitive plans have emerged.
Mayor Chris Coleman says several factors will help determine what's next.
"First of all, when we fully know the nature of the environmental situation out there, and how long it will take to remediate that, that's obviously going to have an impact," Coleman said. "Second, the market's going to have an impact. Obviously, the economy is getting better. It's not as strong as it could be. Hopefully that will pick up and the demand for housing, the demand for business opportunities, the demand to extend the commercial portion of Ford Parkway down towards the river."
He acknowledged fears that major residential development or a commercial hub might bring more traffic than area streets and neighbors can bear. He said he hoped a mixed use development, with homes, businesses, and maybe even the return of some manufacturing, could fit will in the neighborhood.
Gallery
1 of 1