Target, Best Buy face tough online retail competition
Analysts say most retailers these days must compete aggressively on prices or risk losing customers and sales. Consumer expectations and unrelenting competition give retailers no choice.
Retailers such as Target and Best Buy are under ever-growing pressure to compete on price, keeping them as low as possible.
There's no clear winner in the ongoing price wars — except the consumer.
Justin Nordhausen of Minneapolis visited the Richfield Best Buy to look for a stereo receiver. He found one that interested him, but he wasn't ready to buy it. He took out his smartphone to find if he could purchase the receiver for less elsewhere.
"I'm looking things up on Amazon, getting their price," Nordhausen said. "Usually I just go with Amazon. They seem to have the best price."
Best Buy wants $249.99 for the receiver that has caught Nordhausen's eye. And Amazon wants...
Before you keep reading ...
MPR News is made by Members. Gifts from individuals fuel the programs that you and your neighbors rely on. Donate today to power news, analysis, and community conversations for all.
"$198.99."
Fifty dollars less, give or take, depending on Amazon's shipping fee, if any, and the sales tax that Amazon won't collect but Best Buy must.
But sometimes, Nordhausen finds the best deal for what he wants is at Best Buy. He recently purchased speakers and a car stereo system from Best Buy.
BRICK AND MORTAR HOLDS ITS OWN
Best Buy is consistently beaten on price by Walmart , Amazon.com and other tough competitors, say Wall Street analysts. But Best Buy contends it can hold its own on price. Enough, at least, to rack up near $50 billion in annual sales.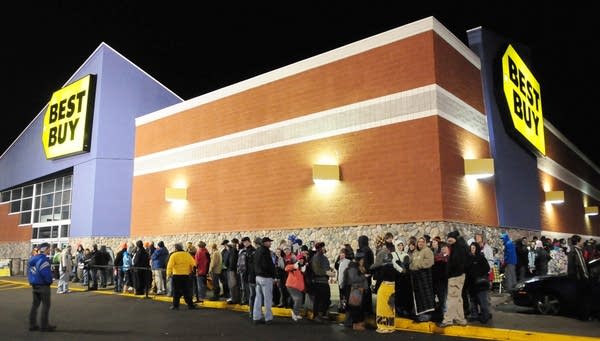 Sam Faradjnya, a salesman at the Richfield Best Buy, knows that many people use the Internet at home to compare retailers' prices. He estimates 40 percent of shoppers use smartphones to check prices while they're actually visiting the store.
"The first thing we get all the time these days is, 'Hey Amazon has it for this price,'" Faradjnya said.
Best Buy will match a lower price on an identical product found in a competitor's store. And matching an online competitor's price isn't out the question, Faradjnya said.
"I would have a discussion with my managers." he said. "If it totally makes sense, why not?
"Price matching has been more common than it was before. I can tell you that."
'BRICKS AND CLICKS'
Competing with online retailers is especially challenging for Best Buy. Those rivals don't have the real estate and labor costs Best Buy does.
And Internet-only retailers typically don't collect sales taxes. Some analysts say Best Buy must scale back, close stores and cut staff if it is to compete long-term on prices.
But Best Buy CEO Brian Dunn recently told CNBC that when a customer walks into one of his stores looking to make a purchase "we love our odds every time."
At the Consumer Electronics show in Las Vegas this year, Dunn said his some 1,100 big-box stores and 180,000 employees are assets that drive sales as the company pursues a "bricks and clicks" strategy.
"Online is really important," he said. "But by itself, it's not going to be sufficient. Just as bricks by itself is not going to be sufficient. Where those things come together is really going to matter for this industry."
Target is giving no ground on price, even as arch-rival WalMart is poised to cut prices by a combined $2 billion this year and next.
In a conference call with analysts last November, Target Executive Vice President Kathee Tesija said Target's prices have been "spot on."
"We've been really pleased with how competitive our prices have been and we believe our pricing will measure up," Tesija said. Especially with the help of suppliers. The Wall Street Journal reported in January that Target is asking suppliers to help it match rivals' prices.
Compare prices online on a range of products and it becomes obvious that no big retailer always has the lowest price.
"No one is winning all the time," said Alexander Muse, CEO of ShopSavvy, which provides a leading price comparison app for mobile phones. "It's such a competitive space."
Some folks swear Amazon.com is rarely beat on price, but Muse said that is not backed up by data provided by more than 40,000 retailers.
"Amazon has the best price on average about six percent of the time. That means 94 percent of the time, another retailer has a better deal," Muse said.
Gallery
1 of 1