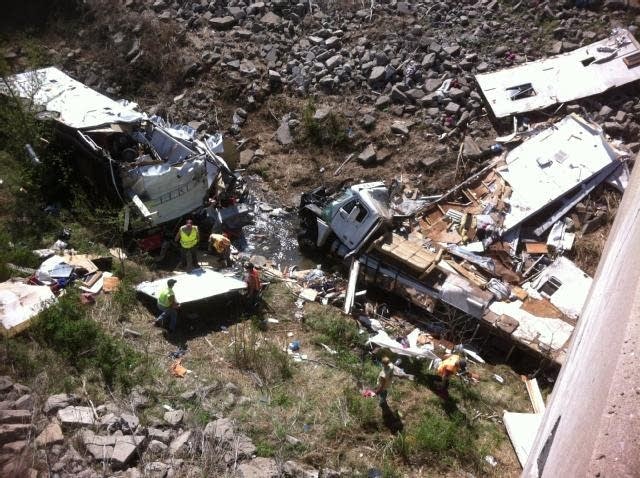 By MARIA SUDEKUM, Associated Press
KANSAS CITY, Mo. (AP) — The National Transportation Safety Board will review details of a motor home crash that killed five family members, including looking into laws that allowed a 17-year-old to drive the 57,000-pound vehicle, an NTSB spokesman said Tuesday.
NTSB spokesman Peter Knudson said the agency wants to determine whether the driver, who was critically injured in the accident Sunday, was "legally able to drive" such a large vehicle and whether the applicable laws and licensing requirements "could have played a role in this accident."
"This does seem to be quite an unusual circumstance, so we want to be able to understand all the issues that surround it," Knudson told The Associated Press. "I don't recall another accident involving a motor home with this many individuals injured or killed. We have a total of 18 who were in the vehicle. I don't recall another NTSB investigation where you have that many individuals."
The crash happened about 9 a.m. Sunday as a large extended family and some friends returned from an annual motocross vacation in Texas. The Kansas Highway Patrol described the vehicle as a truck that had been set up with living quarters and was towing a trailer. The vehicle broke through a guardrail on Interstate 35 in northeast Kansas outside the town of Williamsburg and plunged into a ravine.
The patrol identified the dead as Tom Kerber, 25, of New Prague, Minn., and Jessica Kerber, 10, Joy Kerber, 14, and James Kerber, 12, of Jordan, Minn. Tom Kerber's wife, Melissa Kerber, 24, also died.
The 13 people injured in the crash were all in the vehicle and range in age from 2 to 30. Several had been released from area hospitals by Tuesday. The driver, 17-year-old Adam Kerber, remained in critical condition Tuesday.
Adam Kerber has a driver's license that wouldn't have allowed him to drive a commercial vehicle like the one the family was traveling in because of its weight and because it was carrying more than 15 people. But the restrictions did not apply because in Minnesota, a person with a Class D license, which is the most common, can operate a recreational vehicle when it's for personal use.
Knudson said the NTSB will "will gather information about the accident to examine issues related to vehicle licensing as well as applicable laws related to towing and overall vehicle length." But he said the NTSB would not be sending investigators to the scene.
"We have a very limited staff of highway investigators. ... But we work very closely with the local authorities, and we'll be able to get a lot of information from them about this," he said.
It's unclear what impact an NTSB review of the laws would have. But Minnesota House Public Safety Committee Chairman Tony Cornish, a veteran law enforcement officer, said he has no plans to pursue changes to the law on RV drivers.
"This was an anomaly," Cornish said. "This almost never happens. Usually motor home drivers are an older generation and experienced at driving these rigs. They are involved in very very few accidents."
He said the huge cost of the vehicles causes people to take more care behind the wheel.
"I really have no interest in a kneejerk reaction to one case, though tragic," he said. "The worst thing we can do is think we can solve all the world's problems with another law."
His Senate counterpart, Republican Warren Limmer, said he won't rush into a law change either.
"We're still in shock," Limmer said. "I don't think any state legislator is thinking of writing state statutes right now. To rush legislation with only a few days left in the session isn't the most prudent thing to do."
Kansas Highway Patrol Trooper Don Hughes said Tuesday it was unlikely charges would be filed in the case.
"I don't see any charges coming at all," Hughes said. "We're trying to do the right thing ... and give the family some respect."
----
Associated Press reporters Steve Karnowski in Minneapolis and Brian Bakst in St. Paul, Minn., contributed to this report.
(Copyright 2012 by The Associated Press. All Rights Reserved.)