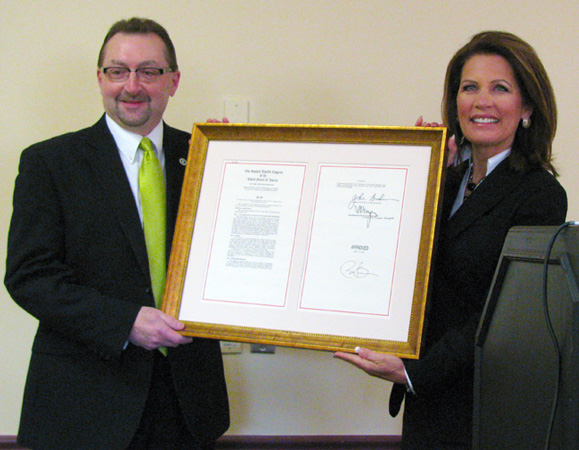 Republican Rep. Michele Bachmann is making several stops throughout the 6th Congressional District Monday and Tuesday in what's being billed as an "energy tour."
On Monday, the congresswoman visits a coal power generation plant in Becker, the nuclear plant in Monticello and an electric cooperative in St. Joseph. On Tuesday she'll pump gas at a filling station in Lino Lakes and meet with gas station owners.
Bachmann, who's in her third term in Congress, is seeking re-election this fall. She dropped out of the GOP presidential nomination battle in January.
Bachmann has accused the Obama administration of not doing enough to promote domestic energy production and, when she was a presidential candidate, she pledged to bring back $2-a-gallon gas.
Before beginning her "energy tour," Bachmann made a stop in Stillwater Monday morning to present local officials with commemorative copies of the bill authorizing construction of a new bridge over the St. Croix River.
Bachmann called the bill one of the strongest pieces of legislation to get through Congress this year. President Obama signed the legislation exempting the project from the Wild and Scenic Rivers Act last month.