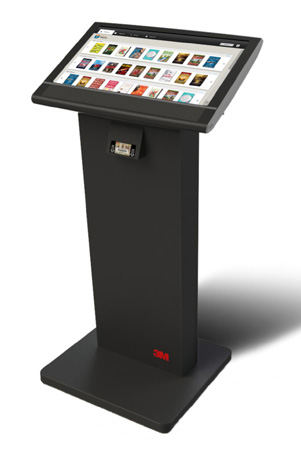 The St. Paul Public Library has launched a new e-book lending service that includes not just books but also the devices on which to read them.
The service helps libraries manage and loan e-books. In St. Paul, the library will loan 3M branded e-readers. Borrowers can make selections from about 3,100 e-books in the library's collection.
3M has served libraries for over 40 years, providing them with equipment and software to manage physical book collections. Matt Tempelis of 3M said the company sees great opportunity in helping libraries with e-books.
"E-book adoption is moving at a very rapid pace. About 20 to 25 percent of folks in the U.S. have actually read an e-book," Tempelis said "Also, there's definitely hunger for some competition in the marketplace."
The 3M "Cloud Library" software is available through the library's website, as well as Apple iTunes, which allows the user to read library materials through their Apple device.
In Minnesota, most public libraries will stock e-books by mid-June.
The library has 45 readers and will get 55 more next month. For the immediate future, the 3M e-readers will only be available at the library's Sunray, Arlington Hills and Central branches.
"We have these e-readers for people who don't have their own," said Kit Hadley, the library's director. "Many people can't afford it. Some people might be unsure that they even want one. The 3M e-reader will give people the experience of choosing the e-book they want and enjoying the read of it."
E-book lending accounts for about 3 percent of the library's annual circulation. Forrester Research estimates about 70 million Americans will be using e-readers by 2016.
An Ohio firm called Overdrive dominates the library e-book market. But 3M hopes to win 20 percent of the market within a few years.