As his ALS weakens him, it forces Bruce Kramer to move house
Editor's note: This is part of our continuing series of stories about Bruce Kramer, the former dean of the College of Education, Leadership and Counseling at the University of St. Thomas, as he copes with life after being diagnosed with ALS, also known as Lou Gehrig's Disease. You can read all the stories in the series by clicking here.
Let's face it, moving is no picnic: Deciding what to keep and what to leave behind; Packing boxes and physically moving them from place to place is a tough task.
Now, consider the difficulty if your mobility is limited. Recently, Bruce Kramer moved into a new home, a more accessible home, as his body becomes progressively weaker due to the disease.
For him, living in an old two story home in Minneapolis became too difficult as he manuvers around in a motorized wheelchair. So, recently a small army of friends helped Bruce and his wife Ev move into a new place designed specifically for him.
MPR News is Member Supported
What does that mean? The news, analysis and community conversation found here is funded by donations from individuals. Make a gift of any amount today to support this resource for everyone.
Bruce Kramer: As I come in, you'll hear a squeak on the floor. You'll notice there's not a lot of carpeting on the floors because it gets in the way of my rolling and you'll notice that there are all these spaces where I can turn completely around. We're coming into a space that's wide open. It has living space and a dining space and this lovely kitchen that I designed for me. I'll never use it. But what it allows us is to prepare meals and me to stay in and engaged with the family.
Cathy Wurzer: You say you designed the kitchen, but you're not going to use it. Can you cook at all at this point? Because you are a really good cook.
Kramer: I was a really good cook. I really was. It just tires me out too much. Even chopping vegetables is extremely tiring. When Ev isn't here ... we just try and make sure there's something in the refrigerator that I can just pull out and put in the microwave. And even doing something like that, I have to catch my breath. So, I know it sounds like a little thing but for me, it is like climbing Mount Rushmore.
Wurzer: You had to move from your old house. Could you have retrofitted your old house?
Kramer: We could've. The old house was built in 1904. Lovely. Just lovely ... Putting an elevator in or some kind of seating system, it just would not have allowed me the independence that building has allowed us to do and then architecturally, aesthetically, it would have been horrible. ... The amount of money to retrofit it would have been more than selling it at a loss, which we did, and trying to find something we could build out.
Wurzer: So, this new place is completely accessible for you, right?
Kramer: Yes. It's completely accessible. Everything. Let's just roll through a little bit. I'll just show you a few things that are 'Bruce' things. ... This is our bedroom And you see this big contraption hanging over there? This is the "sure hands lift." What it is, is you can see the tracks from the bed all the way to the bathroom. ... It actually comes down to you and the hard part is sliding these two metal brackets under your legs. ... These hands come up under your arm pits, like you were a baby ... As I get weaker and weaker, it allows, instead of me having to drive myself in, I can be carried in for bathing, toileting, washing your face and brushing your teeth, all of those things."
Wurzer: How did the move go for you?
Kramer: "I counted and at one point there were 17 people here and we're still trying to find things. I located by the fireplace and tried to stay out of people's way. I have to admit emotionally its not easy watching people do your job. I've always moved us. I've been the one who did the organizing. I'm the one who did the packing. I have always been the person who took care of the details. I didn't take care of anything. I was useless. I just tried to stay out of the way. That was hard. I admit it. That was hard."
Wurzer: I read one of your blogs, and you write, 'This is the last move you'll make" and that hit me like a hammer. Personally. Do you plan on dying here?
Kramer: That's the plan. Yeah. If I can. I've been thinking a lot about dying. ... One of the things we loved about this place, when it was just a shell, is that it is south facing and as you can see there's 20 windows and it's big and it's light and I guess I thought you can get a lot worse, and so, I think I plan to die here. ... I do feel chosen. I have been chosen to die before what I thought was going to be my time. OK. You can sit with that and it can color your life in a bad way or you can get busy and really enjoy and really wring every drop out of this as you can.
Wurzer: "We're sitting here in your beautiful, bright, peaceful place. I'm curious, what's on your mind and in your heart during this change of season?
Kramer: "It is spring. I love spring. I see spring as a time of renewal and I look at spring differently now. It used to be a physical thing. Get on the bike, put in 70 miles, just love the fact that I'm outside. That's not me anymore. It's now more of a spiritual and emotional renewal. I have to say spring lift my spirits.
---
You can read all the stories in this series by clicking here.
Gallery
5 of 5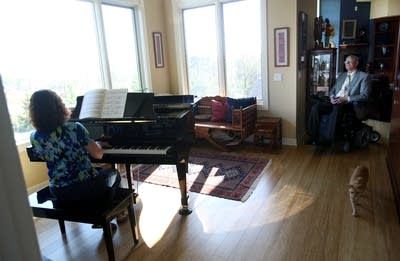 1 of 5
2 of 5