Union policy presents a tough campaign issue for Bills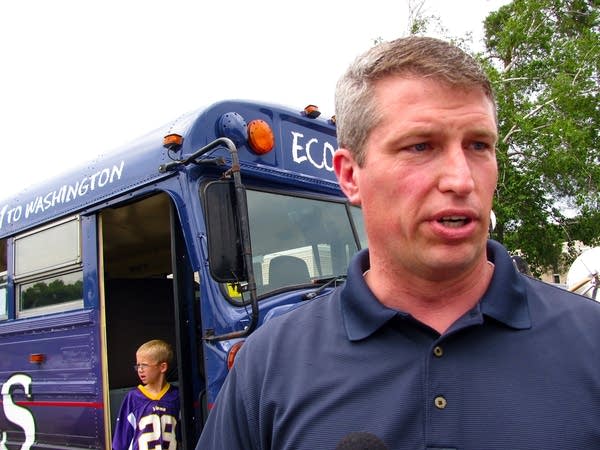 Last month, U.S. Senate hopeful Kurt Bills was across the river in Hudson, Wisconsin, to support Republican Gov. Scott Walker, who was facing a recall election launched by Democrats angry about his efforts to dismantle public employee union rights.
Bills, a Republican who is running against DFL incumbent Sen. Amy Klobuchar, said Walker's campaign to scale back public sector union costs was a good idea.
But in the same breath, Bills also said he was proud to be a lifelong union member.
"I understand trade unions. I'm in a public union right now with the teachers union," Bills told reporters. "[I'm] totally an advocate for collective bargaining rights, and think that unions have a great place in our country."
As it did in Wisconsin, union policy presents a tough situation for Bills: he's been a union member much of his professional life, but he's also an outspoken critic of the organizations.
Bills has been a government and economics teacher at Rosemount High School for 15 years — long enough to be at the top of the faculty's pay scale, according to his union contract. And Bills has made his career a fundamental part of his campaign, pledging to bring "Economics 101" to Washington, and touring the state in refurbished school buses.
But before being elected to the Legislature in 2010, Bills already had a reputation for aggressively criticizing his union's activities and policies. As a legislator, Bills' critics say he sought to undermine the teaching profession by supporting legislation that would have made unions voluntary, changed how teachers are licensed, and made performance, not seniority, the grounds for layoffs.
Bills portrays his union record as nuanced, not contradictory. While he believes that workers should be able to negotiate pay and benefits with their employers, he argues that those contracts can become too expensive and that unions should use dues to better train employees.
But Bills' colleagues say his campaign is hypocritical.
"He's running in a school bus as a teacher, and yet I don't see anything that he's done in his two years as a representative, or what he's talking about as a senator, that's supporting public education," said one Rosemount-Apple Valley-Eagan School District teacher and active union member who declined to be named due to their working relationship with Bills. "He's using that as a vehicle literally and figuratively to promote himself as a viable candidate for Minnesota. That's very troubling to me."
NOBLE CAUSE
Bills didn't always envision himself as a teacher.
After graduating from high school, Bills didn't have enough money to go to college, so he instead joined his local labor union, working an array of jobs including removing freezers from an Oscar Meyer facility. When Bills did enroll at Winona State University, he started studying criminal justice, a major that ultimately led him to teaching.
"I thought, 'Well, wouldn't it be great to catch kids before they become criminals and kind of help them out?"' Bills said during an interview with MPR. "I thought that was a pretty noble cause."
Rosemount High School assistant principal and athletic director Michael Manning was involved in hiring Bills to teach and to coach wrestling in 1997.
"I remember he came in for the interview years and years ago, and you could just tell this guy was a diamond in the rough," Manning said.
Bills helped expand the school's wrestling program, Manning said. And he added that Bills is so popular among students that he is regularly voted as graduation speaker.
Brent Miller, who had Bills for Advanced Placement Economics during his senior year of high school, is among his fans.
"He was concerned about people, he had genuine interest in his students," Miller said. "I think that makes a good teacher because you can connect with the teacher, and you're more apt to listen to them, you're more apt to stay attentive in class and to participate in class."
Seven other students interviewed by MPR News told similar stories: Bills is friendly, funny and accessible, and has a knack for making a dense subject understandable.
Bills' students have inspired him as well. Fixing the economy and scaling back government spending are central to Bills' campaign, and he said that his students' tough questions about federal entitlement programs and debt prompted him to run for Rosemount City Council in 2008, his first foray into politics.
"These types of students want answers," Bills said. "They see that that's their income, that's their future."
UNION FRICTION
Students think highly of Bills, but some colleagues say he's used his position in the Legislature to undercut the teaching profession.
After Bill was elected to the Legislature, a group of Rosemount High School teachers met several times with him to discuss legislation that could affect the union and the school, including last year's education legislation, which included a provision requiring the collection of teacher effectiveness data.
But their concerns fell on deaf ears, say teachers involved in the meetings. Ultimately, 12 teachers published a letter in the Rosemount Town Pages, writing the education bill would "threaten the significant educational achievements of the state's educational system."
Bills voted for the education legislation and it wasn't the first time he hadn't seen eye-to-eye with his colleagues.
Jim Smola, president of the Dakota County United Educators, Bills' teachers union, said Bills started objecting to union policies, training, and political activity around the time he got involved with the city council.
Smola stressed that Bills had every right to raise objections. But Smola eventually abandoned his efforts to convince Bills to support the union's mission, and asked him to resign from the union, something Smola says he's done only two or three times in his 24 years as union president.
"It just became very apparent to me that he really didn't believe in the union or didn't see the benefits of being part of a collective group," Smola said. "I believed that he probably should step away. I just didn't see where he was seeing the positive benefits of being a member of the union."
In an interview with MPR, Bills said it wouldn't be economically feasible to resign; he'd still have to pay 85 percent of the roughly $750 he paid the union this school year in dues, and the remaining savings wouldn't cover the professional liability insurance he'd miss out on, Bills said.
At this point, Bills is at the top of the union's pay scale, too. This year, Bills had the potential to make nearly $75,000, but taught only one class during the legislative session, bringing his total salary for the 2011-2012 school year to $44,126, according to the school district.
SEEKING THE UNION ENDORSEMENT
Though Bills sees significant weaknesses in unions, he nevertheless sought the St. Paul Regional Labor Federation's backing while running for the Legislature in 2010, a move that surprised Smola, who was involved in screening the candidates.
As part of the process, Bills answered a questionnaire about union, budget and labor policies.
Some answers aren't surprising given Bills' political convictions. For instance, he said he would not support some union priorities, tax increases, an expansion of unemployment benefits, or a bonding bill.
But other answers seem inconsistent with Bills' current platform. He said he would support subsidies for businesses to hire and train new workers, a tax system that requires the wealthiest Minnesotans to pay the same share of their income as middle class taxpayers (Bills says a flat tax would solve this problem), and legislation to prohibit state agencies from outsourcing work (Bills now says promoting free trade is more important).
Ultimately, Bills didn't get the endorsement.
"There were answers to questions you just couldn't support him, philosophically you could not support a candidate who has those views," Smola said.
LEGISLATIVE RECORD
Bills says he believes strongly in unions, but sees much room for improvement.
For instance, Bills sponsored legislation that would have prevented teachers unions from communicating with members via work e-mail or mailboxes about specific candidates, referendum questions or to solicit political donations.
He supported "right-to-work" legislation that would have made unions voluntary, and authored a bill that would have prevented employers from diverting dues from an employee's paycheck to the union, a move that unions say would make it difficult collect payments.
Bills said his legislation was aimed at making unions less political because they've been co-opted by the Democratic Party.
"That's why I talk about right-to-work, because that gives me the power to say 'No, all my dues off the table,'" Bills said. "Maybe it's time that [unions] wake up and say 'Oh, you know what? Maybe there are a number of teachers out there who don't like what we do politically.'"
Bills doesn't believe he's the only teacher or union member who'd like to see changes to the system. And Rosemount High School's assistant principal, Michael Manning, said Bills is not the only Rosemount High School employee who would like to see teachers promoted and fired based on performance, not tenure.
Nevertheless, Bills says he's well aware that his views are unusual among his fellow public school teachers, who have asked him why he doesn't transfer to a private or charter school.
"My response is, 'myself as a Republican or a conservative, I'm not supposed to be a public school teacher?'" Bills said. "To get asked that by my colleagues is very disappointing."
Gallery
1 of 2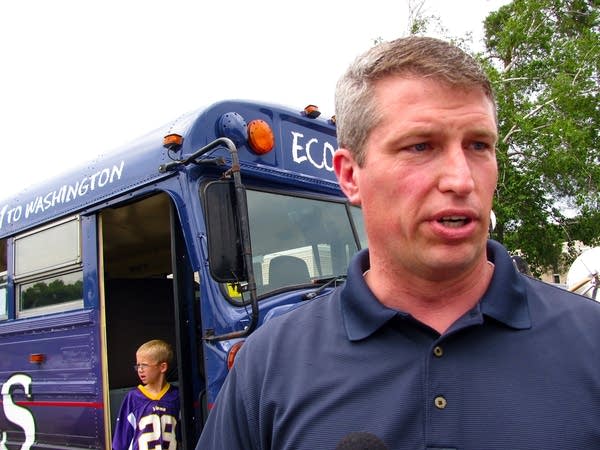 2 of 2
Your support matters.
You make MPR News possible. Individual donations are behind the clarity in coverage from our reporters across the state, stories that connect us, and conversations that provide perspectives. Help ensure MPR remains a resource that brings Minnesotans together.