Kurt Bills wins GOP Senate endorsement, will face Klobuchar
State Rep. Kurt Bills won the Minnesota Republican Party's endorsement for U.S. Senate after two ballots at the party convention Friday. He will run in that party's primary, before facing incumbent Democrat Amy Klobuchar in the November election.
Bills told a crowd of enthusiastic supporters that he'll take the fight to Klobuchar in November.
"We're going to go fight for this country," he said. "You've put a guy forward who has a work ethic second to none."
Bills, who is in his first term in the Minnesota House, also teaches economics at Rosemount High School. He has repeatedly said that he'll bring "Econ 101" to Washington, D.C. and pledged to reduce the federal deficit.
Grow the Future of Public Media
MPR News is supported by Members. Gifts from individuals power everything you find here. Make a gift of any amount today to become a Member!
"We sent a lawyer, a community organizer and a comedian to Washington D.C., and we get an economy like it does today. Finally we're going to send an econ teacher and see what happens," Bills said. "We can't afford 'Klob-bama-nomics.' "
Support for Bills grew over the last several months. He was a surprise entry into the race in March and picked up the backing of presidential candidate Ron Paul, Sen. Rand Paul, R-Ky., and more than 40 state lawmakers including Minnesota House Speaker Kurt Zellers.
Texas Congressman and former presidential candidate Ron Paul spoke at the Friday's convention, reaffirming his support for Bills. Paul's support helped propel Bills to winning the party's endorsement.
"There is a revolution in ideas going on and it isn't a narrow revolution. It isn't just sort of a conservative group of the Republican party," Paul said. "It's much, much bigger than this."
After railing against the ways Washington run, Paul also struck a chord of bi-partisanship.
"Whether liberals or conservatives or modest Republicans, come together and do the right thing. What don't we just all come together and all obey the Constitution. That would be a unique idea."
This is the third time Paul's spoken in St. Cloud since November.
While Bills picked up support from elected officials, his most enthusiastic backers were Paul supporters. On the first ballot, Bills garnered 53 percent of the party delegates. He won the endorsement on the second ballot, with 64 percent of the delegates.
Bills defeated former state Rep. Dan Severson, Army Capt. Pete Hegseth and two other perennial candidates. Hegseth and Severson have both said that they would drop out of the race if they didn't win the party endorsement.
Kevin Masrud, from Chaska, is a delegate supporting Bills and also a national delegate for Ron Paul. He said a big reason for his support of Bills, is because of Paul's endorsement.
"Economics is lost on a lot of congressman and senators," Masrud said. "It seems a lot of times they get to Washington D.C. on the basis of a popularity contest, and it doesn't mean they know a thing about how the economy works."
Susan McDonald, a delegate from St. Louis Park, voted for Bills in the first round.
"Right now the election's about the economy, and a school teacher, economy teacher, he's seeing kids every day," McDonald said. "He can really send a good message this election cycle when we're facing a huge deficit and big spending, can send a message to DC on what we're spending in terms of our debt."
While Republicans may rally around Bills, he still faces an uphill battle to win the general election. Klobuchar has high name recognition, solid approval ratings and $5.2 million in the bank -- more than 100 times more than Bills raised in the last quarter.
Gallery
1 of 2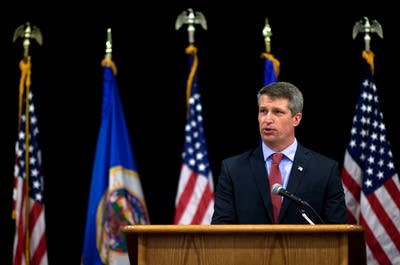 2 of 2