Voter ID implementation costs in dispute
If Minnesotans approve a proposed constitutional amendment that would require voters to present identification at the polls, many government officials say it will come with a multi-million dollar price tag that will ultimately fall to taxpayers.
State Secretary of State Mark Ritchie, a Democrat, has warned for months that the costs could be at least $50 million.
A Minneapolis-based advocacy group that opposes voter ID suggests even higher costs. The group Citizens for Election Integrity Minnesota estimates combined state and local costs of from $36 million to $78 million.
But another new report downplays the financial effect of voter ID and suggests possible long-term savings. The different assessments reflect deep disagreement between amendment supporters and opponents about every aspect of the proposed requirement.
Ritchie, an outspoken critic of the amendment, has discussed its potential costs with local officials throughout the state.
"Some of the costs are short term," he said. "They're immediate; they require cash. Some of the costs are long term, so they can just require tax increases or some other revenue source. But in both instances, there are very significant costs to the implementation of the proposed constitutional amendment."
Gain a Better Understanding of Today
MPR News is not just a listener supported source of information, it's a resource where listeners are supported. We take you beyond the headlines to the world we share in Minnesota. Become a sustainer today to fuel MPR News all year long.
Ritchie has largely relied on a 2011 estimate state Minnesota Management and Budget officials prepared for a voter ID bill that Gov. Mark Dayton later vetoed. It showed roughly $32 million in startup costs for the state, and another $24 million for counties.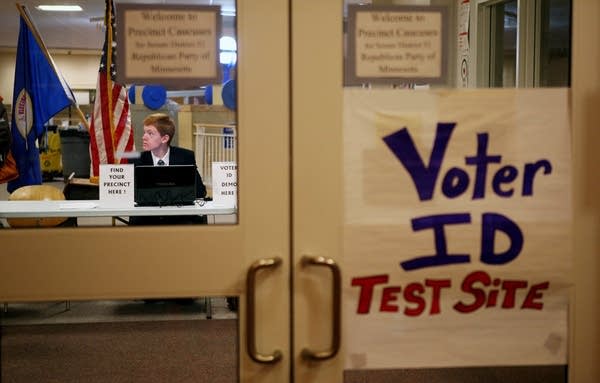 The up to $78 million in costs projected by Citizens for Election Integrity Minnesota include the production and distribution of ID cards, a public education campaign and the equipment needed for a new provisional balloting system, which would accommodate voters who show up without the proper identification.
The group's report also estimates costs to individuals in the range of $16 million to $72 million, Executive Director Kathy Bonnifield said. She said those costs are primarily related to securing the documents needed for people to obtain an ID.
"Not everyone has easy access to their birth certificate or their marriage certificate," Bonnifield said. "And not everyone is close to a location to get access to their birth certificate or their marriage certificate, or even to have their photograph taken."
The author of a competing study for a pro-amendment organization rejects those numbers. Peter Nelson, director of public policy at the Center of the American Experiment, said he thinks Bonnifield's analysis misinterprets the amendment language and overstates the number of voters who would need provisional ballots.
"In places where they have same-day registration, it's about 0.1 percent of the voting population that uses provisional balloting," Nelson said. "That's a very small number. In Minnesota, if it was 0.1 percent, that's less than 3,000 voters. That's less than one voter per precinct. So, we don't believe that provisional balloting is going to be a serious cost to the system."
Nelson estimated the first-year implementation costs at just $2.9 million. Under his analysis, each expense category is significantly less than the estimates by amendment opponents and state officials.
Nelson contends Minnesota could save money over time because a streamlined system for registration and identification would require fewer election judges. He said counties would also save money if there is less voter fraud to investigate and prosecute.
Still, Nelson said his estimates might not hold up once lawmakers begin crafting the enabling legislation needed to put the voter ID requirement in place.
"It's certainly possible that the Legislature will come back next year and put into place laws that cost more than we've estimated, because we've basically laid out the low-cost path," he said. "But the truth is, the cost will depend on how lawmakers decide to implement this."
Nelson's analysis has faced strong criticism. Officials with the anti-amendment campaign Our Vote Our Future responded with a statement that said his estimates "defy common sense."
Ritchie said he likes the idea of potential savings, but he warned that counties might face a new expense in dealing with legal challenges from voters who are wrongly turned away at the polls.
Gallery
1 of 1