iPad-based pull-tab gambling is up and running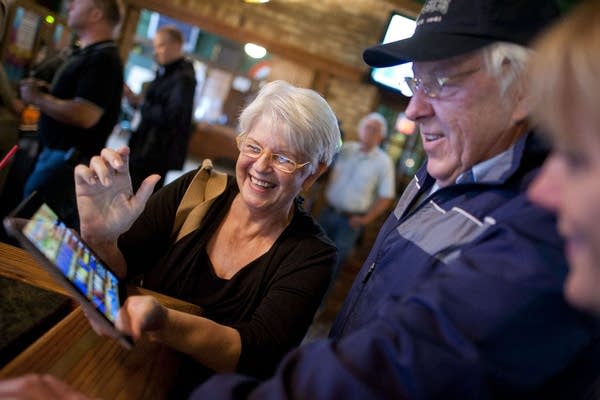 Pat Lynch, a salesman for Schell's Brewing, made history Tuesday by playing the first electronic pull-tab gambling game in Minnesota, the result of a two-year battle over how to keep the state's NFL franchise here without raising taxes.
"I'll do 20," he said at O'Gara's Bar and Grill in St. Paul. "Then I'm going to quit my donations for the day."
It's the biggest expansion of gambling in Minnesota in a generation. The games only cost a dollar or two per play, but the state is expecting revenue from the games to help pay for a new, billion-dollar home for the Minnesota Vikings. Not long after Lynch played his game, four other bars went online with the pull-tabs and gamblers were picking up iPads and plunking down their money.
Jon Weaver owns Express Games, the distributor putting out the first version of the game. His staff set up the games at O'Garas Bar and Grill and at Mancini's Char House in St. Paul, CR's Billiards in Coon Rapids, Monte's Sports Bar and Grill in Spring Lake Park, and Howie's Sports Bar in St. Cloud.
"We're up and running, and we're getting some good player response, and we're watching some of the numbers come in and we're pretty excited," he said. "We have three more that are going to be installed this week and up and running by the end of the week. And by the time the end of the month rolls around, we'd like to have 20 or 25 sites. You know, we don't want to push it. We want to take it organically. But to the extent we're organized, and the WiFi and utilities are installed, you know, we can ramp up pretty quickly."
Proponents say the games are poised to change the way people gamble -- and probably how much they gamble.
The startup followed a decision by the state's Gambling Control Board, which approved the games at a meeting Tuesday in Roseville. The green light follows weeks of testing by certified gambling laboratories in Nevada and regulators in Minnesota. With what they say is a new and secure Internet infrastructure, the games could reach into nearly 3,000 bars and restaurants around the state in coming months.
The iPad-based devices run software from a Minnesota based server. Internet connections and dedicated Wi-Fi networks bring the games to gamblers in real time.
John Acres is the Las Vegas based gambling entrepreneur who developed the machines installed in the first five bars. He says the century-old model of slot machine gambling is ripe for a reordering, from a solitary pursuit to something more.
"I see these pull tab games as being social games. The things that you do while you're with other people. And I think that's the future. Only about 7 percent of the population gambles on slot machines more than twice a year. That means that 93 percent don't like what we offer in the casinos," he said. "I think we have a huge opportunity to reach people just that want a little bit of entertainment with an element of gambling to it."
That's only a theory, for now. If it's right, gambling officials say the games could grow Minnesota's charitable gambling industry from a billion-dollar-a-year business to more than twice that size, about $2.3 billion a year.
Skeptics say they aren't sure that gamblers are ready to give up the feel of paper pull tabs. But Lynch, playing the new pull-tabs at O'Gara's Tuesday, said he thinks the times are a changing and that the new games will catch on.
"I think everyone will try it. My dad, rest his soul, used a computer until he was 88. I think people are not afraid of technology," he said. And at least for Pat Lynch, he had no reason to be yesterday.
Gallery
1 of 1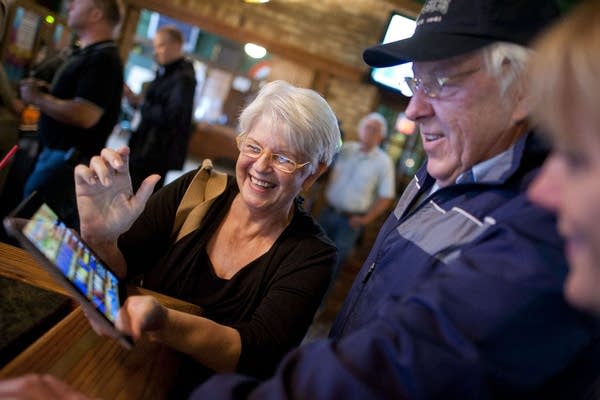 Your support matters.
You make MPR News possible. Individual donations are behind the clarity in coverage from our reporters across the state, stories that connect us, and conversations that provide perspectives. Help ensure MPR remains a resource that brings Minnesotans together.