Family: Minn. Somali left to join al-Shabab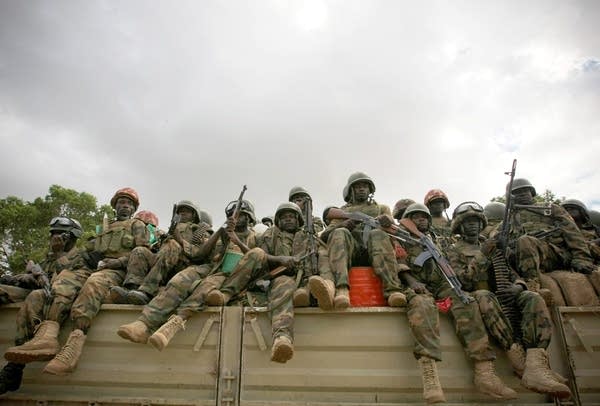 By AMY FORLITI, Associated Press
MINNEAPOLIS (AP) -- A Minnesota man recently traveled to Somalia to join al-Shabab, a spokesman for his family said, renewing fears that the terror group is continuing to recruit Somalis living in the U.S. to return to their homeland to fight.
The investigation into al-Shabab's recruitment of young men has been going on for years, and authorities have never ruled out that more men could be traveling from Minnesota -- home to the largest Somali population in the U.S. -- to join the terror group. Still, there have been no public reports of travelers from Minnesota since 2009, and the investigation has been largely out of public view for more than a year.
But in recent weeks, some Somalis here have been visited by the FBI and subpoenaed to appear before a grand jury _ possible signs that the investigation has picked up. The reasons for the subpoenas were not immediately clear. Authorities would not confirm that additional men have recently traveled to join al-Shabab, and they would not say whether any increased FBI activity is connected to reports of recent departures or to the overall investigation.
Grow the Future of Public Media
MPR News is supported by Members. Gifts from individuals power everything you find here. Make a gift of any amount today to become a Member!
But according to a spokesman for his family, 21-year-old Omar Farah left Minneapolis several weeks ago and called his aunt after his departure to say he was in the Somali town of Merca -- and that he was with al-Shabab.
Previous MPR Special Report: Civil War Kids
Abdirizak Bihi, a member of the Minneapolis Somali community who has worked with families of some men who left Minnesota, spoke to The Associated Press on behalf of Farah's family. He said Farah told his aunt he wouldn't return to the U.S.
The date of Farah's departure was not immediately known because Farah had moved out of his aunt's home about 10 months ago and she did not realize he was gone until he called from Somalia, Bihi said. Farah's aunt, who brought him to the U.S. and raised him, declined a request to speak to the AP directly.
"When he told her that he was in Somalia and with al-Shabab, she was shocked," Bihi said Thursday. "As of today, she is still confused."
MINNEAPOLIS EDISON HIGH SCHOOL, U OF M SUDENT
Bihi said Farah, who also went by the name Khalif, went to Edison High School in Minneapolis and attended the University of Minnesota for a year, but was not in school last year and was unemployed. Minneapolis Public Schools confirmed that a student by the name of Omar Farah graduated from Edison in 2010; the University of Minnesota confirmed a student by that name was enrolled in fall 2010 and spring 2011, studying electrical engineering.
Since 2008, Minneapolis has been the center of a federal investigation into travels and recruiting of people from the U.S. to train or fight with al-Shabab, which has ties to al-Qaida and is considered a terror group by the U.S.
Authorities have previously confirmed that more than 20 young men left Minnesota starting as early as 2007. Some of those men have returned to Minnesota and been charged. Four have been confirmed dead by family members or authorities.
E.K. Wilson, the supervisory special agent overseeing the FBI's investigation in Minneapolis, said he could not confirm whether there have been any recent departures or whether the FBI is currently investigating those reports.
"The whole investigation into recruiting and the departures of Somali kids from the Twin Cities in 2007, 2008 and 2009 is definitely ongoing," Wilson said. "We're continuing to look hard at the possibility of continued recruitment and radicalization."
REPORTS TAPPERED OFF
Reports of travelers and recruitment have died down in the past year, possibly because law enforcement has tried hard to stop it, and those who have supported al-Shabab or returned from camps in Somalia have been prosecuted, said Evan Kohlmann, a terror consultant who has assisted government investigations into al-Shabab recruiting.
But Kohlmann said there is now a sense that al-Shabab is under siege in Somalia, as the group faces increasing military pressure from African Union forces, so supporters might feel drawn to help. Recruiting also could just be a matter of timing.
"If you happen to have somebody who is an effective recruiter in a particular area, when he is there, there's a spike in recruiting," Kohlmann said.
The Council on American-Islamic Relations' Minnesota chapter said that after about a year of quiet, it has seen a dramatic uptick in calls from concerned Somalis who have been contacted by authorities. Executive director Lori Saroya said that since the start of September, her office has heard from several Somalis who got calls or visits from the FBI or received grand jury subpoenas. Saroya said the purpose of the calls and subpoenas wasn't clear because the callers hadn't yet met with the FBI or gone before the grand jury.
U.S. Attorney's Office spokeswoman Jeanne Cooney said she could not confirm whether a grand jury had been convened.
Bihi, the family spokesman, lost his own nephew, Burhan Hassan, after Hassan traveled in 2008 to Somalia, where he died. Bihi testified before a U.S. House committee in 2011 on Islamic radicalization.
He said this week that he believes recruiters are preying upon vulnerabilities of young Somali men who are often without a father figure and looking for a sense of belonging.
"I believe that the root causes of this problem, are a lack of programs for young people," Bihi said. "We have to have a door that they can come in. They are outside, looking in."
Gallery
1 of 1