White House expedites SW light rail project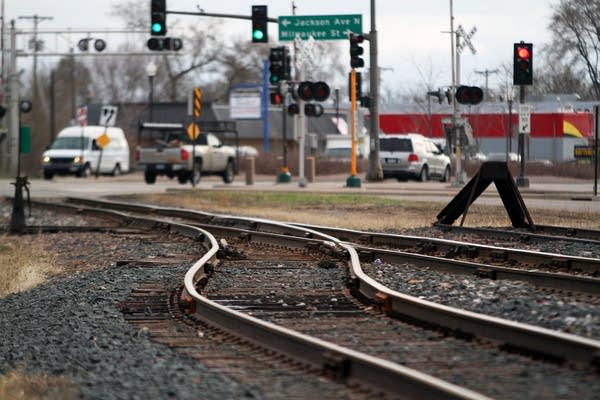 Supporters of the proposed Southwest Corridor light rail line are celebrating Monday's announcement by the White House that the project has been selected for fast tracking. The 15-mile Southwest LRT, which would connect downtown Minneapolis and Eden Prairie through the southwest suburbs, is still being planned, but today's move by the federal government is a boost for the project.
Southwest light rail was one of two transit projects announced today as selections for the Obama administration's "We Can't Wait" initiative. Under "We Can't Wait," the federal government says it will speed up the process by better coordinating projects between agencies. Federal agencies will also handle permitting and reviews together for steps that would normally be handled one at a time. This could shave several months off the project schedule, federal officials said.
The White House said it selected Southwest LRT because the line would improve transit access in the Twin Cities.
That's great news for Southwest, Hennepin County Commissioner Peter McLaughlin said.
Grow the Future of Public Media
MPR's budget year comes to a close on June 30. Help us close the gap by becoming a Sustainer today. When you make a recurring monthly gift, your gift will be matched by the MPR Member Fund for a whole year!
"I was thrilled. It's an endorsement of the project," McLaughlin said. "It's also going to be very helpful in working our way through the federal approvals so that we can get this thing built quickly and efficiently."
The Southwest LRT is slated to open to riders in 2018.
The White House's announcement doesn't bring any federal funding with it, but metro business leaders were also happy. The $1.25 billion project has support from the TwinWest, Saint Paul, Eden Prairie and Edina Chambers of Commerce.
Companies in the southwest metro see the benefits of public transportation, said Judy Johnson from the TwinWest Chamber.
"We know that when companies are looking to grow, expand or locate they have a checklist of things that they are wanting from the regions where they are looking to make investments in," Johnson said. "And there are a lot of things, depending on the business, that they are looking for. But often we know that having solid infrastructure is critical."
The Metropolitan Council estimates there will be 270,000 jobs in communities along the light rail line by the year 2030. The Council says Southwest LRT would create at least 3,500 construction jobs and 175 permanent jobs.
Despite the business support, the project failed to win $25 million in state bonding money requested by Gov. Dayton during the last legislative session. That money was supposed to go toward the state's share of the project's cost.
But last month, Southwest got $2 million from a special capital fund distributed by the Minnesota Department of Employment and Economic Development to keep the project on track.
Today's announcement will help as supporters lobby lawmakers for more money next session, which starts Jan. 8, said Sue Haigh, Met Council chair.
"I'm encouraged that we are going to get support from our legislature as we move forward because this is really a critical project for Minnesota's infrastructure and for our regional economy," Haigh said.
The Federal Transit Administration approved Southwest about a year ago for preliminary engineering and entry into the New Starts Program — a federal program for supporting locally planned, implemented, and operated transit projects.
Hennepin County has been working on a draft environmental impact statement of the line, in cooperation with the Met Council and the FTA. The draft will be released Oct. 12, for public comment.
Gallery
1 of 1