Wish lists coming early to DFLers, movie business ramping up again in Minn.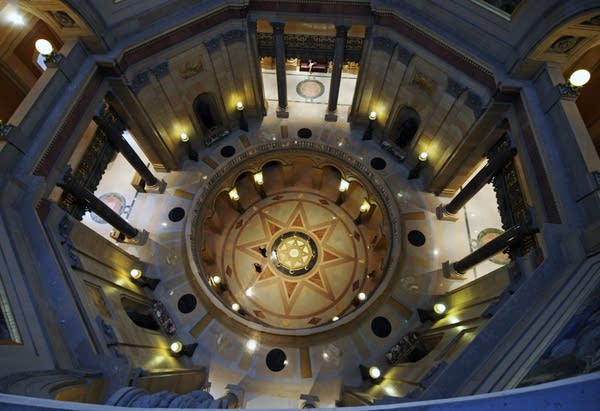 Today on the MPR News Update, Democrats set to take control of the Minnesota Legislature are going to be seeing a long wish list of funding requests from various interest groups. The debate over what the Vikings can do regarding seat license fees for their new stadium continues. Minnesota colleges are looking at ways to improve students' readiness for the workplace. And a new movie about University Avenue shows how its gritty, quirky nature could provide some clues as to what its future might be.
DFLers WILL GET A LONG WISH LIST: As Democrats prepare to take control of the Minnesota Legislature, interest groups have started lining up with funding requests for the 2013 session. There's a pent-up demand for spending after a series of budget deficits and two years of Republicans in charge.
THE DEBATE GOES ON OVER LICENSING FEES: Gov. Mark Dayton has stepped back from his earlier threat to reopen the deal with the Vikings for a new stadium in Minneapolis because of seat licensing fees. Some season ticket holders are up in arms over the proposal, too, because they were sent a survey which suggested they might need to pay several thousand dollars in seat licenses to keep their tickets in the new stadium. Here's a closer look at the Vikings' survey.
COLLEGE STUDENTS NOT READY FOR THE WORKPLACE? Minnesota employers have told state educators they want graduates to be able to start working quickly. But apparently there aren't enough of them that can do so. MnSCU has asked for $33 million to better prepare students for the world of work.
Grow the Future of Public Media
MPR News is Member supported public media. Show your support today, donate, and ensure access to local news and in-depth conversations for everyone.
DIVERSE SCHOOLS, SUBURBS TACKLE HOUSING: City leaders and school superintendents of several Twin Cities suburbs say they need to work together to keep their schools and communities racially mixed.
CLOSED LUMBER MILL MAY BE REBORN: There may be hope for the shuttered Ainsworth lumber mill in Grand Rapids, which closed three years ago, a victim of the housing market crash and the Great Recession. The J.M. Longyear company of Marquette, Mich., has signed a purchase agreement for the 120-acre site. Some industry observers predict it could become part of an emerging bioenergy industry.
THE GRITTY PAST AND POTENTIAL GLORY OF UNIVERSITY AVENUE: The Twin Cities' University Avenue would never win a beauty pageant. The commercial street connecting St. Paul to Minneapolis is like your favorite bawdy relative: quirky, over-sized, and rough around the edges. A new documentary suggests University Avenue's glorious early days could provide some clues as to what its future might be.
SPEAKING OF MOVIES: Griffin Productions, a new Minnesota-based movie company, will shoot a romantic comedy feature film on the Iron Range beginning in the spring. The company is pledging to make up to a dozen films in Minnesota over the next five years.
PEOPLE GAVE 'TO THE MAX:' In its fourth year, Give to the Max Day set new records for fundraising -- bringing in more than $16 million for more than 4,000 Minnesota nonprofits.
Also on the site today:
WISCONSIN TO SKIP HEALTH EXCHANGE Gov. Scott Walker said Friday that Wisconsin won't set up a virtual marketplace for connecting consumers with private health insurance plans, ceding control to the federal government as Republican governors in other states have also done.
A 'SURREAL' EXPERIENCE: Minneapolis author William Alexander is back home after an eventful trip to New York City, where he received a National Book Award on Wednesday. Alexander's debut novel "Goblin Secrets," received the Young People's Literature Prize. The fantasy story is about a boy in search of his brother, set in a world where acting is illegal unless you are a goblin. Alexander told MPR's Cathy Wurzer that receiving the award was "incredibly surreal."
GOODBYE, TWINKIES: Hostess, the maker of Twinkies and Wonder Bread, is going out of business, closing plants, laying off its 18,500 workers and putting its brands up for sale. The Irving, Texas, company said a nationwide worker strike crippled its ability to make and deliver its products.
PHOTOS OF THE WEEK: This week, an early season snowfall made roads a mess for commuters, anglers on Lake Superior brought in a haul of herring and farmers looked back on what was a surprisingly fruitful year. That and more in our photo gallery.
Gallery
1 of 1