Consolidating power, Dems. at Capitol say budget is priority No. 1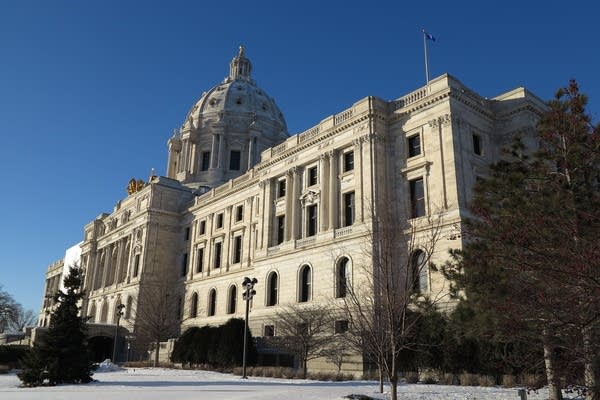 A new legislative session gets under way this week, with Democrats running the show for the first time in 25 years.
That means Gov. Mark Dayton, a Democrat, will work with a DFL-controlled House and Senate that should be more receptive to his tax and spending proposals. The state budget, which must address a projected $1.1 billion deficit, will be the top priority for the session.
But several policy issues are also expected to get attention.
The governor's two-year budget proposal, due later this month, will set the stage for discussions that will last into mid-May.
Two years ago, budget disagreements between Dayton and the Republican-controlled Legislature resulted in a state government shutdown. Dayton and Republican leaders eventually balanced the budget with a compromise that relied on one-time money, borrowing and another delay in school payments.
Dayton told reporters last month that he wants a different approach this time.
Before you keep reading ...
MPR News is made by Members. Gifts from individuals fuel the programs that you and your neighbors rely on. Donate today to power news, analysis, and community conversations for all.
"I will take on myself, and I'll insist on others, that we not use any one-time shifts or borrowing or gimmicks or anything else that has been used in the past to try to disguise these problems or to put them down the road," he said. "Let's deal with them now, get our fiscal house in order, and then we'll see where we go from there."
The new DFL legislative leaders appear to share Dayton's goal. House Speaker Paul Thissen said he wants a budget that provides long-term financial stability, not just another temporary fix.
"I think there are going to be cuts, and whether it's reductions in the growth of spending or real cuts, that is going to be part of the budget we put forth," said Thissen, DFL-Minneapolis. "I also imagine that there's going to be new revenue as part of the budget that's put forth, and I don't think Minnesotans will be surprised at that."
That new revenue will likely come through a reworking of the state tax system. Dayton has said he wants to make the system fairer and simpler, and he is expected to unveil a tax reform plan this month. He still supports an income tax increase on the wealthiest 2 percent.
Republicans, who are back in the minority after two years of controlling the House and Senate, remain firmly opposed to tax increases. They are also busy warning about the potential for DFL overreach on the budget.
Still, House Minority Leader Kurt Daudt said he wants to work with the new majority.
"Will the DFL overreach? My hope is not," said Daudt, R-Crown. "I want to again offer my caucus and our members. We're willing to come to the table and roll up our sleeves to get to work for Minnesotans, and we want to be part of the solutions. But we're also keenly aware that they don't need our votes to do what they want to do, with the exception of the bonding bill."
Senate Minority Leader David Hann said it will be up to Democrats to decide whether they want to include Republicans in any bipartisan legislation this session. Concerning the budget, Hann said, he plans to urge DFL leaders to slow the growth of state spending.
"It's very, very easy for legislators to think of all the things that we can spend money on, and then they start proposing," said Hann, R-Eden Prairie. "We start proposing things, and our friends and outside groups come in and say, 'Well this would be good, and this would be a nice thing.' Next thing you know you're looking at 10, 15, 20 percent growth in spending."
In November, Minnesota voters rejected a Republican-backed constitutional amendment to ban same-sex marriage. Now, many of the people behind that opposition campaign want to see a marriage equality bill passed this session.
There's deep disagreement on the subject of same-sex marriage, even among Democrats. Senate Majority Leader Tom Bakk said he expects a bill to be introduced and discussed, but he emphasized that the budget takes priority.
"I do think that we still need to have a pretty significant conversation around the state on that subject," said Bakk, DFL-Cook. "I think the conversation during the election was about whether we put it in the constitution. It wasn't about where the public is at on the issue."
Bakk also pointed out that the U.S. Supreme Court could resolve the question later this year when it's expected to rule on a pair of cases involving same-sex marriage.
• Follow Tim Pugmire on Twitter: http://www.twitter.com/timpugmire
Gallery
1 of 1