Moorhead fights against pollution regulations
A northern Minnesota city is fighting a new state pollution rule designed to protect water quality in Canada.
For the first time, the Minnesota Pollution Control Agency wants to consider the effects of the discharge from Moorhead's wastewater treatment plant on Lake Winnipeg, north of the U.S.-Canada border.
In a dispute about a 103-year-old treaty, pollution that crosses borders and regulations that don't, people in Moorhead are at odds with state officials over a proposed regulation designed to cut phosphorus emissions of the city's sewage plant.
The regulation largely aims to reduce phosphorus levels in the Red River, which flows north into Lake Winnipeg, the world's 10th largest freshwater lake. Canadian scientists estimate that the Red River dumps more than 40,000 pounds of phosphorus into Lake Winnipeg each day.
Grow the Future of Public Media
MPR News is supported by Members. Gifts from individuals power everything you find here. Make a gift of any amount today to become a Member!
Related: Red River pollution threatening Lake Winnipeg
Phosphorus in the Red River contributes to huge summer algae blooms and a growing dead zone in the lake. Most of that phosphorus comes from farmland runoff, but some of it also comes from the Moorhead wastewater treatment plant.
Every day, about 4.5 million gallons of sewage flow through the plant. After newly arrived sewage fills large open tanks, solid waste is separated from water. Bacteria break down the remaining waste as it moves through the plant.
But this plant isn't designed to remove phosphorus. Some of it comes from chemicals and detergents, but most comes from people, plant operator Andy Bradshaw said.
"We're a big source." Bradshaw said. "Our waste, human waste, you know what we eat. Our food contains phosphorus. Phosphorus is in every living thing."
The Moorhead plant is a small part of a big problem. On average it emits 132 pounds of phosphorus each day, but that is less than half of one percent of the phosphorus flowing into Lake Winnipeg.
The Minnesota Pollution Control Agency wants Moorhead and 13 other wastewater facilities to reduce phosphorus output. Three are American Crystal Sugar factories.
"Is the logic behind the limit one where the limit is truly needed or is it an effort to avoid litigation with an environmental group?"
MPCA officials have asked the city to reduce phosphorus by about 100 pounds a day. That would require the plant to add chemicals to the water treatment, add a different type of bacteria that consumes phosphorus, or a combination of both — changes that could cost Moorhead as much as $10 million.
According to MPCA data, Moorhead and the 13 smaller facilities in the Red River Valley put about 280 pounds of phosphorus into the Red River each day. Across Minnesota, there are 301 wastewater facilities with phosphorus limits because they are upstream of a Minnesota lake, and required to follow the state rule on phosphorus.
But Moorhead officials say the state is not following its own rules for phosphorus limits, which is designed to protect Minnesota lakes.
MPCA pollution control specialist Denise Oakes confirmed that the agency seeks to apply a rule that governs discharges in state lakes, in large part to comply with the Boundary Waters Treaty of 1909.
"The rule says if it affects a lake, if it discharges to or affects a lake," Oakes said. "It's meant for Minnesota lakes but we kind of applied it to Lake Winnipeg because of the treaty."
According to the treaty, "water flowing across the border shall not be polluted to the injury of health or property on the other side."
Oakes said the agency essentially decided to act as if Lake Winnipeg were in Minnesota.
"The Canadians are concerned about it and the Canadians are doing something about their wastewater facilities," she said. "We felt we needed to take a look at what was coming from our facilities and going into the Red River that could impact Lake Winnipeg."
That's the reason for the new policy. But there is another twist to the story.
Moorhead city engineer Bob Zimmerman said that when Moorhead and the MPCA negotiated a new five-year wastewater permit, it had no phosphorus limit.
But when the draft permit was put up for public review, the Minnesota Center for Environmental Advocacy objected.
MCEA officials argued that Minnesota has a treaty obligation to protect Canadian waters. That's when the phosphorus limit was added, Zimmerman said.
"So is the logic behind the limit one where the limit is truly needed or is it an effort to avoid litigation with an environmental group?" he asked.
Oakes, the MPCA pollution specialist, agrees the phosphorus limit would not have been added if the environmental advocacy group had not intervened.
That challenge caused the state agency to rethink its policy on Red River pollution and impose phosphorus limits on Moorhead and other facilities affecting Lake Winnipeg, she said.
But Moorhead isn't the largest city along the Red River. Fargo, N.D., has a much larger wastewater treatment plant — one that releases about three-times more phosphorus each day than the Moorhead plant.
But North Dakota has no phosphorus limit, and no plans to add one.
Manitoba is putting phosphorus limits on wastewater treatment plants in Winnipeg and other cities along the Red River. In the United States, the Environmental Protection Agency told states in1998 to develop limits on phosphorus by 2003. But most states still don't limit phosphorus in wastewater.
Zimmerman said Moorhead already struggles to compete against North Dakota for business and new housing development.
"To adopt this limit resulting in higher wastewater rates obviously is not advantageous to that effort trying to be competitive when the playing field is just not level," he said.
Because of the millions of dollars that would be needed to implement the phosphorus rule, Zimmerman estimates monthly fees will increase by 10 to 20 percent. He said Moorhead is not opposed to protecting Lake Winnipeg, but everyone should pay.
Moorhead officials will ask the MPCA for a large scale multi-state study to show where all phosphorus in the Red River comes from, including farm runoff.
But a more-detailed study would be expensive and take years to complete. MPCA wants the new phosphorus limit in place later this year.
Minnesota Center for Environmental Advocacy water quality associate Mike Schmidt said imposing the phosphorus limit on Minnesota cities isn't a perfect solution. But it's a start.
"Even if we can't solve the problem just by imposing a limit on our side of the Red River basin doesn't mean we should just ignore the problem entirely," he said.
What's next? Moorhead and MPCA plan to negotiate. The Center for Environmental Advocacy will be watching those negotiations closely.
Oakes, the MPCA pollution specialist, thinks there's a good chance the dispute will end up in court.
Gallery
1 of 2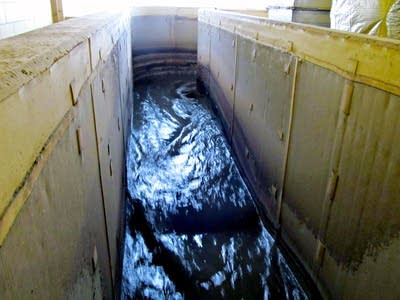 2 of 2