Up for Grammy, Minnesota Orchestra may be a winner even amid labor strife
Members of the Minnesota Orchestra on Sunday afternoon will learn if its highly acclaimed recording of the Sibelius 2nd and 5th Symphonies has won the coveted Grammy for Best Orchestral Performance.
Now entering the fifth month of a musician lock-out, a win for the orchestra would be some good news amid the labor strife.
At last week's special Grammy nomination celebration concert, Minneapolis Mayor R.T. Rybak said he believes the Minnesota Orchestra has the Grammy in the bag.
"We have an orchestra that has surged forward and done remarkable things under a remarkable conductor," Rybak said, with applause from the crowd. "Now we actually are nominated for a Grammy that, guess what, we should win, and that's how we do it!"
The applause continued moments later when conductor Osmo Vanska took the podium. He stood in silent contemplation for several moments, then raised his arms and the music began.
Before the concert, Vanska expressed some satisfaction with the public reaction to the recording.
"Sibelius himself said something like this, 'God scattered all these pieces of mosaic, and it's my job to assemble them... Now it's Vanska working on the mosaic."
"When we know now that people are liking so much about that CD it's great to come together and play," Vanska said. "This recording of Sibelius 2 and 5, it's really great playing."
Classical MPR music director Rex Levang credits the orchestra's great playing and the resulting Grammy nomination to a special affinity.
"This real connection between the music of Sibelius and Osmo Vanska," said Levang. "He was the first conductor to record all the music of Sibelius with his orchestra in Finland. And now that's being revisited with the Minnesota Orchestra and this is the first disc in what is planned to be a series."
Levang said the music draws together different themes and variations in a way unique to the Finnish composer.
"Sibelius himself said something like this, 'God scattered all these pieces of mosaic, and it's my job to assemble them,'" Levang said. "Now it's Vanska working on the mosaic. Osmo Vanska is well known for being able to get out of the Minnesota Orchestra both these big, rich climaxes and also very soft sounds so they are performing together at a really high artistic level."
The best orchestral performance Grammy is the plum classical music award. The Minnesota Orchestra, which made its first recording in 1924, has never won it. Rex Levang said the award usually goes to a major US ensemble. But this year?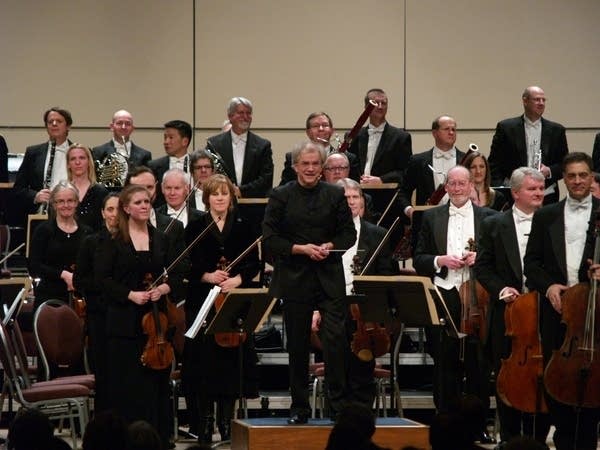 "The Minnesota Orchesta as another big and highly recognized American orchestra, I'd say stands a chance," Levang predicts.
Some orchestra observers say a sympathy vote for the beleaguered musicians could also work in Minnesota's favor.
The classical Grammys are not part of the evening telecast. The announcement will be made sometime Sunday afternoon at an earlier ceremony. However a win would be a huge feather in the Minnesota Orchestra's cap.
Vanska says credit for the nomination should be spread throughout the entire organization, from the musicians to the administrative staff.
He is also excited for another disc he recorded with the Minnesota Orchestra last summer, which will be available to the public next week. It's also a recording of two Sibelius symphonies.
"One and four," Vanska said "And I think it's much better than two and five."
Which raises the possibility of another Grammy nomination, next year.
Gallery
1 of 2
2 of 2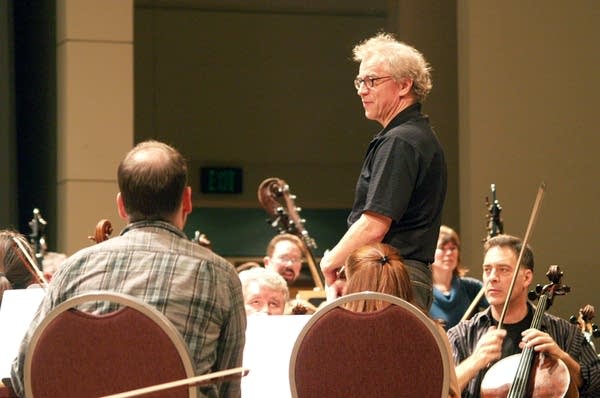 Your support matters.
You make MPR News possible. Individual donations are behind the clarity in coverage from our reporters across the state, stories that connect us, and conversations that provide perspectives. Help ensure MPR remains a resource that brings Minnesotans together.