Walleye rules tightened for Mille Lacs Lake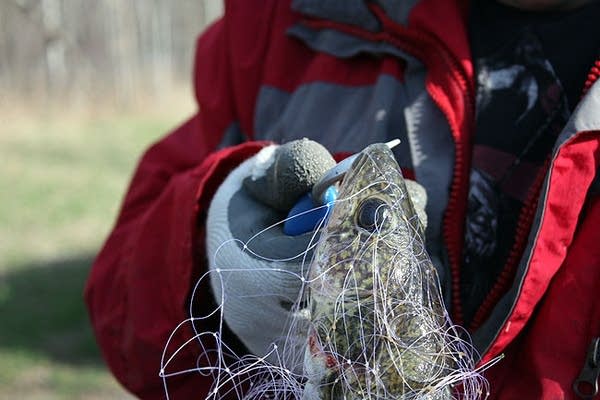 Fishing regulations for walleye on Mille Lacs will be much tighter this year.
The new regulations announced Tuesday by the Department of Natural Resources let anglers keep up to two walleye that are between 18 inches and 20 inches long, or one in that range and one trophy walleye over 28 inches.
Last year, the DNR prohibited anglers from keeping walleye between 17 and 28 inches long, and the bag limit was four fish. Like this year, only one of the walleye could be over 28 inches. This year's regulations come as the lake's walleye population is declining and researchers say they don't know why. The more restrictive limits are an effort to boost the lake's small walleye population that biologists say is threatened.
"For this summer we're going to have good fishing on Mille Lacs," said Dirk Peterson, DNR fisheries section chief. "It'll be a little bit different nature with a narrower harvest slot and a smaller bag limit to catch some quality fish."
Mille Lacs Lake is one of the state's most popular places for walleye fishing and a major economic driver for east-central Minnesota. The DNR hopes by encouraging harvesting of some of the lake's larger fish, more of the younger walleye will survive. Minnesota's walleye opener is May 11.
"We've got a couple of strategies out there to try and improve fishing for the future. One will be to be small walleye friendly and our regulations will reflect that," Peterson said. "And then we also want to expand opportunities for fishing for other species: northern pike and small mouth bass, which will provide some compensation for maybe some limitations on walleye fishing."
Before you keep reading ...
MPR News is made by Members. Gifts from individuals fuel the programs that you and your neighbors rely on. Donate today to power news, analysis, and community conversations for all.
Peterson said it could take two or three years before the lake's walleye population rebounds.
"We have a serious problem on Mille Lacs. We've got low walleye populations out there," he said. "But the other side of the coin, is that you can still expect good fishing opportunities for walleye this summer and the regulations will help insure that."
Last fall, DNR tests measured what the agency says was the lowest walleye population in decades, prompting the state and the Indian bands that also fish the lake to halve the amount of walleye that can be taken to 250,000 pounds. Of that, the state gets about 70 percent. The remainder is reserved for the bands.
Mark Luehring, a fisheries biologist with the Great Lakes Indian Fish and Wildlife Commission, said the bands are also concerned about the lake's young walleye population.
"For 2013, the band have changed their spearing regulation to move some of the pressure away from smaller fish," Luehring said.
He said spearing accounts for 10 percent of the bands' total harvest. The bands also fish with nets. But it is too late to make changes to that method this year, Luehring said. The nets target walleye between about 14 and 18 inches long -- the same size that both sport anglers and the bands have taken for years.
"We talked about going with different mesh sizes that target different sizes of fish as part of long-term strategies; something that's probably not feasible for this year because people already have the nets that they have," Luehring said.
Business owners around the lake anticipate good fishing this year, but say the new regulations could hurt the region's economy.
Linda Eno, owner of Twin Pines Resort in Garrison, said she is nervous about the upcoming season.
"We're a small family-run fishing operation and if I don't have fisherman to fish we'll be very, very detrimentally affected," Eno said. "If the fisherman don't have fish to fish for, they're not going to come."
Eno said she is frustrated with the process the DNR and bands use to determine how many fish can be safely harvested every year.
"We have been dealing with this process for 15, 20 years now and basically we say the process is flawed," Eno said. "They've been doing the same thing over and over, and it has brought this lake out of balance."
According to the DNR, if the state looks like it may exceed its walleye limit, there is a chance anglers would be limited to catch-and-release later in the season.
Still the regulations shouldn't deter anglers, said Tina Chapman, executive director of the Mille Lacs Area Tourism Council.
"Will it be disappointing to those that want to catch --- that absolutely have to have a meal of fish to take home? Probably so," Chapman said. "But if you want to catch some big fish, this is going to be the place to come this year."
Gallery
1 of 1