Prepared for the worst in New Prague; background checks for guns; surprise DFL budget cuts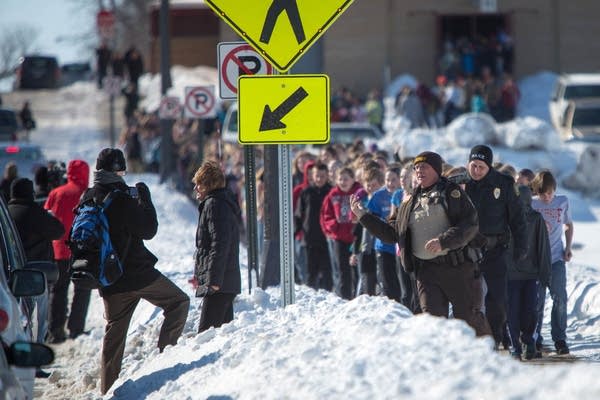 Today on the MPR News Update: We go to the state Legislature for a look at another gun bill, check in with the fallout from yesterday's shooting threat hoax in New Prague, hear about a smaller funding pie for the Department of Health and Human Services and visit a farmer looking ahead to planting season, and more.
PREPARED FOR THE WORST: A New Prague Middle School student faces the possibility of juvenile detention after police say he phoned 911 and falsely reported a shooting at his school. Even though yesterday's incident was just a hoax, it offers a glimpse at how Minnesota schools are prepared to react to dangerous situations, something that's been heightened since the school shootings in Connecticut four months ago.
BACKGROUND CHECKS: A day after a key lawmaker abandoned his push for universal background checks for gun buyers, House DFLers are now planning to expand background checks only to private sales that occur at gun shows. The revamped bill will include some provisions popular with Republicans and more conservative Democrats, and is scheduled for a hearing tonight.
SURPRISE DFL BUDGET CUTS: Democrats in the Minnesota House and Senate are proposing more than $2 billion in new taxes to erase the budget deficit, while also spending more on schools, economic development and other state services. But there's one area of the budget that isn't getting an increase: health and human services. In fact, DFLers are proposing a spending cut there, while some advocates for the poor say they can't handle any more spending reductions.
'FAIR SHARE' TAX TALK IN DULUTH: Gov. Mark Dayton held a town hall meeting before a standing-room-only crowd of about 150 people in Duluth last night, to make the case for a budget plan that includes a tax hike on the wealthy and spending in education and other programs. The governor was largely well-received at the meeting in DFL-dominated Duluth, but there were some critics in the crowd.
DAYTON SIGNS HEALTH EXCHANGE LAW: A centerpiece of President Barack Obama's health care overhaul is now law in Minnesota, after Gov. Dayton signed the health insurance exchange bill yesterday. The new law creates an online marketplace for private health insurance comparison shopping, and starting in October, more than a million Minnesotans, including 300,000 uninsured, are expected to shop and sign up for health plans using what is being called MNSURE.
SPRING HAS SPRUNG AT THE CONSERVATORY: On the first day of spring, few signs of the season can be found in our snow-covered landscape. But inside the Marjorie McNeely Conservatory in St. Paul, the temperature is tropical and vibrant colors speckle the glass rooms. A variety of plants and blooming flowers are displayed at the 98-year-old site, and they can be the perfect antidote for our winter-weary eyes. Don't believe us? Check out this photo gallery.
FARMERS OPTIMISTIC AS SPRING PLANTING APPROACHES: Spring's arrival means the crop planting season is not far away, and although farmers are worried that the two-year drought will continue, recent snow and rain totals are giving them reason for optimism. We visited with farmer Alan Roelofs in his southwest Minnesota farmyard to hear an assessment of the season to come
MN ORCHESTRA CANCELS MORE CONCERTS: Still mired in a contract dispute with its musicians, the Minnesota Orchestra on Wednesday cancelled or rescheduled concerts through April 27. Musicians of the Minnesota Orchestra say they are frustrated by the cancellations. In recent weeks the musicians have claimed it's always been management's intention to cancel the entire season. Orchestra President and CEO Michael Henson said the Wednesday announcement proves that wrong.
DULUTH HUSKIES' OUTFIELD WALL COLLAPSES: Part of the right field wall at Duluth's historic Wade Stadium, home of the Duluth Huskies, collapsed Wednesday night. Huskies owner Mike Rosenzweig said a large piece of the brick wall had been bowing out away from the playing field for about five years. He thinks the freeze-thaw cycle this spring finally proved too much for the stadium's Depression-era construction.
FRAC SAND MINING BILL CLEARS ANOTHER HURDLE: Companion bills in the Minnesota House and Senate addressing environmental and health concerns related frac sand mining have been approved by policy committees and now move to finance panels. Votes to move the bills forward have been mostly along party lines, with Republicans mostly opposed.
NEW STREP WORRIES: A rare, antibiotic-resistant form of Group B Streptococcus appears to be getting more common in Minnesota and there's concern that the infection will gain a foothold in the state and sicken more infants. Group B Strep, or GBS, is a major cause of invasive bacterial disease in babies in the first months of life.
Gallery
1 of 1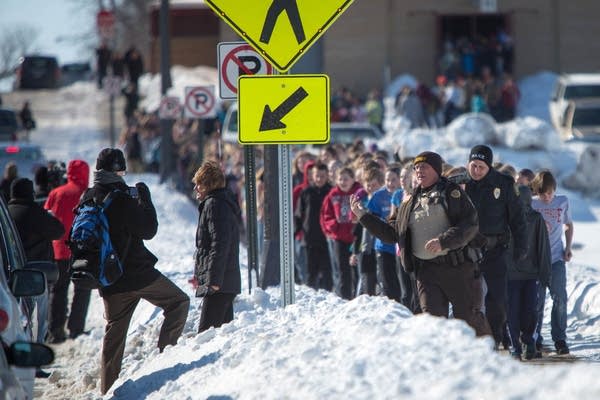 Your support matters.
You make MPR News possible. Individual donations are behind the clarity in coverage from our reporters across the state, stories that connect us, and conversations that provide perspectives. Help ensure MPR remains a resource that brings Minnesotans together.