The how and where of sex trafficking in Minnesota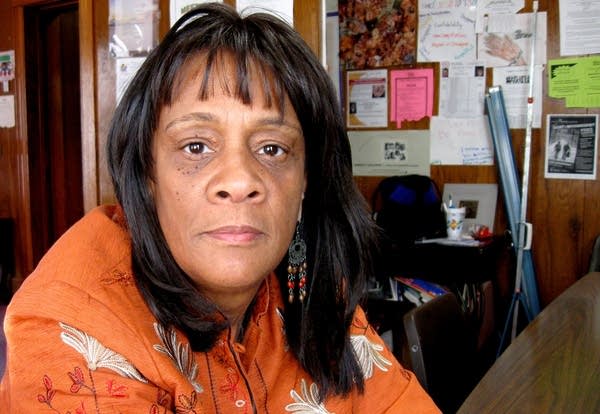 "Prostitution is not the world's oldest profession. It is the world's oldest oppression," says Vednita Carter, the founder and executive director of Breaking Free, a Minnesota-based nonprofit that provides services to victims and survivors of prostitution.
Read the post-show takeaway
Grow the Future of Public Media
MPR News is supported by Members. Gifts from individuals power everything you find here. Make a gift of any amount today to become a Member!
The effort to help women and girls escape prostitution and human trafficking will be the focus of the group's second Demand Change conference, scheduled for May 3-4 in St. Paul. The gathering is designed for advocates, politicians and law enforcement with the goals of raising awareness, building partnerships and educating people about the issue.
A bill awaiting final passage in the Legislature would treat 16- and 17-year-olds who have been prostituted as victims rather than criminals.
The bill would also extend protections first given to those younger than 16 in a 2011 Safe Harbor law.
A victim-centered approach is more effective than treating young women as juvenile delinquents, Ramsey County Attorney John Choi told MPR News.
"Instead, what we're saying is 'We just want to help you,' and we truly do, and we're going to get you connected to services and we're going to help you along the way," Choi said.
THE TAKEAWAY: Girls need services, not prosecution.
Nikki Beasley, director of programs at Breaking Free, and St. Paul Police Sgt. John Bandemer described their view of the sex trafficking scene in Minnesota.
Who's at risk?
Bandemer: "We certainly do see our immigrant populations being victimized ... [but] mostly what we as investigators uncover is the trafficking of our own domestic girls, our U.S. citizen girls, from throughout the state of Minnesota."
How does it happen?
Beasley: "It's through the manipulation, the coercion, through fraud, of typically men and our young girls. ... If you have a young person where there's family conflict, where maybe she's run away, the minute she's away from home, we know that within a day, a day and a half, she will be approached. Often it's through fraud or coercion, someone saying, 'I can make a better life for you over here, and what you have to do is perform these sex acts.' And if for some reason that situation seems better for the young person than what they left at home, you can see how it begins."
Bandemer: "These traffickers are predators. They're out there all the time, looking for that girl that has the vulnerability, and they're good at recognizing what that vulnerability is and taking advantage of it. Their ability to be out there where the girls are and preying on those girls is the key part of the recruitment effort. ... A lot of what we see is the boyfriend-type of trafficker or pimp that feigns love, affection, loyalty, and then they demand that back, and once they get that, they flip that switch and turn that girl. They use that vulnerability against them to get them to perform the sex acts."
Where does it happen?
Bandemer: "If you're a fisherman, you're going to go to the big lakes where the fish are. And if you want to go find girls you can exploit into sexual slavery, you're going to go where the girls hang out: the malls, the shopping centers, the bus stops, the parks, the schools, the libraries. That's where they know the girls are at. ...
"The trafficking of a person does not require that they be moved. It's not required that they cross a transnational border or even a state border. It's really the exploitation of a person into some type of coercive labor situation or sexual exploitation. That is where the victimization comes in. We see that in both our immigrant population and our domestic girls and boys."
What needs to be done?
Beasley: "We do have the Safe Harbor law that was passed in 2011, and that comes into effect in 2014. And we're trying to get the No Wrong Door model passed so that we can respond. Because right now we aren't able to wholly respond to the issue. The hope is that if this law passes, and the money that's needed to make this model work, then we'll be able to address it."
Bandemer: "What we teach is a victim-centered approach. We want to identify these victims, provide services to them. We don't want to criminalize them and drive it further underground than it is."
Statistics on human trafficking in Minnesota
• The FBI has identified the Twin Cities as one of the nation's 13 largest centers for child prostitution.
• By very conservative measures, a November 2010 study found that, each month in Minnesota, at least 213 girls are sold for sex an average of five times per day through the Internet and escort services. This number does not include hotel, street or gang activity.
• A November 2010 study found that on any given weekend night in Minnesota, 45 girls under age 18 are sold for sex through the Internet and escort services.
• In 2010, investigators from three states determined that Minneapolis was the home base of a large domestic prostitution ring comprising three generations of one Minnesota family that was trafficking mostly young girls across the United States.
• About half of adult women interviewed as part of a 2010 study in Minneapolis stated that they first traded sex when they were under the age of 18. The average age was 13.
Source: "Get the Facts" - MN Girls Are Not for Sale.
Informational video from Breaking Free
READ MORE ON PROSTITUTION AND HUMAN TRAFFICKING
• "Heartland Girls' Ranch helps heal underage victims of sex trafficking."
A Minnesota ranch offers healing through horses for girls who've gotten away from the sex trade. (MPR News)
• Human trafficking in Minnesota
"Chong Kim, an American citizen, was bought and sold within our country's borders. Tortured and forced to have sex with strangers, Kim was a victim of human trafficking for four years. Human trafficking — the transportation of people for forced labor, sexual exploitation and other illegal activities — is a global issue that affects mostly women and children. It is also a growing issue in Minnesota." (Minnesota Women's Press)
• Human Trafficking in Minnesota
"Human trafficking, by its very nature, is a hidden crime whose victims often go unidentified, misidentified or undiscovered. In addition, when victims are correctly identified and assisted, there is no systematic or centralized way to count them. Therefore, assessing the level of victimization in Minnesota is difficult." (A Report to the Minnesota Legislature, September 2012, Office of Justice Program and Statistical Analysis Center)
Gallery
1 of 1