Art Heroes: At Juxtaposition Arts, valuing creativity, practicality
Roger Cummings has always loved to draw, and starting at what was then Folwell Jr. High School in south Minneapolis, he spent a lot of his free time in the 1980s transforming whatever blank canvass he could find, often for classmates impressed by his talent.
"They would want to pay me money to draw Wolverine on the cover of their notebook or draw their name in a letter style or something like that and it just kind of snowballed from there," he said recently. "So people who weren't necessarily friends -- bullies -- became nice even if it was only just temporarily.
"That became my little passport to go into different parts of the city where I wasn't normally allowed to go without getting the business."
And it became the guidepost to creating Juxtaposition Arts in 1995, along with his high school sweetheart, DeAnna Cummings, and friend Peyton Russell. Their goal: An organization in north Minneapolis that teaches kids about the arts, and then shows them how to use their artistic skills to support themselves financially.
"We were trying to create the kind of place we wished we had had access to when we were growing up in this community, and provide kids who were often thought of as "at risk" for failure a leg up, and provide them an opportunity through their own creative genius to succeed in life," DeAnna said recently.
Now located in multiple buildings at the corner of Broadway and Emerson in north Minneapolis, Juxtaposition has infused the intersection with new color and life. Over the years students have printed street banners, painted murals, and designed pocket parks to beautify the surrounding area.
• Click for more Art Heroes stories
Apprentices in Juxtaposition's contemporary art class hover over a sink, washing off objects they picked up on a walk around the neighborhood.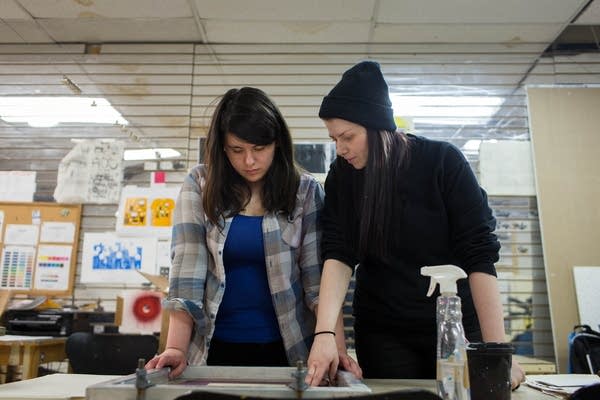 One of the students in Juxtaposition's contemporary art class, 17-year-old Jahliah Holloman, has been with been with the organization since last summer.
"Right now we're working on a project where we're looking at things and why they have value and what gives them their value. And we're trying to see if we can make things that don't have value -- (seeing) if we can put value into them," Holloman said as she and classmates washed off beer bottles, a pacifier, a small light bulb and other objects they found in the neighborhood. Once they're clean, Holloman and the others will make molds, and then use them to create works of art that they can then exhibit and sell in Juxtaposition's gallery.
Like all Juxtaposition students, Holloman started out in the core program: Visual Arts Literacy Training program, or VALT. Then she was accepted into a paid apprenticeship program for beginners, earning $7.25 an hour. If she moves on to the advanced level, she'll make $8.50.
For many teenagers, the income allows them to pay for school supplies and clothing, easing the financial burden of their cash-strapped parents.
As 15-year-old Akhil Miller sat at a computer, working on designs for a T-shirt, he said the on-the-job training he's getting at Juxtaposition is making his high school computer graphics class a breeze.
"My family is extremely proud that I'm getting a head start on a career that I'm actually looking at going into. They really want me to hold onto this because they truly think it's a blessing," he said.
Juxtaposition teachers stress that while artistic talent is crucial, in the long run there are additional important components to success: manners, competency, and consistency. Apprentices learn to view criticism as a valuable tool for improving their work. And rather than learning from books, apprentices learn by doing.
DeAnna Cummings says that means some kids -- "at-risk, low income kids who don't necessarily show their genius in a classroom" -- find that they thrive at Juxtaposition. They just need the opportunity and the resources.
Such was the case for Russian immigrant Ezra Wilson Nausner. At the age of 14 he had a habit of being reckless and getting into trouble. His mother signed him up for Juxtaposition Arts hoping he would find a more productive outlet for his love of graffiti. Nausner says Juxta put his work into context.
"They give you the history and yet move it into a professional level where you're working with other people and you don't have to look behind your back when you're painting a mural and maybe even getting paid for the mural you're doing," he said. Soon after enrolling at Juxtaposition, Nausner was showing his work in a reputable gallery; at the age of 15 he sold his first painting for $1,200. Six years later, he's still painting, but he's also just graduated from Dunwoody Technical College with a degree in welding.
Another Juxtaposition Arts alumni, Rep. Keith Ellison's son, Jeremiah Bey Ellison, has recently been working on a mural at Richard R. Green Central Park School in south Minneapolis. As students stood in the cafeteria line for taco salads, the younger Ellison said he often returns to Juxtaposition to help teach classes and oversee murals. The draw: Juxtaposition's emphasis on equipping kids with skills.
"I think they do a really good job of not just saying, 'Come here and feel good for the summer,' but, "Come here and understand what your worth is. Put your talents together and don't let anybody take it for granted, and don't take it for granted yourself.," Ellison said.
Roger and DeAnna Cummings say their goal is not to turn all of their apprentices into professional artists, but to instill in them a strong sense of self, and give them a set of tools they'll find useful no matter what career they choose.
Gallery
1 of 1
Your support matters.
You make MPR News possible. Individual donations are behind the clarity in coverage from our reporters across the state, stories that connect us, and conversations that provide perspectives. Help ensure MPR remains a resource that brings Minnesotans together.