Lack of information frustrates relatives of 2 men killed
The investigation continues into the deaths of two men and wounding of two Minneapolis police officers. Days after the incident, there are few details of what happened in a shooting and a crash blocks away between a squad car and a motorcycle.
In what Minneapolis Police Chief Janee Harteau described as an effort to show openness and transparency, she released new information Wednesday. But grieving relatives of the men who were killed say they want to know more about what happened.
A flight of steep and narrow wooden stairs leads to the cramped basement laundry room in Jim Bickal's uptown Minneapolis home, where Terrance Franklin, 22, died from multiple gunshot wounds after police say he attacked a police dog and two officers.
"When they finally let us back into the house on Saturday, this area -- there was blood on the floor -- and a little bit on some of the stuff around here," Bickal said.
Grow the Future of Public Media
MPR News is supported by Members. Gifts from individuals power everything you find here. Make a gift of any amount today to become a Member!
Bickal, who works as a producer for Minnesota Public Radio News, said on Friday afternoon, May 10, he came home to find police officers conducting a manhunt in his neighborhood. Officers had not noticed that the back door of Bickal's home had been smashed, he said. Bickal said he alerted officers who had already started to search the next block. Police then turned their attention to his house.
"While they were dealing with searching the house and whatever, the cops had this door open," Bickal said. "I could hear them yelling. At one point, my neighbor and I heard them yell, 'you're not getting out of there' something like that, to the guy."
The official police account is that Franklin was a suspected burglar running from police. Police say after being cornered in the basement, Franklin fought with Minneapolis Police officers Michael Meath and Ricardo Muro, grabbing at one of their Heckler & Koch MP5 submachine guns. However, police say they still have not determined who shot whom, nor will they disclose if Franklin had his own gun.
Harteau said the department is still waiting for forensic and ballistic test results, as well as statements from officers Meath and Muro.
"We have two injured officers who are still recovering, who are on medication," Harteau said. "And we need to make sure they are in sound mind to be giving a statement."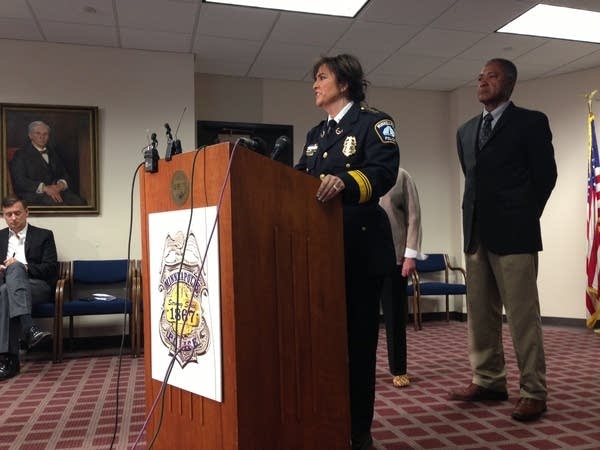 Harteau provided more detail on the collision between a police squad car and motorcycle which occurred several blocks away and about a half an hour after the shooting.
Police say Ivan Romero Olivares, 24, struck the rear of the police vehicle. According to the Hennepin County Medical Examiner, Romero Olivares died instantly in the collision. A passenger on the motorcycle survived.
Harteau says the squad car had its lights and sirens on as it drove through a red light at the intersection of 26th Street and Blaisdell Ave. S. Even though the investigation is not yet complete, Harteau said she wanted to release this information in order to correct public speculation that the officer was speeding.
"It's out there that the squad's going to 40 to 50 miles an hour through the intersection from people who are just standing on the corner," Harteau said. "The reality of it is, we use scientific data and GPS and it says 16 to 17 miles an hour as he entered the intersection."
Harteau said in addition to the internal investigation by Minneapolis Police, the Minnesota State Patrol has been requested to conduct an accident reconstruction. She is also open to the possibility of an independent probe into the shooting.
Outside the uptown neighborhood house where Franklin died, friends and family members have placed a makeshift memorial next to the sidewalk. Several people sit solemnly nearby. Franklin's sister, Tamika O'Neal, 29, said she does not believe police are telling the whole story.
"We've been out here every day and people walk up to us every day and a lot of people tell us that they think he wasn't armed," O'Neal said. "A lot of people say they know that something is wrong with what happened."
Jasmine Mitchell, 20, Franklin's younger sister, said she is frustrated.
"If they know what they did was the right thing, say it. Come out and do it," Mitchell said. "Why are you having a press conference if you don't have any answers? What's taking so long?"
Harteau said she wants to provide answers, but that "transparency does not mean immediacy."
Gallery
1 of 2
2 of 2