Moose research confirms high mortality for calves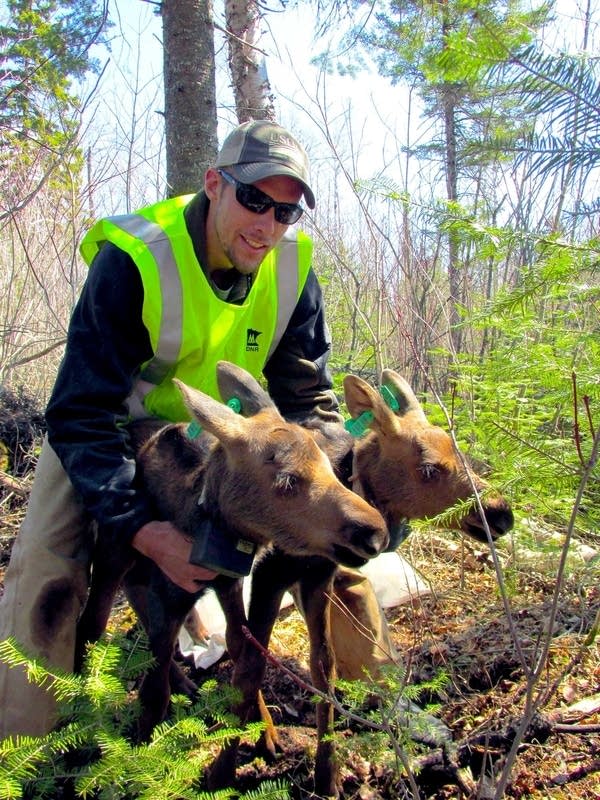 A study of Minnesota moose calves confirmed the high mortality rate for newborns almost as soon as the animals were given radio collars.
The Minnesota Department of Natural Resources captured 49 moose calves and fitted them with GPS transmitter collars. Within days of finishing their work, 22 of the newborns already had died, the Duluth News Tribune reported Friday.
Most were killed by bears and wolves. Researchers say as many as eight may have died from the stress of being captured and collared, but that won't be known for sure until more lab tests are completed.
"We knew that we would lose a lot of calves quickly," DNR lead moose researcher Glenn DelGiudice said. "But to see it happening in real time like this is all new for us."
Grow the Future of Public Media
MPR News is Member supported public media. Show your support today, donate, and ensure access to local news and in-depth conversations for everyone.
The research has revealed some new findings about Minnesota moose calves.
Fifty-eight percent of the cows that delivered calves in May had twins. Researchers had expected only a 20 to 30 percent rate of twin births.
"That just blew us away. This may have its roots back in the (mild) winter of 2012, that more cows went into the rut and into this past winter healthy and with higher body weights and could sustain twins," DelGiudice said.
Ron Moen, a moose researcher at the University of Duluth, said the population can thrive with the survival of only 40 percent of calves. But he says fewer than 30 percent of Minnesota's moose calves have survived in recent years, and this research should help explain why.
"I'd agree that the adult situation is a key component. But I also think that we're losing more calves than is sustainable. We used to see a ratio of about 100 cows to 40 or 45 calves each winter. But in recent years that's been more like 20 or 30 calves, and that's not sustainable," Moen said.
DelGiudice's $424,000 study is part of a two-pronged effort to find out why the northeast Minnesota moose herd is plummeting.
Another $1.2 million effort headed by DNR wildlife veterinarian Erika Butler captured 111 moose in January, with 107 surviving. Four died from "capture-related" mortality, probably some sort of stress.
Since then, 14 of the 107 adult collared moose have perished from various causes, Butler told the News Tribune this week.
Some adult moose have died from parasitic brainworm, while at least two died from anemia or exposure caused by winter ticks. Those moose had lost more than 90 percent of their hair trying to get rid of the ticks on their body. Scientists believe that warmer winter and spring temperatures and earlier snowmelt in recent decades have allowed more ticks to survive, as well as allowing more deer to thrive in moose range carrying brainworm with them.
In February, the DNR canceled the state's longstanding moose hunt after aerial surveys showed moose numbers had plummeted 35 percent in just one year.
---
Information from: Duluth News Tribune
Gallery
1 of 1