Parents say school should have warned them of dangers before Lilydale park landslide
The city of St. Paul warns visitors that parts of Lilydale Regional Park are hazardous and unsafe. But when two fourth-grade classes from a St. Louis Park elementary school took a field trip to the park in May, the school did not relay that warning to parents.  
A landslide killed two of the students and injured two others as they hunted fossils at the base of a Mississippi River bluff. Now, some of their parents, speaking publicly for the first time, say teachers at the school -- Peter Hobart Elementary -- should have provided more information about the nature of the park.
  "They should have consulted with us and let us know: The area's not a very safe area. There's caves. There's cliffs. Are you OK with us taking your child down there?" said Danielle Meldahl, whose 10-year-old son, Devin, suffered leg, skull and rib fractures in the landslide. "I don't think I would have let Devin go if I knew the situation."
Lilydale isn't a manicured city park. It's a 384-acre urban nature preserve that runs along the Mississippi. St. Paul has owned the property since the early 1980s. It's a popular destination for fossil hunting, which requires a permit from the city.
As part of the online permit application, St. Paul makes park users acknowledge that "some of the conditions and locations within the Lilydale Regional Park area are hazardous to persons or property." It also requires the applicant to assume liability for any injuries that happen due to the park's "unsafe conditions."
MORE LILYDALE COVERAGE 
• Read all the documents collected for this report
• KARE 11 report
• Parents of children killed and injured speak out
• Two months after fatal landslide, a look back
• Transcripts detail landslide rescuers' initial desperation
• Photos: The deadly St. Paul landslide

  Tara Wetzel, a fourth-grade teacher at Peter Hobart Elementary School, applied for the permit in April and clicked a box agreeing to the city's waiver, according to documents released by St. Paul. The waiver also required applicants to "accept responsibility for making these conditions known" to everyone in their tour group, including the parents of minor children.
NO MENTION OF DANGER
  But the field trip information sheet the school sent home to parents didn't mention the potential for danger. It said only that students should "be prepared for hiking, climbing, and getting muddy."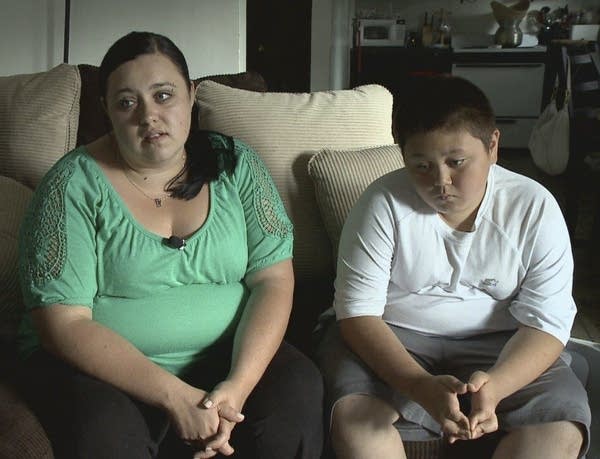 The sheet also noted the fossil hunt would be held rain or shine, unless the forecast included lightning. Light rain fell intermittently the day of the field trip, following several inches that fell during the week before. Geologists say rain  likely played a role in the landslide. 
St. Louis Park Public Schools declined to make staff or administrators available for interviews, but released a statement.
"Despite our sadness over this incident, the School District is attempting to move forward as best as it can," the statement read in part. "We currently are preparing for the 2013-14 school year. While our plans are directed toward the future, the School District will continue to provide additional support for the students, families and staff impacted by this tragedy, as they have not been forgotten."
MPR News attempted to reach Wetzel and the other fourth-grade teachers who organized the field trip, but received no response.
Devin Meldahl was buried when rocks and mud poured down from the top of a bluff, 30 to 40 feet above his head. The only reason he survived was because his teacher, Sarah Reichert, saw his hair sticking out of the mud, his mother said.
Devin spent a week in the hospital, and his mom Danielle says he racked up close to $100,000 in bills. Danielle Meldahl says her family doesn't have health insurance, and has applied for state medical assistance.
  The Meldahls are exploring their legal options, as are the parents of Mohammed Fofana and Haysem Sani, the two students killed in the landslide.
The Lilydale fossil area has been closed since the landslide. Four days after it happened, though, Sani's father, Mohamed Muse, hiked in anyway.
  "I want to know where my son died," Muse said.
'A DANGEROUS PLACE'
What Muse saw surprised him. 
The fossil grounds are located in the park's "clay pits," three C-shaped ravines hollowed out of the Mississippi River bluff, like bites from a cookie. The Twin City Brick Company mined clay from the bluffs until the 1970s, exposing fossil-rich rocks in the process.
Muse shot video with his cell phone as he searched for the site of the landslide. He wasn't sure he'd found it until he saw a shovel lying on the ground, apparently left behind after the rescue effort.  
"This is a dangerous place," he said as he surveyed the sheer cliff rising above the clay pit and the pile of jagged rocks at its base. "How they going to bring the kids here?"  
St. Paul issues about 400 permits a year to hunt fossils in Lilydale. Many are for school groups. 
An attorney for St. Louis Park Public Schools says the district anticipates it will be sued as a result of the landslide.
But if the parents decide to file suit, they would face challenges because Minnesota law makes it harder to sue a governmental institution than a private one.
"There's no statute or regulation I'm aware of that governs the school's duties with respect to field trips," said Minneapolis personal injury lawyer Bob King, who's not representing any of the families from Peter Hobart Elementary. "If there's a lawsuit, it's going to turn on what a reasonably prudent school would or should have done."
MPR News contacted half a dozen schools that recently took children fossil hunting in Lilydale Regional Park. 
Of the four that have responded, only Buffalo Community Middle School, which visited the park just hours before the landslide, produced documents showing it warned parents about the park's "hazardous" conditions.
In spite of that, no parents prevented their children from going, Buffalo-Montrose-Hanover Schools Communication Coordinator Laura Barta said.
FIELD TRIPS PRESENT RISKS
"In any field trip, there's inherent risk," said Nalani McCutcheon, director of Cannon River STEM School, which took a field trip to the park the week before the landslide. CRSS's permission slip contained no mention of danger at Lilydale, but McCutcheon says future permission slips would have to address those concerns if the school returns to Lilydale next year.
Newsletters sent home about a third grade field trip from Highland Park Elementary School in St. Paul didn't include the warning either. Community School of Excellence, a St. Paul charter school, also didn't mention any risks in its permission slip.
Kasey Shipp hopes Peter Hobart Elementary returns to Lilydale. 
Her daughter, Kylie Furuli, 10, was on the Hobart field trip when the landslide happened. Her two older children also went on the same field trip when they were Kylie's age. Her son Ken, 16, still has the fossil he found at Lilydale.
"I think it would be heartbreaking if they discontinued the field trip, because it's a great experience," Shipp said. "People need to stop pointing fingers and realize that's why they call it an accident."
The city of St. Paul has hired an engineering firm to determine what caused the landslide and a law firm to review "internal city processes" regarding the incident. 
St. Louis Park Public Schools says it "continues to gather information as to what occurred" on the field trip. The district declined to discuss what it has learned, arguing that information is "classified as private and confidential." State law allows public institutions to keep information secret if it is collected in anticipation of a lawsuit.
Gallery
1 of 2
2 of 2