Suicide numbers up for working age Minnesotans
The young and elderly get much of the focus in suicide prevention, but working age Minnesotans kill themselves the most.
Suicides in the state hit an all time high in 2011 as 684 people took their own lives. Most occurred among working age adults between 25 and 64 years old, Minnesota Department of Health data released this morning show.
Officials say they're concerned by the total suicides, which have risen since 2000 in good economic times and bad.
Minnesota Department of Health Commissioner Dr. Ed Ehlinger said it's not clear why suicide has increased.
"Suicide is a complex problem with many factors going into it," Ehlinger said. "But experience shows suicide is not inevitable and that the right connection at the right time with the people that are suffering really can have an intervention that can prevent this from happening."
There's no single factor that leads to suicide, he added, but mental illness and chronic substance abuse can play a role.
Before you keep reading ...
MPR News is made by Members. Gifts from individuals fuel the programs that you and your neighbors rely on. Donate today to power news, analysis, and community conversations for all.
Financial stress can also be a risk factor, and Dr. Dan Reidenberg, executive director of Suicide Awareness Voices of Education or SAVE, said the weak economy has contributed to the spike.
"So as unemployment goes up, suicide rates go up and we've seen unemployment go up in the last five years so that's having an impact on it," Reidenberg said. "But some of the broader economic forces are also taking effect: people losing their insurance, having no access to care, people losing their homes and no place to go and focusing just how to survive. That gets harder because they get to a place where they just can't do it any longer."
Reidenberg says part of the increase also can be attributed to a greater degree of awareness about suicide and more accurate data being collected by the medical community.
He says suicide prevention starts with how it's portrayed in the media.
"We know from studies worldwide that how the media reports on suicide, the words that are chosen, the placement of the stories, the repetition of the stories makes a difference whether contagion will occur."
Reidenberg says the focus needs to be on getting people access to care who need it quickly as well as reducing access to all lethal means.
The Minnesota Legislature expanded mental health services during the past session, a move that Human Services Commissioner Lucinda Jesson said should help.
"They provided funding for four new mobile crisis response teams to serve 16 new counties and two new tribes," Jesson said.
She says the mobile crisis teams are composed of social workers and other mental health experts who consult with suicidal people or concerned family members and friends.
Jesson said the Legislature also authorized $1 million towards expanding a service called Text for Life, a program geared towards connecting youth who may be considering suicide with a counselor.
Reidenberg said the state is in the process of writing a new suicide prevention plan. There's also a national effort underway to focus and coordinate research on suicide.
"There is no doubt that we need far more research than anything else this country could really put it's effort towards right now," Reidenberg said.
He says the national goal is to reduce suicide by 20 percent in five years and by 40 percent in 10 years.

----------
Here are some Minnesota Department of Health tips for those concerned about a friend or loved one and suicide:
•Call the National Suicide Prevention Lifeline at 1-800-273-TALK (8255).
•Do not leave the person alone.
•Remove firearms, alcohol, drugs or sharp objects that could be used in a suicide attempt.
•Take the person to an emergency room or seek help from a medical or mental health professional.

Gallery
3 of 3
1 of 3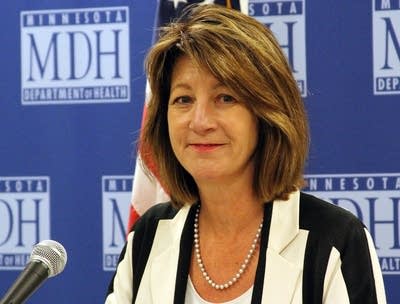 2 of 3