Is the Minnesota Orchestra doomed after Vanska's departure?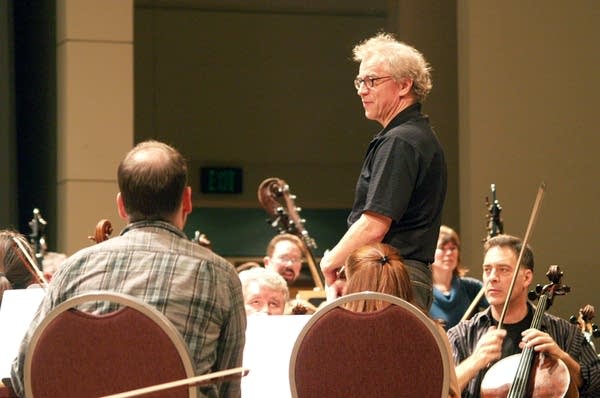 The Minnesota Orchestra is now without a music director and principal conductor. As he had threatened, Osmo Vanska resigned from that position yesterday after the planned concerts at Carnegie Hall were cancelled.  
Replacing Vanska will be a challenge for the orchestra.  
Morning Edition's Cathy Wurzer spoke with Drew McManus, a Chicago-based arts consultant and author of the orchestra business blog, Adaptistration.  The following is an edited transcript.
DREW McMANUS: Vanska has been, unquestionably, not just the face of the orchestra, but the figurehead responsible for serving as the catalyst for their artistic growth. He wasn't single-handedly responsible, but he certainly was that focal point for helping that organization become much more than the sum of its artistic parts.
CATHY WURZER: Can you imagine any high-profile candidate taking this job while the lockout is still going on?
McMANUS: No. Artist managers have a substantial amount of influence in the field on how these issues develop -- whether or not their clients will express an interest in the job.  Even if they (conductors) say their interest, they (managers) will say, 'No, you don't want to touch this with a ten-foot pole.' Those people ultimately look out for their clients' best interests. If they think that taking a job like this is ultimately going to hurt the individual's career, they'll definitely shy away from it.
"It (Minnesota Orchestra) will undeniably be an unhappy place to work that will be nothing like what it once was."
WURZER: Do you think, then, that the Minnesota Orchestra has a bit of a black mark when it comes to work conditions? I can imagine this would be a difficult place to work even after the contract is settled.
McMANUS: Potentially. It is worth noting that the relationship between the musicians and the conductor is almost mutually exclusive from the relationship of the conductor and the board of directors and the executive. So it would really depend on how an individual coming in fits into that overall mix.
WURZER: What might the future look like for the Minnesota Orchestra based on what has transpired?
McMANUS: I see one of two possible scenarios. The musicians can fold, in which case they will accept whatever offer is on the table at that time. More musicians will likely have left by that point. And the organizations will kind of hobble itself back into performances, put as bright of a face on it as they possibly can.  But it will undeniably be an unhappy place to work that will be nothing like what it once was.  
The organization can remain at loggerheads with the stakeholders and simply remain dark until they run out of money. It may take an entire season to reach that point, but they will eventually run out of money -- at which point the existing executive leadership will leave and be replaced by whoever's around at the time. Or they organization will actually go into liquidation and there will likely be some group of former board members and other supporters who will form a new institution along with the musicians, sign a new collective bargaining agreement, and get back up and running as a new entity.
Gallery
1 of 1