Hindu gods find a new home in the U.S… on stage
Sometimes an idea is too big for just one play.
Such is the case with Aditi Brennan Kapil's lastest project "Displaced Hindu Gods: A Trilogy of Plays."
Kapil wondered what would happen if Hindu gods were placed in the bodies of western immigrants. Soon she found she had more material than any one show could contain.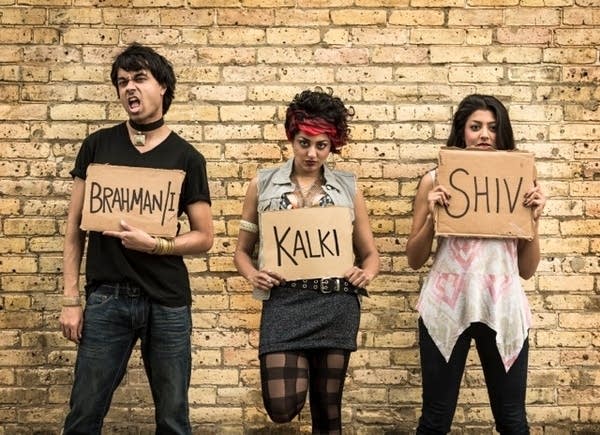 The trilogy is inspired by three different gods - Brahma (the god of creation), Shiva (known as "the destroyer") , and Kalki (one of the ten avatars of Vishnu, who is the supreme being sometimes referred to as "the sustainer").
MPR News is Member Supported
What does that mean? The news, analysis and community conversation found here is funded by donations from individuals. Make a gift of any amount today to support this resource for everyone.
"But don't come see these plays for an education on Hinduism," laughs Kapil.  "That's a terrible idea!"
Each play stands on its own. "Brahman/i: A One-Hijra Stand-Up Comedy Show" is essentially an evening with an intersex stand-up comic.
"In a lot of Hindu depictions of gods and goddesses, they are of dual gender – they've got all the parts," explains Kapil. "And just as Brahma is 'the creator,' this play is about  realizing who you are, owning that, and creating your own identity rather than letting people tell you who you are."
"The Chronicles of Kalki" features a girl gang that calls upon Vishnu for help.
"To me it's about survival," says Kapil, "how we survive as humans, and what we need to do it. In this case the show became about surviving puberty. And wouldn't it be amazing to be able to invent a bad-ass best friend who would come in and give you the survival skills you need to survive?"
The final play in the trilogy, "Shiv," was the original seed for the entire project. It focuses on Kapil's relationship with her immigrant father.
Kapil is half Bulgarian, half East Indian, and lived with her family in Sweden before moving to the U.S. Her father, a poet from an affluent family, was disappointed with how his working class lifestyle compared to his aspirations.
"At one point my entire family was working for the Stockholm subway – it was not the life he had imagined as a Punjabi poet," Kapil reflects. "A lot of that baggage he carried with him – and I feel a lot of us immigrant kids inherit that baggage."
"Shiv," Kapil says, looks at how immigrant children, in order to survive in a new culture, are forced to destroy a part of themselves from the past.
"For those of us whose parents came from another country, even though they came intentionally to the West because they wanted us to have better opportunities, they didn't quite realize how different that would make us from them, and how different our way of looking at the world would be from theirs."
Kapil says while each of the plays stand alone, there are threads they all share in common.  She hopes people who go to more than one will be inspired to think about how they create their own identities, what they do to survive hard times, and what they've had to abandon in order to move on in life.
Displaced Hindu Gods runs through Oct. 27 at Mixed Blood Theatre in Minneapolis.