Optical tech for cardiology treatment expected to boost St. Jude Medical
It's like looking inside an artery with a microscope. That's how Dr. Sandeep Nathan describes St. Jude Medical's Ilumien Optis technology.
"You can see clumps of cells, little bits of blood clot," he said. "It is an unprecedented look, a detailed look at what's going on inside the coronary arteries."
Nathan, director of interventional cardiology at the University of Chicago Medical Center, is among the first doctors to get hands-on experience with the latest generation of St. Jude's optical technology for looking inside arteries. The new system, recently approved by the U.S. Food and Drug Administration, offers twice the resolution of the previous generation, making it easier to examine diseased arteries and guide their treatment.
Doctors and industry analysts say Little Canada-based St. Jude is the only company in the U.S. that now offers such wizardry. The company hopes to get a billion-dollar kick in revenue as a result.
Here's how it works: A tiny fiber optic filament that captures images is inserted through a big artery in the leg and worked up to the heart. The filament sends back an image that's displayed in sepia tones on a video screen.
The images are "just truly mind-blowing" and far superior to those doctors can get using dyes and special X-rays or ultrasound-based imaging, Nathan said.
"Imagine walking into a tunnel and having a very bright flashlight and shining it all around you in a rotating fashion," he added. "That's more or less the view that you get from the inside of the vessel."
Physicians can see artery walls widen and contract and spot plaque and calcium build-ups, blood clots and other problems. A second image gives physicians a side view of the inside of the artery. The display includes the hills and valleys of plaque buildup narrowing the blood vessel, providing a detailed map of where problems lie.
"It will really help us tailor therapy to each individual patient, so we use the right treatment," said Jeff Chambers, director of the cardiac catheterization laboratory at Mercy Hospital in Minneapolis, who's used an earlier generation of the visualization technology and is looking forward to using the latest generation.
The technology originated at MIT and was developed by a Massachusetts firm, LightLab Imaging, that St. Jude bought in July 2010 for about $90 million.
Building on the LightLab work, St. Jude executives say they created a tool that gives doctors real-time 3-D imaging.
The company expects doctors will quickly embrace the procedure as they learn about it and the technology could generate $1 billion in sales each year, although industry analyst views on that are mixed.
"It is pretty significant for the company, a good innovative product which is kind of a hallmark of what St. Jude needs to do to be successful in cardiology," said Jeff Windau, an analyst with Edward Jones.
Morningstar analyst Debbie Wang, though, said St. Jude must first establish a clear medical and cost benefit.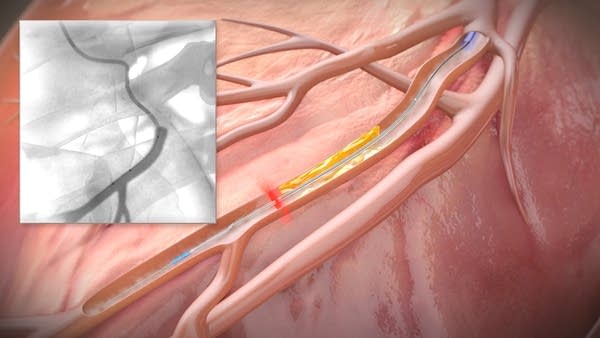 "Everybody is very enamored of the technology because it's a little like that movie where you into somebody's body and you get to see what it looks like on the inside," she said. "It's sort of cool. But it's not entirely clear whether it helps in terms of getting you to a significantly better outcome."
Even physicians wowed by the technology agree further studies are needed to establish if the imaging tool should be a standard part of treating patients. After all, a visual sojourn through a patient's arteries will add to the cost of treatment, though it's not clear by how much.
"We need large-scale studies that show if you routinely apply this and other intravascular imaging technologies, it improves outcomes in a large population of patients," said Nathan.
St. Jude has that research underway. It has not said when results may be available.
Gallery
1 of 1
Your support matters.
You make MPR News possible. Individual donations are behind the clarity in coverage from our reporters across the state, stories that connect us, and conversations that provide perspectives. Help ensure MPR remains a resource that brings Minnesotans together.