Mayor: Casselton narrowly escaped tragedy after train derailment, explosion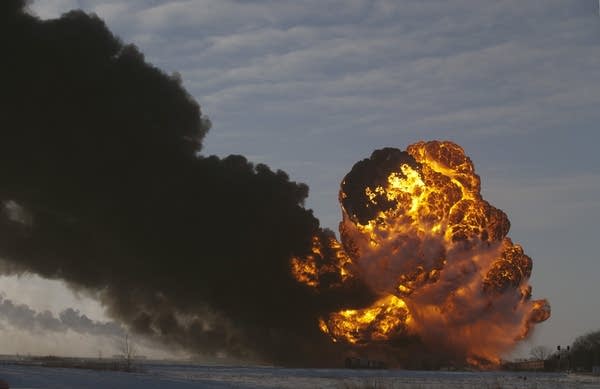 Mayor Ed McConnell was just pulling up to the post office Monday afternoon when he saw a fireball rising high into the sky. He thought his worst fears were being realized -- a train derailment and explosion in town.
"There's a lot of (train) traffic through town and we don't know what's on 'em. They're not required to tell us," he said. "It's not just crude oil coming through town, there's ethanol trains coming through, there's a lot of things that can be very harmful coming through town."
Train cars did derail and explode, but it happened a mile outside of town. Crews on Tuesday were beginning to clean up the scene. Evacuated residents were given the all-clear Tuesday afternoon to return home. No one was injured, despite several large explosions.
The accident, however, is raising concerns about rail safety in the community. If the explosions had happened in Casselton instead of a mile outside of town there would have been dozens of casualties, McConnell said. It's not a question of if there will be another accident, he added, but when and where it will happen.
Ten cars of a westbound train hauling grain derailed, the National Transportation Safety Board said. An eastbound train on an adjacent track carrying crude oil crashed into the derailed grain cars. Nineteen cars filled with crude oil derailed. Many exploded and burned. Twenty cars derailed, but one was filled with sand as a buffer between the locomotives and oil filled tank cars.
"When we were first called to the scene it was pretty obvious what we had, and there was no fire fighting that was going to be taking place," Casselton Fire Chief Tim McLean, among the first to arrive at the accident. "We were probably a quarter mile away and when we can feel the heat at a quarter mile away, that's close enough."
Much of the oil has burned, but pools of oil remain inside some of the cars which were split open by the fires and explosions, McLean said. That oil will continue to burn even as Burlington Northern Santa Fe Railroad crews start clearing the wreckage.
Emergency responders urged local residents to evacuate late yesterday, because of fears the thick black smoke would drift across town. About 1,600 people evacuated, but fewer than 20 spent the night at a Red Cross shelter in Fargo. Many stayed with family, relatives and co-workers, said Sheriff Paul Laney.
BNSF will open a claims office late this week so evacuated residents can request reimbursement for expenses caused by the accident, a railroad official said.
Because of limited pipeline capacity, there's been a big increase in oil moving by rail from western North Dakota oil fields. According to Burlington Northern, 50 trains a day use the tracks that run through Casselton, though a railroad official did not know how many of those trains carry oil.
McConnell worries the increase in crude oil trains will deliver another accident. It doesn't have to be trains colliding. What would happen, he asked, if a train hit a delivery truck in downtown Fargo? "I don't know if you were here for the fireball, but what would that do?"
A National Transportation Safety Board team will spend the next week gathering evidence from the Casselton accident. Determining a cause will take 12 to 18 months.
McConnell says he's going to start a conversation with elected officials about the danger of moving large amounts of oil by train.
Gallery
9 of 9
1 of 9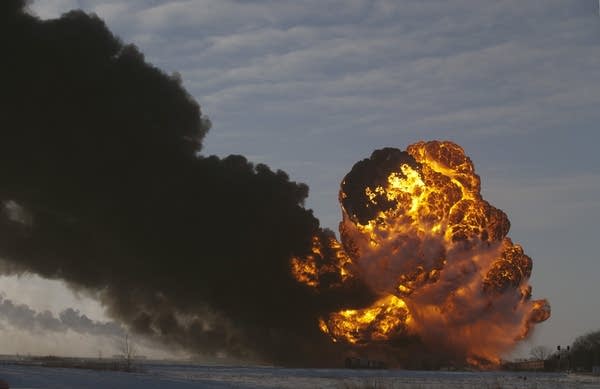 2 of 9
Your support matters.
You make MPR News possible. Individual donations are behind the clarity in coverage from our reporters across the state, stories that connect us, and conversations that provide perspectives. Help ensure MPR remains a resource that brings Minnesotans together.